It's NOT your fault.
If you're dieting but you're not losing weight, I'm gonna assume that you're following the classic eat less move more diet advice. It's more commonly known as the calories in vs calories out model of losing weight. Either that or you're in some form of a calorie deficit diet.
It's built around this idea that if you just cut the fat and eat a little less, and move a little bit more, like exercise. That's why you see people workout every day until the cows come home and twice on Sunday, right? Do that over time, and you're gonna lose weight. At least that's how it's supposed to work. And almost everyone I know including their dog has tried this method of weight loss in some way, shape, or form.
The problem is, the calories in vs calories out model has about a 99% failure rate.
Meaning it might work at the beginning depending on how strictly you follow the diet, but then it stops working. You hit the dreaded weight loss plateau. You're hungry and tired all the time. You get frustrated, you blame yourself, and then you quit. Even though you strictly followed the diet to a tee. Sound familiar? And that's where a lot of people find themselves. 
You ask yourself for the 100th time, why am I not losing weight anymore???
I'm gonna tell you now that it's not entirely your fault. You have the right intentions. But you've simply been given the wrong information. I explain why you're not losing weight anymore in this video.
The problem with calories in calories out
So, the calories in vs calories out model, while technically true from a Physics standpoint, is almost entirely dependent on the calories out part of the equation. The calories in makes very little difference. And nobody talks about this part and this is the calories in vs calories out model's biggest flaw. Because reducing the calories in, by eating less, often reduces the calories out part of the equation. And we just make this false assumption that the calories out stays stable.
But it doesn't.
Your calories out, also known as your basal metabolic rate or BMR can actually go up or down by 30, 40, and as much as 50%. And nothing illustrates this more than studies done on the biggest loser contestants. You know, if you've ever seen the show, they just get put on these massive calorie deficit diets, they're barely eating anything, and they do these crazy exercise programs, and it works at the beginning. They lose a ton of weight and everyone's happy. Right?
The problem is, it's simply not sustainable.
Over time, after they're done the show, they're still on this massive calorie deficit. Therefore, their metabolic rate just goes down the drain. They stop losing weight even though they're eating less than they ever did before. Sound familiar? Why do you think there's never any Biggest Loser reunion? Because most of them have gained back the weight they've lost while they were on the show.
The human body functions as a two compartment system
And the reason for that is there's really only two places that you can get energy from. And this is the thing that a lot of "experts" out there that just tells you to cut your calories don't talk about. It's that your body actually functions as a two compartment system. The calories in vs calories out weight loss model needs your body to function as a single compartment system for it to be true. But again, it doesn't work that way.
And the energy balance theory assumes that your body is a closed system. But it's not. It's an open system. And there are a million factors that affect the way you burn calories. From the temperature of the room you're standing in, to the body heat of people around you, how much sleep you got the night before, how much stress you're dealing with. All those things affect your metabolism. It would be completely naive to think that it's simply a matter of eating a little less and moving a little bit more. That is such an over simplistic way to look at your body.
Are you with me so far?
Now, let's look at an example scenario. If you look at the energy that your body wants to expend just to keep you alive, like keep your brain active, keep your heart pumping, keep your organs functioning, which again is your basal metabolic rate. Let's call it BMR for short. Let's say your BMR is 2000 calories. Well, there's two different places where you can get those 2000 calories.
You can get it from the foods that you eat, OR, you can get it from your fat stores. It's an either/or scenario.
Eating 1200 calories not losing weight? Here's WHY
So the assumption is that if you go on a calorie deficit by eating less by cutting fats from your diet because it's calorie dense, let's say you cut it to 1500 calories because you want your summer body right away. You want the weight to come off fast. Literally the definition of crash dieting. You eat 1500 calories worth of food, the idea, you hope, is that you'll make up the 500 calorie deficit from your fat stores and your 2000 calorie BMR will stay stable. Right? That's the idea. The dream scenario. That's what we're all told to believe. And that's where things start to to sideways. Let me explain.
So, one pound of fat is about 3500 calories and if you do some simple math, with a daily 500 calorie deficit, that equates to 3500 calories, and therefore you're gonna lose a pound a week and you're gonna lose 52 lbs in one year and you're gonna weigh zero pounds in a few of years. (facepalm) Of course, if that was true, we'd all be models of health and we'd all be walking around with a six pack.
You're set up to fail from the very beginning
And this is the weight loss model, the calories in vs calories out model that we've been led to believe for decades. And almost every body I know has has followed this advice. They've done a calorie deficit diet, and it's almost never worked for anybody for a sustainable amount of time. That's why you hear people following X diet, you name it, but it just didn't work for them. Are you starting to see the problem here?
And the key takeaway here is that your body sort of works like a railway switch.
Imagine a train track where you have a fork in it, you can only go one of two directions. And the human body is much the same way. Again, you can either take your energy from the foods that you eat or, you can take your energy from your body fat. But you can't mix the two. You can't do a little bit of this and a little bit of that. You either get it from one or the other.
The role of Insulin when it comes to losing weight
Using our railway analogy, you have to switch tracks from one to the other. And what controls this process? Well, the biggest determinant of this energy utilization process is the hormone insulin. Any time you eat food, assuming it's a blend of fat, carbs, and protein, your insulin goes up. It's your body's natural reaction to all the food that's coming in. As insulin goes up, you then turn off fat burning and you get your energy from the foods that you eat. It's kind of your body's survival mechanism to protect yourself during times when there's no food available, right?
Back in the Paleolithic times, being able to tap into our fat stores is how we survived when our ancestors went through periods of time without food when they couldn't catch any animals. Are you with me so far? When you're not eating, that is when you're fasting, that's when your insulin levels go down. When there's no more food coming in, that's when you tap into your stored energy. This is the reason by the way why you don't die in your sleep every night, or why you don't have to get out of bed to eat in the middle of the night, because as your insulin falls, you switch over and you start to get your energy from your glycogen stores and your fat stores.
Again, going back to our train analogy, this is when you switch railways. It's a well run system assuming that you keep your fed state and your fasted state in balance. The problem is, we're anything but balanced.
The problem with eating 6 small meals a day
What do we do instead? We eat constantly throughout the day. We eat six small meals, we snack all the time, and we graze on food all day. Eat a lot of foods that are highly insulin stimulating like refined carbs and particularly sugar has become common occurrence. And that's when we start developing something called insulin resistance which then opens up Pandora's box to all sorts of disease including diabetes, obesity, and cardiovascular disease.
Remember that the one thing that blocks fat burning is high insulin levels so sugar in particular because its highly insulin stimulating is just absolutely toxic to your health. And that's kind of a generally accepted truth. The problem is, it's also very addicting. And what do we eat all the time? Instant oatmeal, breakfast cereal, granola bars, energy bars, energy drinks, reduced fat foods and so on. And this is the thing that you gotta remember. A high percentage of low fat foods are often laced with hidden sugars. Because if you take out the fat, food companies have to replace it with something else to make it taste good and that something else is sugar. So stop eating reduced fat versions of food and stop ordering skinny vanilla lattes.
So, as you keep your insulin levels high, you've switched over to this track where you can only get your energy from the foods that you eat. Going back to why you're not losing weight, if you reduce the number of calories that you eat, but you eat all the time and keep your insulin levels high, by eating refined carbs, sugar, diet sodas, and so on, what you do is you're gonna tell your body, we don't need to burn fat, look at all this food coming in. You've now put yourself in a position where your insulin levels are high all the time and you can only get your energy from the foods that you eat.
Going back to our eat less move more, calories in calories out weight loss model, if you eat 1500 calories, you can only burn 1500 calories. That is it. Listen, your body is super smart. It wants to survive. So what it does is it's forced to ramp down it's metabolic rate instead. And nobody talks about this because as you start off for example with a BMR of 2000 calories, then you go on a 1500 calorie a day diet, your body senses that there's less energy coming in then matches it by turning down your metabolic rate to 1500 calories, or even lower. I mentioned this earlier that your metabolism can up or down.
Why all diets work initially
This is why all diets work initially by the way. They all work at the beginning as long as it puts you in a caloric deficit but then you eventually hit the dreaded weight loss plateau and you stop losing weight because your metabolism has slowed down. So you're still eating 1500 calories even though you're frustrated so then you start eating 1700 calories because you're tired of it. You're tired and you're hungry all the time. But here's the problem, because you've lowered your BMR to 1500 calories, 1700 calories all of a sudden becomes a calorie surplus even though you're eating less than you did before when your BMR was initially at 2000 calories and you're gonna start gaining back the weight you worked so hard to get rid of.
But then you muster up enough energy and motivation. So you try again, this is the definition of yo-yo dieting by the way. You lower your calories to 1200 but you're eating constantly, you're eating lots of low fat/low calorie foods which again are high in sugar. Well, all of a sudden your metabolic rate now has to go down to 1200 calories. So now you're feeling cold, you have no energy, you're tired all the time, you're hungry all the time, and worse, you're not losing weight. Sound familiar?
And as you do this a few times you keep going down and down and down until people's metabolic rate gets very low. I even hear some people eating less than 1000 calories a day which is just madness!
If you've ever gone on a diet, you follow it faithfully, but then you stop losing weight and you actually start gaining it back, this is why.
The good news is that your metabolic rate can go up as well. But again, the key determinant of that is insulin because you have to open up those stores of body fat for you to burn. Your body actually wants to burn more energy. It doesn't wanna be cold, and tired, and hungry all the time. It wants to burn energy and your job, if you wanna lose weight and be healthy is give your body access to your fat stores.
The best diet to lose weight
So no matter what kind of diet you think is gonna work best for you, you have to lower insulin to lose body fat. And the best way to do that? Cut all refined carbs, sugar, artificial sweeteners, and start fasting intermittently.
The problem is, it's 2019 and even mentioning the word fasting sends shockwaves around the planet. You immediately start hearing people say that there's all these problems with fasting, and that it's bad for you. Again, without any real evidence to back it up. As if you're gonna inflict permanent damage to your body if you even miss a single meal.
Yet we're still given the standard cookie cutter advice up to this day. Eat lots of healthy whole grains, avoid foods high in saturated fat and cholesterol, eat lots of fruit, you should exercise 30 minutes a day, blah, blah, blah. That advice doesn't work. And I don't need to tell you that. You already know.
All that happens when you're fasting, or when you take a break from eating and that's how I want you to think about it, is that you allow your insulin levels to go down. And when your insulin falls, your body gets the signal to start burning some of that stored energy from your last meal. That stored food energy is in the form of glycogen or body fat. If you're trying to lose weight, this is exactly what you want.
You have about 20,000 calories worth of stored energy in the form of body fat or more if you have a lot of weight to lose. That's what it's there for. It's not just there for looks. It's there for you to use if there is no food available. So all you're doing is you're giving your body a chance to use energy that's stored away for a rainy day. And that's your body fat. Eating a high fat, very low carb, and moderate protein diet also gives you similar benefits because it trains your body to become a fat burner.
You have to understand that this is how we evolved to eat. Instead, we start doing these completely artificial things such as eating 6 times a day, snacking all the time, eating highly processed low fat and low calorie foods. All we think about is food because we're like I need to eat breakfast, then it's time for a mid morning snack, then it's lunch time, then it's time for another snack, and then you drink your pre and post workout shake, and then it's dinner time, and then you'll eat something before bed. And then it's like, hey I wonder why I'm not losing weight.
Listen, you have to go against the grain if you're following the standard calories in vs calories out model and it's not working out for you. If you keep doing it expecting different results, that is the definition of insanity. Listen, it's okay if you miss a meal. Your body can handle it. Your body is super smart and it knows what to do. Will you get hungry? Yeah you might get hungry. I'm not saying that that's not the case. But it's okay. You're not gonna die.
One pound of body fat is around 3500 calories. So for most people, one pound of fat will actually last about two days. And most people have more than one pound of excess body fat. So if you're 15 lbs overweight, you could fast for 30 days and you'd be completely fine. The world's longest fast is 382 days in case you're wondering and he lost a mind blowing 284 lbs living off of water and multivitamins. The amazing thing is he didn't suffer any complications. The best part is his lose skin shrank as part of the process. He was a completely different person by the end of it.
Now I'm not asking you to do a 382 day fast. Even I think that's crazy. It's unnecessary. A daily 16, 20, or 24 hour fast will give you tremendous results and I've seen it work time and time again with my private coaching clients.
As always, if this was helpful, share it with a friend who could benefit from it as well!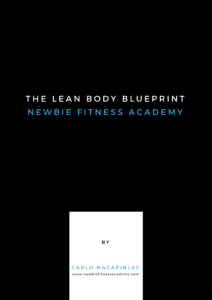 Need More Help?
Use this simple 4-step process to melt ALL the fat around your stomach and look good shirtless WITHOUT going on a crazy diet or wasting hours at the gym. Get the Lean Body Blueprint here for free!