It's a no-brainer.
If you want to lose weight, just don't eat. I don't think it gets any simpler than that.
Just ask yourself this simple question. What do you think will happen if you don't eat? What do you think will happen if you took a break from eating all the time? You're probably, most likely, gonna lose weight. A lot of weight.
The problem is, through brilliant marketing by food companies, taking a break from eating has been considered taboo. As if you're going to inflict permanent damage to your body if you even miss a single meal.
Ridiculous.
Contrary to that popular myth, there are TONS of benefits from taking a break from eating. The common term for this eating strategy is 'Intermittent Fasting'. Here are some of those benefits.
Intermittent fasting benefits
Intermittent fasting makes it possible to lose weight, boost your brain, improve heart health, increase your metabolism, enhance your energy, build your immune system, increase your growth hormones, build lean muscle, without counting calories or following a complicated meal plan. And it's free! Amazing, right?
The next question is, what can you drink while fasting? Are there certain drinks that can make your life easier and make fasting more effective? Absolutely.
But here's a simple principle that I want you to keep in mind. Do your best to try and have a 'zero tolerance approach' during your fast.
Remember, the true benefit of fasting is learning to take breaks from eating. Not to figure out how to 'game the system'.
Once you start adding a 'little bit' of those flavoured creamers or sugar to your coffee, or a 'little sip' or nibble here and there. Then that's definitely gonna break your fast and you're not gonna see the benefits and results that you're looking for.
But you do have several drink options. And these are important because it's critical to keep yourself hydrated while you're on a fast. Plus, there are certain drinks which can even help enhance the benefits of intermittent fasting. 
What Can You Drink While Fasting?
1. Good ol' water
Water is always a great choice, all day, every day. You should be drinking lots of this stuff anyway even if you're not fasting. You can add a squeeze of lemon or lime to your water if you wanna live a little. Adding cucumber and orange slices to a pitcher of water is also okay. You can also add some himalayan sea salt if you plan on doing an extended fast to replenish your electrolytes, but that's pretty much it. 
Make sure you stay away from any artificially-sweetened water enhancers like Mio or Crystal Light. Those zero calorie water enhancers usually contain sucralose, dextrose, or maltodextrin or stuff that I can't even pronounce. Which is basically sugar and it's definitely gonna break your fast. Again, remember, it's not about gaming the system here.
2. Black Coffee
Does black coffee break a fast?
Technically, a cup of black coffee has about 1-2 calories.
But it's small enough that it doesn't seem to interfere with the benefits that you're trying to get from fasting. Drinking coffee is also the easiest and most effective way of suppressing hunger while fasting. Plus, it's delicious. A shot of espresso or an Americano if you're from North America also fall in this category in case you're wondering.
Now you might be wondering. What are you allowed to add to your coffee? Well, not a whole lot to be honest. You can add a teaspoon of heavy cream or half and half if you want and it shouldn't break your fast. Some experts out there might disagree with me on that and that's okay.
The reason why I say a little heavy cream is okay is pure fat has little to no effect on insulin and blood glucose so technically speaking it shouldn't break your fast. Just make sure that you don't go to town on this. There's a big difference between adding a tablespoon versus turning your cup into a latte.
My general rule is just put enough to change the colour of the coffee. While we're in the topic of adding cream, almond milk, oat milk, or coconut milk are also okay. Just make sure you're using the unsweetened version.
Here's a little bonus for you. Black coffee might actually enhance some of the benefits of intermittent fasting. This study demonstrated that taking in caffeine can increase ketone production, which means you're more likely to slide into fat-burning mode even faster.  Coffee has also been shown to improve your insulin sensitivity over the long term. Which means more stable blood sugar levels and less hunger pangs. Coffee is literally the perfect drink when you're doing intermittent fasting.
4. Tea
While we're in the topic of beverages, tea is also a great appetite suppressant just like coffee and it's also delicious.
All types of tea are great to drink during a fast, including green, black, oolong and herbal. But green tea, in particular, has been proven to help suppress appetite, enhance weight loss, and reduce LDL cholesterol which is the bad cholesterol by the way. Green tea catechins have also been proven to lower your Ghrelin levels. What's Ghrelin, you ask? Ghrelin is a hormone in your body known as the "hunger hormone", and it's the primary culprit of hunger pangs. And we've all gotten them before. Another term for it is when you get "hangry." Basically, the less hunger pangs you have, the easier it'll be to fast.
And I'm just gonna get ahead of this because I know somebody's gonna type this in the comments section. No, a Starbucks green tea latte does not help with fasting. A grande green tea latte in case you're wondering has a mind blowing 32 grams of sugar. Almost the same amount as a can of coke.
3. Broth of any kind
Home made bone or vegetable broth is highly recommended any time you decide to fast for 24 hours or longer. A good homemade bone broth is also delicious. Just try to stay away from canned broths or bouillon cubes because it contains artificial flavours and preservatives. A good homemade broth, or one made by a trusted source where you can see all the ingredients, is always the way to go.
But I'm gonna tell you now that you shouldn't stress too much about this stuff. Especially if you don't have time to make homemade bone broth which takes a lot of time by the way. What I mean by that is if you're even willing to take a break from eating, if you're willing to skip breakfast and just drink bone broth whether it's homemade or artificial, or whether you should put a little cream in your coffee or just take it black, that automatically puts you ahead of 95 percent of the population. You know what I mean? Just to kinda put things into perspective here.
5. Apple Cider Vinegar
Drinking apple cider vinegar has numerous health benefits if you integrate it as part of your daily diet, and you can definitely continue drinking it while intermittent fasting because it practically has zero calories but it has minerals such as potassium, magnesium, and iron.  Apple cider vinegar also helps to regulate your blood sugar and improve your digestion by killing off bad bacteria in your gut, and it also helps staves off hunger. I personally hate vinegar but I know apple cider is healthy for you so I usually just take a tablespoon straight up just to get it over with.
What can you drink while fasting FAQ
Does lemon juice break a fast?
No. Just make sure you're using real lemons. Not anything from a bottle.
Can I drink lemon water while fasting?
See above.
Can you drink coffee while fasting?
Absolutely. As long as it's black. You can have as much as five cups of coffee throughout the day.
Should I take vitamins while water fasting?
Only if you're doing an extended fast (48 hours or longer).
How many calories does it take to break a fast?
The general rule: If it has calories, it will technically break your fast. But it's not the end of the world. For example, adding a tablespoon of heavy cream technically breaks your fast. But you're still in a state of nutritional ketosis which means you're still gonna get most of the benefits of intermittent fasting.
Can y0u drink diet soda while intermittent fasting?
Absolutely not. Drinking diet soda destroys your gut microbiome and has been linked to obesity. It doesn't matter that it's zero calories. Your body will still think you're drinking real sugar which then triggers an insulin response therefore breaking you fast.
Is diet soda bad for you?
See above.
Will Stevia break a fast?
If you're someone who's used to adding sugar to your coffee, switching to black might come as a complete shock to your palette. It takes a little bit of time to adjust but you get used to it eventually.
When I'm dealing with my private coaching clients, adherence is more important than anything. That is, if you don't like what you're eating or drinking, you're not gonna stick to it. If it helps you stick to your fast, artificial sweeteners like stevia, swerve, and even aspartame are great alternatives to sugar. But it obviously goes without saying that you shouldn't abuse this stuff. There's research that goes both ways when it comes to artificial sweeteners eliciting an insulin response which then breaks your fast but I'm gonna say they're okay. For now. Just don't go overboard with it.
At the end of the day, use artificial sweeteners as of a training wheel to help you get started with intermittent fasting. But eventually, you'll just wanna go without it completely.
To sum things up, calorie-free beverages are OK during your fast. Even some artificial sweeteners are permitted to help you get started. But again, it's not about gaming the system. The key is to learn to take a break from eating through intermittent fasting, not to continue to reinforce the pattern of always eating which is what we're trying to correct here.
As always, if this was helpful, share it with a friend who could benefit from it as well!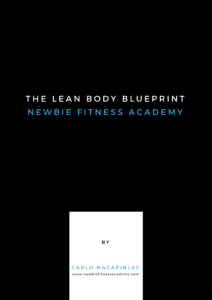 Need More Help?
Use this simple 4-step process to melt ALL the fat around your stomach and look good shirtless WITHOUT going on a crazy diet or wasting hours at the gym. Get the Lean Body Blueprint here for free!