You're screwed if you don't figure this out.
I'm talking about how many calories you need to lose weight.
You need to know this exact number.
What you CAN'T do is freestyle this part. I've tried it, it doesn't work. Your diet will always be a guessing game if you just wing it.
Don't believe me? Here's a picture of me just winging my diet. I also ate a lot of chicken wings. (Note: I was using my bag to cover the spare tire around my stomach.)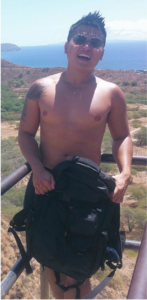 Figuring out my daily calorie intake for weight loss is probably one of the most important things that I learned when I was trying to figure out this whole weight loss thing and you know what? It led to some pretty amazing results for myself and now, to all my students. 
Here's how you to figure out how many calories you need to lose weight manually…
How Many Calories To Lose Weight
You wanna start by multiplying your body weight in pounds anywhere between 9 to 14.
If you're a male with an office job, then you start at the mid range between 10 to 12.
If you're active and you regularly work out, then you're in the upper range between 12 to 14.
Screw it.
Let me show you an easier way to do this by using a calorie calculator. I explain this in further detail in this video.
How to calculate your daily calorie intake
I'm gonna introduce you to one of the most powerful things in existence, when it comes to calculating your daily calorie intake without crazy.
It's a mobile app calorie calculate called MyFitnessPal.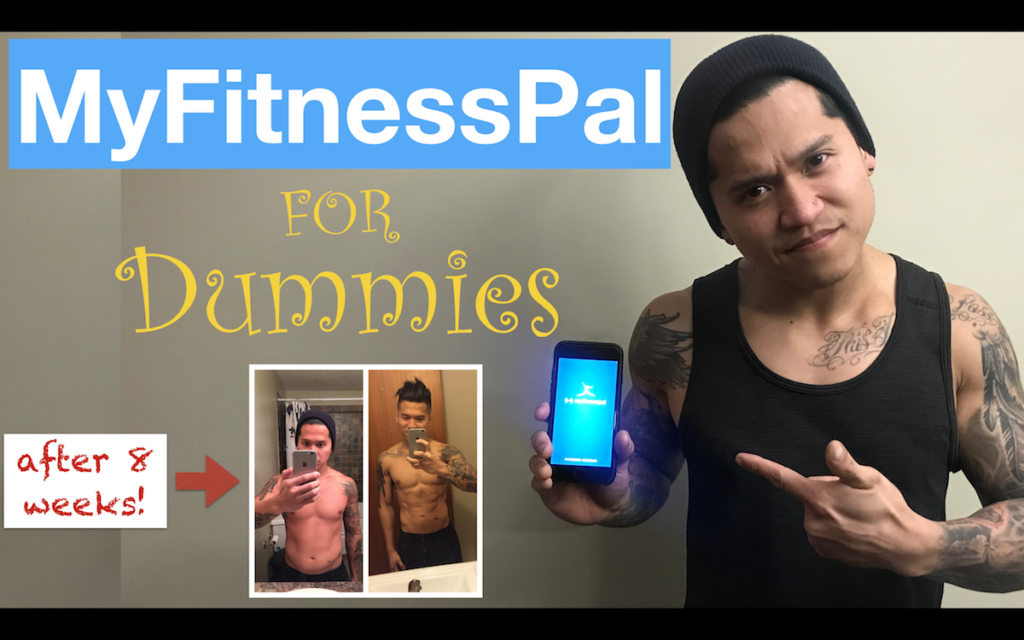 It doesn't involve doing any calculations or complicated math. All you have to do is download the app, sign up, give some information about yourself, and MyFitnessPal will give you your daily calorie intake. (Note: We are not affiliated with MyFitnessPal. I just like using the app.)
I mentioned this earlier and i'm gonna say it again, being in a caloric deficit is one of the keys to losing weight.
You can eat all the "healthy", and i'm putting air quotes on the words healthy here, and nutritious foods on the planet, and that's important. But if you overdo it, and it puts you in a caloric surplus, you're not gonna lose weight, I promise.
You can even overeat on "healthy" vegetables especially if it's the starchy kind. Same thing with fruits.
You can't outrun or outwork a bad diet either. It doesn't work like that. That shouldn't be rocket science, right? Especially if you're struggling to lose weight.
Here's a step-by-step guide on how to use MyFitnessPal to calculate calculate how many calories you need to lose weight.
How to use MyFitnessPal to track macros 
So first, captain obvious here, you have to download the app. This process stays the same by the way, whether you have an Android or IOS.
Once you have it downloaded, just click on the app to open it.
MyFitnessPal is probably one of the most powerful tools when it comes to tracking your calories and macros. It also gives you your daily calorie intake. The best part about it is, it's free. They actually have a paid version of the app but we're not gonna worry about that. The free version is more than good enough to get the job done.
Listen, you can't control what you can't measure. If you don't track what you eat and stay under your daily calorie intake for weight loss, your diet is always gonna be a guessing game.
You can either sign up for a new account or you can log in if you already have an existing account.
For the sake of this tutorial, we're gonna pretend that it's your first time using the app so we're gonna click on 'sign up' and I'll just walk you through this step by step.
You don't have to do any calculations when you're signing up for the app but you need to be as accurate as possible when you're providing your personal information. So let's just go through this together.
You can either sign up with an email or use your facebook account.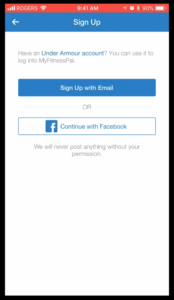 Let's go with the first option here.
Next, the app is gonna ask you about your fitness goal. I'm gonna assume that you're looking to lose weight here so we're gonna go with the first option.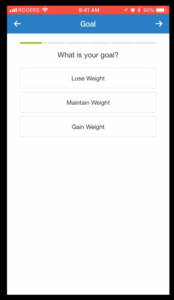 Next, you're gonna choose your activity level.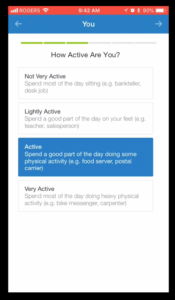 I'm on my feet a lot so I'm gonna go with 'active'. Your daily calorie intake for weight loss will depend on this. Just pick one that best suits your current situation. You can always change this later.
Next, you're gonna pick your gender, your birthday, and where you live. So we're just gonna go ahead and do that. Okay, once you're done, click the arrow on the top right hand corner.
Next, you're gonna list your height, your current weight, and your target weight. Now this might be a reality check for some people especially if you haven't weighed yourself in a while. But hey, you gotta start somewhere. Right?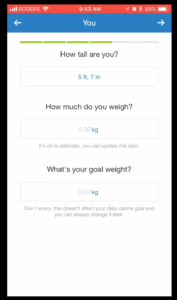 Just a quick tip here. To get your most accurate weight, you wanna make sure that you weigh yourself first thing in the morning after doing your business in the bathroom. That way you'll have a completely empty stomach. Again, captain obvious here, you'll also need a scale.
Now if you don't have one handy and for the sake of following along this tutorial, you can just estimate how much you weigh and just change it later once you have a scale.
Let's just say you're 170 pounds.
Next we're gonna pick our target weight. Say you wanna lose 10 pounds. So we're gonna put 160.
Next, you're gonna pick your weekly goal.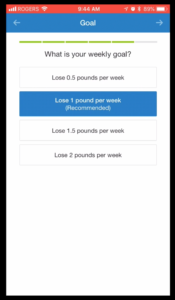 It's up to you how aggressive you wanna be on this. The more aggressive you are, the less calories you have to eat for the day. So just be aware of that. I usually like going with the recommend one pound a week. If you wanna be more aggressive, you can go one and a half.
Let's actually look at what changing your weekly goal does to you calorie deficit number just so you have an idea of what you should be aiming for and what you should expect.
Okay so you wanna hit those three little dots at the bottom right hand corner. Hit goals and right now I have it set at the default one pound per week and let's quickly take a look at your calorie deficit number. So right now, it's at 2,230 calories which isn't bad. You can definitely fit in a lot of food in that calorie budget.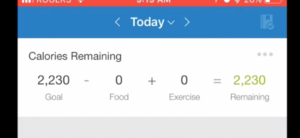 Now let's see what happens if you change it to 1.5 lbs per week, hit back, then hit diary again, and there you go it changes it to 1,820 calories which is surprisingly not that much less.
Now let's see what's happens if you're really aggressive with this, let's say you're going to Mexico in two weeks and you're still holding on to your winter body. I don't recommend this by the way but I just want you to have an idea of what crash dieting looks like.
Hey, leave a comment below if you've ever gone on a crash diet and tell me about your experience with it.
Okay so let's set our weekly goal to 2 lbs per week, and let's go back to our food diary, and that gives us a whopping 1,570 calories. That's not a lot.
If you want a general idea of what that looks like, here's a couple of examples. A Cliff Bar, which is an energy bar sold here in North America, has 250 calories.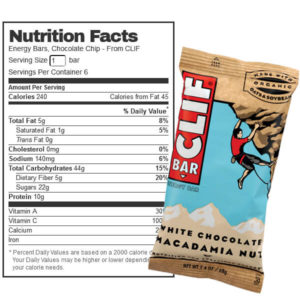 If you're living off of 1,500 calories or so, then that gives you 6 of these bars to eat for the day. Or a McDonald's Big Mac with fries and a coke and two cliff bars. You get the point. But that's it. That's all you get. Most people eat that in one sitting, you'll end up just inhaling air for dinner.
One last note here, changing your activity level right here also affects how many calories to lose weight you need so just make sure that you pick the right one that best suits your current situation.
Okay, let's finish signing up here. You're gonna enter your email address and a password, along with a username. Once you have all that taken care of, you're gonna need to open up your email and verify your account.
And once you do all that, you can finally use your login information and you're gonna end up on this page.
This is your home feed. By the way, a faster way of signing up is just using your facebook account to sign in. Either way works.
Now, based on all the personal information that I gave MyFitnessPal when I signed up, I have two thousand two hundred thirty calories that I can spend throughout the day.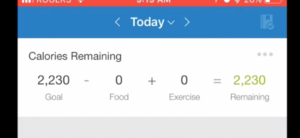 That is my all important daily calorie intake for weight loss.
Your number will most likely be different. It might be more or it might be less. Whatever it is, think of this number as your diet currency. It's how many calories to lose weight you need exactly.
How much easier was that instead of doing it manually? It just takes a couple of clicks to change your numbers and MyFitnessPal takes care of the rest.
Your job moving forward is to simply stay under this number if you wanna lose weight.
Which means that if you blow your entire calorie deficit budget for lunch because you crushed an entire pizza, then anything that you eat on top of that will put you in a caloric surplus. Which probably means you'll just have to drink water and go to sleep for dinner.
You know what I mean? You have to be sensible about this. Maybe you can have a slice or two so you can live a little. You can definitely fit that easily in your daily calorie intake budget. Tracking your calories and staying under your daily calorie intake is the main idea behind the 'If It Fits Your Macros (IIFYM)' eating strategy. 
I talk about the IIFYM eating strategy in my book, The 'No Diet' Diet. You can check it out here.
Your job moving forward is to log in all your meals throughout the day and as mentioned earlier, stay under your daily calorie intake, and you're gonna start losing weight guaranteed.
Simple, right?
As always, if this was helpful, share it with a friend who could benefit from it as well!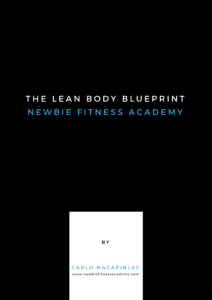 Need More Help?
Use this simple 4-step process to melt ALL the fat around your stomach WITHOUT going on a diet or wasting hours at the gym. Get the Lean Body Blueprint here for free!