It seems daunting.
But there are many reasons why you should do a 24 hour water fast. Rapid weight loss, anyone?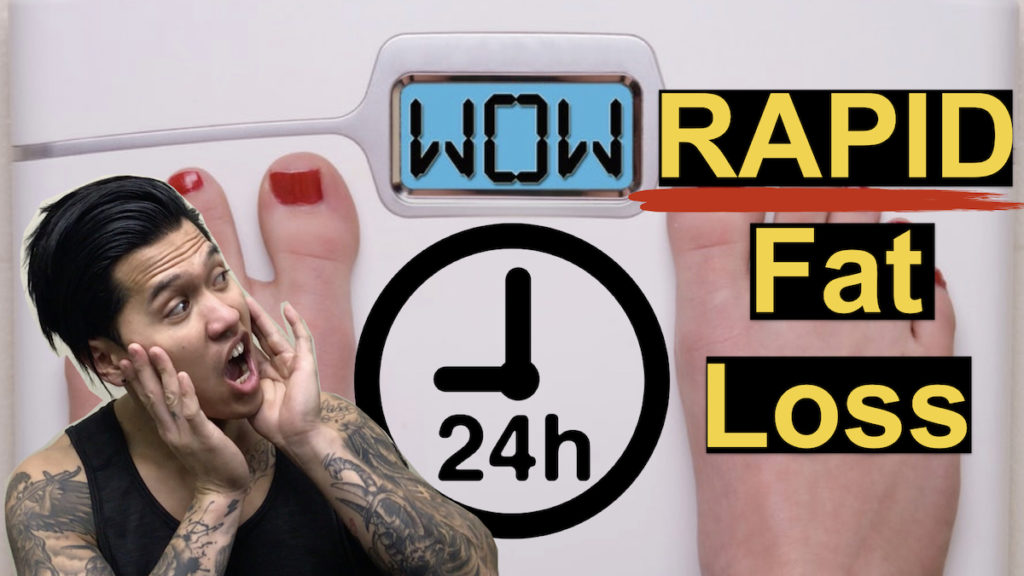 Here's a few benefits of doing a 24 hour fast.
The benefits of doing a 24 hour water fast
It decreases triglyceride levels and inflammation, decreasing your risk of heart disease and metabolic syndrome

You get b

etter blood sugar and insulin regulation

It's muscle sparring, it increases your metabolism and

growth hormones

It i

ncreases mental clarity and overall health

And lastly, you lose weight. A lot of weight.
I always say that weight loss might be the least impressive benefit of taking a break from eating when you see all the other improvements in your health markers.
How to do a 24 hour water fast
A 24 hour water fast typically lasts from dinner to dinner.
At least that's the most popular way of doing it for a lot of people. For example, if you eat dinner at let's say 7 pm, you fast until the next day until 7 pm. You don't technically go a full day without eating which is nice.
This method of intermittent fasting has several important advantages compared to a shorter fast. First, as a longer fast, it tends to be a little more effective. I usually recommend a 16 hour fast as the bare minimum because most of the benefits of fasting happens after that 16 hour mark. Also, because you still eat every day, medications that need to be taken with food can still be taken.
Another advantage of a 24-hour water fast is that it's easily incorporated into everyday life. Most people, for example will eat dinner with their family every day. Dinner is also the time when people go out and socialize.
So how would this look on a typical 9-5 workday? Well, when you wake up, you can start the day off with a cup of coffee or tea. Most people actually aren't hungry when they wake up. It's just been ingrained in our heads through brilliant food advertising that you have to eat first thing in the morning. You don't. You can work through lunch and maybe have another cup of coffee around that time or you can use your lunch time as an opportunity to workout. Then you finish work, maybe run some errands, then you get home and break your fast when you eat dinner with your family.
If your goal is to lose weight, in my one-on-one coaching program, the Lean Body System, I'll usually recommend this schedule of 24-hour fasting to be done twice a week. A lot of people find it so simple they'll often do it three or four times per week, and sometimes every day. This is often referred to as the one meal a day diet or OMAD diet for short. Read this if you wanna know more about the OMAD diet.
Okay, it's one thing to talk about a 24 hour water fast but it's another thing to actually do it. So here's what a typical day of doing a 24 hour water fast looks like for me.
24 hour fasting for weight loss
Here's a snapshot of my food diary if you wanna know exactly what I'm eating.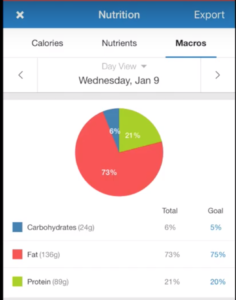 If we look at the macronutrient composition of this meal, it's 73% fat, 21% protein, and 6% carbs. It's a Ketogenic diet meal. It allows my body to stay in ketosis which means that my body stays in fat burning mode. And if you're trying to lose weight, that's exactly what you want. Read this if you wanna know more about the benefits of combining intermittent fasting and the keto diet.
Overall I lost 2 lbs in a span of 24 hours. And I wasn't even trying to lose weight. Which means that your weight loss numbers could even be higher if you have a lot of weight to lose.
Here are five tips to set you up for success when you do a 24 hour water fast:
Water is your best friend. This kinda goes without saying but if you're going without food for most of the day, then you need to stay hydrated. You need to stay properly hydrated in general anyway.
Salt is your other friend. Add a pinch of pink Himalayan sea salt to a glass of water to keep your electrolytes in balance. This prevents dehydration and headaches.
Drink black coffee. Coffee is a powerful appetite suppressant. It's literally the perfect drink when you fast. If you don't like coffee, you can drink tea or basically anything that's zero calories like soda water.
Stay busy. You only get hungry when you think about food. Boredom is your enemy when you're fasting. As you can see from my day, it's jam packed with activities. Try to keep yourself occupied especially during times when you would normally eat. 
Control your environment. This goes without saying but don't torture yourself by spending time in environments where there's food around you. Stay away from restaurants, the kitchen, and people eating food next to you.
Eat enough food. Once you break your fast, you need to eat to satiation. You don't need to diet on top of your 24 fast.
Listen, will you get hungry during your 24 hour fast? Absolutely.
If you're new to fasting, it's perfectly normal.
But you're not gonna die. 90% of your struggles when you fast will take place in your head. I think that's the other underrated benefit of fasting in that it really changes your relationship with food. So many people are addicted to eating. But if you stick to intermittent fasting and really give it some time to work it's magic, the results are absolutely worth it. It can be downright life changing.
As always, if this was helpful, share it with a friend who could benefit from it as well!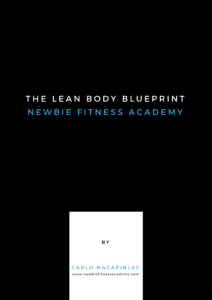 Need More Help?
Use this simple 4-step process to melt ALL the fat around your stomach and look good shirtless WITHOUT going on a crazy diet or wasting hours at the gym. Get the Lean Body Blueprint here for free!