Why is it hard to lose weight?
I'm willing to bet you're finally gonna find your answer today.
I'm gonna show you what could very well be the missing link to sustainable weight loss, improving your overall health, and longevity.
This might be a complete game changer especially if you're stuck and you've hit a weight loss plateau. 
Why is it hard to lose weight?
I'd be doing you a disservice if I wasn't always learning and evolving as a content creator. I'm also a nerd. I love learning about new stuff.
And I recently got exposed to the work of Dr. Gabrielle Lyon and it just completely opened my eyes to a whole new perspective that I'm now gonna share with you today.
I've always known that building and maintaining muscle through dietary protein and exercise was important. 
But her muscle centric medicine approach just took everything to another level. It connected a lot of dots for me personally.
Because we've been so focused as a society on being over fat.
But according to her work, it's actually the wrong way of thinking. That immediately blew my mind. And this paradigm shift alone might be a complete game changer for a lot of people struggling right now. 
It's not about being over fat. It's actually just the byproduct of being under muscled. Listen to that again if you have to.
Because muscle is actually the largest organ in the body. It's the organ of longevity. It's not just for locomotion.
It also happens to be the most under appreciated organ. We often just look at it as kind of this aesthetic thing. And that's actually it's least important function.
Muscle is our metabolic currency
It's the key driver of our metabolism. It determines everything about our body composition.
More importantly, it's a key indicator of lifespan. The higher the muscle mass, the better the protection against all cause mortality.
And that is so important for diseases of aging like type 2 diabetes, Alzheimers which is actually type 3 diabetes, and cardiovascular disease. It actually all starts in the muscle first.
So the best way to fix everything is optimizing muscle tissue and really changing this paradigm of thinking. 
It's not about being over fat. Which is why it hasn't worked for so many people. It really is, from a metabolic perspective, about being under muscled.
We've been focused so much on fat, and it's just the wrong perspective. The problem actually starts with the muscle first. Being over fat is secondary.
People often wonder why they regain the weight. The solution is muscle. They don't have enough muscle. **
And by shifting the paradigm from always focusing on fat, to a more muscle focused approach. Everything changes. Because muscle will take care of fat.
It's like switching from defence to offence. Better yet, do both.
One of the new things that I learned is that insulin resistance, which is something that I talk about a lot, is actually a primary deficit in the skeletal muscle first. 
Insulin resistance starts in the muscle. Because skeletal muscle is the primary site of glucose disposal. It's what we use to fuel our body when we exercise. 
This is why you rarely ever hear fit and active exercise enthusiasts get Diabetes. Because their muscles are efficiently able to utilize glucose for energy. That's why exercise improves insulin sensitivity.
Why is it hard to lose weight? How it works physiologically
Here's how it works physiologically. Muscle tissue is like a suitcase. It can only hold around 1600 calories of stored energy in the form of glucose from eating carbs. 
If you overfill it, it's got nowhere to go. So it spills into the blood stream. And having high amount of blood sugar is toxic to the human body. So it gets stored as fat. Not first.
So by optimizing muscle through resistance training, and getting enough high quality protein, you can take care of this invaluable organ that declines with aging.
I'm gonna share with you a personal story here. Think about your own parents and grandparents here. 
And this is really when it really hit home for me because a couple of years ago, I lost 3 of my grandparents in an 11 month span. It was devastating to the family.
And, guess what? They were all under muscled. And now, I can finally make that connection. My grandpa had Alzheimer's which again is type 3 diabetes in the brain.
I remember my one grandma tripping and she broke her hip. She needed hip replacement surgery and it was very hard for her to recover. Because she was so frail and thin. 
Same thing with my other grandma. She passed from a respiratory problem. Her body couldn't fight it off because she didn't have a lot of muscle to work with.
And I just thought that was a normal part of aging. It's not. We could've done something about it had we been more aware about the importance of having a lot of lean muscle mass as we age.
My point is the best thing anybody can do to reduce the risk of getting disease is by having optimal body composition.
Because the lower your skeletal mass, the higher your morbidity and mortality. As you get older, if you get sick, muscle is the most direct predictor whether you're gonna survive. It's as simple as that.
So by understanding that optimizing muscle is the mechanism of health, you can protect yourself now, as well as your family members by sharing this information.
So instead of always focusing on weight loss. Instead of always being on the defence. How about at the same time, we go on offence and put as much emphasis on building muscle. 
You have to correct metabolic composition first. By making sure you have healthy muscle tissue, the weight will come off. 
And this was another revelation for me. How have I been able to keep the weight off all these years? The answer has been right in front of me. I've built a lot of lean muscle mass.
When I think about my most successful students, they've obviously made the right dietary changes through my program. But at the same time, they've also made resistance training part of their lifestyle.
But if you focus on purely weight loss and just cutting calories, you're eventually gonna run into problems.
Because it's not about the weight you lose. It's about the quality. Because if you just cut calories, the weight you lose is actually both fat and muscle.
But if you do it strategically, by optimizing muscle, the majority of the weight can just be fat. 
Truth be told, it takes time and effort. It's hard. But for this instance, you get to choose your hard. Because being overweight or having diabetes is also hard. It's up to you.
Muscle is an endocrine organ
Endocrine, in case you didn't know, are the glands are organs that release hormone into the blood. 
I'm just gonna give you the basics. When muscle contracts, it releases something called myokines. 
Which are proteins that travels throughout the body to protect the bone and the brain. It's anti-inflammatory. 
It also helps with nutrition partitioning, glucose disposal, and fatty acid oxidation.
Brain derived neurotropic factor (BDNF) is another myokine that gets released by muscle tissue which helps with memory. That's why exercise helps with your memory.
How much protein should you eat?

 
This is also one of the new things I learned. It's actually on a per meal basis. You need to eat 30-50 grams of high quality protein per meal. By high quality, I'm talking about animals and animal products.
Because it has the most abundant and bioavailable amino acids. There are 20 amino acids, 9 of them are essential, leucine being the most prominent one. 
It's what triggers muscle protein synthesis through mTor. Short for Mammalian Target of Rapamycin. 
30 grams of protein is very easy to get if you're eating animals. It's 4oz of meat. 
If you're plant based, you need a whopping 6 cups of quinoa to get those 30 grams. Which is just metabolically devastating. It's catastrophic to your insulin levels eating that much carbs.
And I've talked about the importance of moderating insulin ad nauseam on my channel.
You don't want to have a massive insulin response from your meals. That's why there's really no argument between getting your protein from animals vs plants.
Any sane person should know that a piece of steak is not the same as kale. It's just not. I mean just look at the nutrient comparison side by side.
The problem is, the data actually shows that we're already mostly plant based. 70% of our calories comes from ultra processed, low protein, grain based foods.
The government RDA is 0.8 grams per kilogram of bodyweight which is devastatingly low.
I've been recommending 0.8 grams per pound of lean body mass. You can go 1 gram if you're really active.
According to Dr Gabrielle Lyon, you should aim for 1 gram per pound of ideal bodyweight.
So if your ideal bodyweight is 150 lbs, you should eat 150 grams of protein. Simple. 
You stimulate muscle mass through dietary protein and resistance training
You need to challenge the muscle to stimulate it. There's really no other way around it.
I've said before that if you want to be a healthy and happy human being, one of the best things you can do is to make yourself as physically strong as humanly possible. 
You achieve that through resistance training, not cardio. Resistance training is anabolic, which means to build. While cardio is catabolic, which means to break down.
Myths about eating meat
And no, eating meat does not cause cancer. It's not bad for the kidneys. That has now been massively disproven.
Listen, not eating red meat is one of the worst dietary advice out there. It's irresponsible and it's dangerous.
Think about what our elderly eat because they've been sold on this lie to avoid meat because of the fat and cholesterol. 
Instead, they eat oatmeal, fruit, and low fat skim milk. They think they're being health conscious. And that is just devastating to their health.
Any "study" that claims that eating red meat is bad is based on epidemiological studies which is just very low quality tortured data. It's not real science.
And it's usually from an anti-animal narrative. It's very emotional for these people.
But at what cost? Vegans, time and time again, have been shown to have the least amount of muscle mass and bone density. Oftentimes, you hear them having gut issues and their hair and teeth are falling out.
And let me just quickly address all the females watching this video right now that are scared they're gonna get bulky. 
I started training when I was a teenager. I'm 34 now, and I look like this. And I'm a gym rat. It's very hard to put on muscle.
You're not gonna get bulky. That takes years of strict dieting, training, and mostly likely the help of some anabolic enhancers. 
The real benefits of resistance training is that you're gonna feel better, you're gonna have that tight and toned look, you're gonna improve your inflammatory markers and glucose control because you have more muscle. 
The more muscle you have, the more metabolic flexibility and carb flexibility you'll have. 
This is when you earn your carbs. But you shouldn't eat more than 40 grams per meal to keep insulin moderated. 
And if you're gonna have them, have them after your workout. There's even studies that shows that if you back load and have it before bed, it helps with deep sleep. 
This is why muscle is your metabolic currency. It's the largest site for glucose disposal. When you think about your resting metabolic rate, which is the calories you burn at rest, it's the amount of muscle you have. 
And when you're younger and your hormones are good, you can get away with a lot. 
You can out train a bad diet. This is when you see people just have the worst diet and they stay lean. But if you look at some of those people's bio markers, they're what you would call skinny fat. 
But as soon as your hormones starts to change, that's when the problem starts. This gets magnified as you get older.
This is why some people, they eat the same way they did in their 20's and  30's, they hit their 40's and their body doesn't respond the same way anymore. They become anabolically resistant
So the more muscle you can put on in your 20's, 30's, and 40's, the better off you're gonna be.
Mark Sisson, one of my favourite authors, is easily my favourite example of what's possible with having a lot of lean muscle as you age. He's 67 years old and he looks like that.
And no, resistance training doesn't have to be heavy. Just use your own bodyweight.
As long as you have enough volume, meaning going close to failure and it's intense, you're fine. There's no way around this. It's the only way to maintain and build muscle. 
I've said this many times but if the benefits of exercise could be put in a pill, it would be the greatest blockbuster medication of all time. 
After learning about this muscle centric approach, that statement couldn't be more accurate.
Why Is It Hard To Lose Weight? Action Steps
The best way to approach this is start by determining your ideal bodyweight. I'm 125 lbs. I've been eating 105 grams of protein because I've been basing my numbers off of 1 gram per pound of lean body mass. 
Even that alone can be the baseline where you build your nutrition plan around.
And I've talked a lot about how a low carb/keto diet is muscle sparring. But you wanna also wanna make sure you're eating adequate protein to also make it muscle promoting. 
Plain and simple, getting enough high quality protein to maintain and build muscle should be your number one priority when it comes to your diet.
How many meals should you eat?
Ideally, two. You can do three. But every meal needs to have at least 30-50 grams of protein to initiate muscle protein synthesis. It also helps greatly with satiety. You're not hungry again after two hours. 
And that immediately takes care of the over eating or emotional eating that's a big problem for a lot of people. 
This is why you're always hungry on a low protein diet. Your body is gonna signal you to keep eating until it gets the protein that it needs to activate your built in satiety mechanisms.
So by shifting from this fat focused paradigm to the real issue which is being under muscled, the fat loss and preventing that weight regain will take care of itself. Muscle is the answer.
At the same time, we can protect the people we love. Again, this is an undeniable truth. The higher the muscle mass, the better the protection against all cause mortality.
If you're close to my age, think about your future self and your family members. Diseases of aging are soul crushing. It's so harsh. I saw it first hand with my grandparents. It's devastating.
However. By focusing on muscle and having access to the right information, you can change the trajectory of aging.
The biggest takeaway here is we have everything to gain by building muscle. And we have everything to lose if we don't.
As always, if this was helpful, share it with a friend who could benefit from it as well!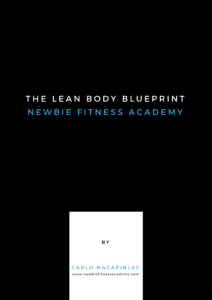 Need More Help?
Use this simple 4-step process to melt ALL the fat around your stomach and look good shirtless WITHOUT going on a crazy diet or wasting hours at the gym. Get the Lean Body Blueprint here for free!
PS. Have you nabbed your copy of The "No Diet" Diet yet? It's awesome, I promise. 
Click HERE
 to get a copy today!