Why am I not losing weight on calorie deficit? The answer is quite simple.
All diets, die. It's literally right in the name.
In this video, I'm going to show you the 5 biggest reasons why you're not losing weight and what you need to do instead in order to achieve your weight loss goals.
Why Am I Not Losing Weight On Calorie Deficit? Problem #1
The first problem with dieting is it makes you hungry. And being hungry sucks. Raise an imaginary hand if you've ever felt hungry on your current diet.
You get hungry because your current diet relies heavily on just restricting calories in order to achieve any amount of weight loss.
And it works at the beginning. All calorie restriction diets work at the beginning.
But then homeostasis kicks in. Your body adapts by slowing down your metabolism which causes the dreaded weight loss plateau. And you can only restrict calories for so long.
This can be classified as a form of semi starvation. It's built around the energy balance theory, more commonly known as calories in vs calories out, which we're gonna dive into in a second.
The problem with being hungry
Now, a few major problems come up when you're always hungry.
First, is that the compliance rate goes down. This is why you should never rely on sheer will power if you're just cutting calories. Because your will power runs out.
Even the most disciplined people can only hold off hunger for so long.
You're literally fighting against your hormones. You're fighting against your physiology, and your physiology will always win.
It's gonna lead to binging. You're gonna feel like a failure. Next thing you know, you're completely off track. Sound familiar?
Why Am I Not Losing Weight On Calorie Deficit? Problem #2
The second problem that comes up is the type of cravings you experience when you're hungry.
When you're semi starved, and this a survival instinct through evolution, your body is gonna look for the easiest and fastest to break down food source that will provide instant energy to your starving body.
And what's the easiest and fastest type of food to break down? Sugar.
This is why if you've ever gone on a diet, you're just cutting calories which means that your favourite treat is off the table, it makes you crave it even more.
Not only that, you're just craving the worst kinds of food like cookies, chocolate, ice cream, or even things that you don't normally crave. Because your hormones are completely out of whack
Again, this isn't even about will power. Your body sends really powerful hunger signals through the hormone Ghrelin that you need to look for a quick hit of fuel.
Which leads me to my second point.
You're not eating real food
You're eating what I like to call "Frankenfoods."
We've come a long way in terms of engineering and technology as human beings. One of the things that's become a by product of this engineering is the types of food that we consume these days.
A lot of us aren't eating real food anymore. We're eating food-like products.
Again, if you're cutting calories and you're grocery shopping, you now look for low calorie and low fat versions of foods.
And this is a multi billion dollar industry. Food manufacturers spend millions of dollars on marketing to make these "Frankenfoods" appealing.
To make everyone believe that if you eat the low calorie and low fat version of this certain food, it's gonna make you lose weight.
The problem with low fat dairy
So everyone goes out and buys skim milk instead of whole milk. It hurts me every time I hear someone order a skinny vanilla latte whenever I'm at Starbucks.
And I love using skim milk as an example for this because it's gross. You're literally drinking milk flavoured water.
If you compare skim milk vs regular milk, you're gonna see that yes, it's low in calories because it's low in fat. But if you look at the sugar content, it's usually higher.
And sugar is extremely fattening. Everyone knows that. And now, you're drinking something that's now gone through an extra level of processing.
I always like to say that there are no bad foods. Only processed ones. The more processing your food goes through, the worse it is for you.
The other thing about milk is that we are the only species on the planet that drinks milk from another animal. It's kinda weird if you think about it.
The biggest reason why we do this is because milk contains calcium. Well, you can get calcium from better sources like nuts and leafy greens.
My last point about milk is this. It's very important. Especially if you're an adult who still drinks milk or chocolate milk.
Think about it this way. A cow's milk is designed to grow a 90 lb baby calf to a fully grown 1500 lb cow in about 15 months.
You would be completely naive if you didn't think that that's not gonna have some sort of effect in your body.
We also give this stuff to our kids and childhood obesity is at an all time high. Are you seeing the connection there?
Going back to fake foods. We also eat a lot of rice crispies, we use margarine instead of butter, we buy low fat cheese, low fat sour cream, low fat yogurt, low calorie ice cream, low fat, and low calorie everything which all tastes like cardboard.
Because again, to make any food low calorie, fat that gets taken out because it's calorically dense.
But food manufacturers have to replace fat with something else to make it taste good. That something else is sugar.
It won't say sugar blatantly on the food label sometimes. They're really good at hiding sugar. There are at least 70 different names of sugar for crying out loud.
That's another thing that I want to point out. Because making proper food choices is really what gets you results at the end of the day.
Think twice if it comes in a package
Here's a good rule. If it comes in a package and it has a nutritional facts sticker attached to it with who knows how many ingredients are in it, you might want to think twice.
For example, a protein bar. I don't really know when this stuff became a staple in everyone's diets but it's not good for you. Just look at the back of the packaging. It's got ingredients that you and I can't even pronounce.
This also includes "natural" protein bars. You're basically eating a glorified snickers bar with some protein added to it. If you're trying to lose weight, you probably shouldn't be eating snickers bars every day.
But it gets a health halo, so we eat it every day, because we think it's good for us.
Think about a piece of steak for example. There's one ingredient. There's no food label on it. It's just that. A piece of steak.
Same thing with vegetables. If you buy a head of cauliflower, it's just that. Cauliflower. You're eating real food.
The problem with a plant based diet
Now I have to mention this quickly because going plant based has really gained a lot of popularity with documentaries like 'What The Health', and 'Game Changers' leading the way.
Here's the problem. None of the health claims in those documentaries are based on good science. They're just based on observational studies.
But people watch a documentary like that and they take it as the truth so they try going vegan,
Let's use beyond meat as an example because it's the most mainstream vegan food.
It comes in a packaging and has a nutritional value sticker so that should raise some flags immediately.
But then you look at the list of ingredients and I can't even pronounce some of things that's in it. How could you possibly think that that's healthy for you vs eating a piece of steak?
This is why I always say you should revolve your diet around real food. Revolve your diet around plants and animals.
Because that's how we evolved as human beings. You should eat single ingredient, mostly unprocessed, nutrient dense foods. Don't eat fake foods.
Again, the more processing your food goes through, the worse it is for you.
Because processed foods, which again are usually high in sugar, are the most insulinogenic types of foods.
Meaning, they're highly insulin stimulating. Insulin is your storing hormone. (We're gonna talk more about hormones in a second.)
Long story short. Processed foods, like low calorie and low fat versions of foods, are extremely fattening.
Why Am I Not Losing Weight On Calorie Deficit? Problem #3
You're not eating enough fat.
Fat has gotten a bad rap since the whole calorie counting concept came about. Because out of all three macronutrients, it's the most calorically dense.
1 gram of fat has 9 calories. While 1 gram of carb or protein only has 4 calories.
Common sense suggests that if you're cutting calories because you wanna lose weight, just cut the fat. Which ties back to the last mistake and that's when you gravitate towards highly processed low fat frankenfoods.
I remember as a kid being told to cut the fat from my steak or not eat chicken skin because it was bad for you. Even though it was the best part.
But if you completely disregard its calorie content, and you should, fat actually delivers 4 times the amount of energy when it gets metabolized.
Ketones specifically, which are the energy units that gets produced when your body breaks down fat, is a cleaner burning fuel compared to carbs and sugar.
The latter leaves free radicals that leads to oxidative damage and inflammation.
Systemic inflammation is the root cause of a lot of nasty disease like cancer, arthritis, diabetes, autoimmune and cardiovascular disease.
The truth about fat
What I'm trying to say here is that fat isn't bad for you. Especially if it comes from good sources. Fat doesn't make you fat. If anything, if you're not eating enough fat, you're probably fat.
A lot of native tribes around the world who still live a hunter gatherer life are perfect examples of this. The Masaai tribe from Africa or the The inuits in Canada are perfect examples.
But let's use the Inuits because I'm from Canada. Their diets consists of mostly animals because plants aren't really abundant in Northern Canada. So they mostly hunt fish, seals and caribou.
What they do after a successful hunt is they'll actually eat the fattiest parts of the animal and organ meat first because they're the most nutrient dense. Then they'll feed the lean cuts of meat to their dogs.
And they don't suffer from modern western diseases like diabetes, obesity, cancer, and cardiovascular disease. They only start getting it when they start eating a modern western diet. Go figure.
There are studies that even shows when people just ate lean cuts of meat, they suffer from something called 'Rabbit Starvation' because they weren't eating enough fat. It's only a complete meal if fat is present.
And another crucial role that fat brings to the table is it triggers your satiety hormone called Cholecystokinin (CCK). So fat along with protein helps to keep you full longer so you don't have to eat frankenfoods as a snack.
What do you think is more satiating? Bacon and eggs or a bowl of breakfast cereal?
The former has tons of healthy fats and protein which activates your satiety hormones.
While the latter is a sugar laden meal which will cause a massive spike in your blood glucose levels. Which your body deals with by sending a signal to your pancreas to start producing that storing hormone insulin which puts your body in fat storing mode.
This by the way is why poverty is directly tied to obesity. Think about it. If you're feeding a family of four, what do you think is cheaper to buy? A piece of steak? Or a box of pasta?
It's a sad reality when it comes to the current food system in the U.S. because grain producing companies receive huge subsidies from the government. Anyway, that's a rabbit hole that we don't have to get into.
The point that I want you to take away here is that fat doesn't make you fat even though its calorically dense.
Which leads me to mistake number 4 which is the root point of the first three mistakes.
Why Am I Not Losing Weight On Calorie Deficit? Problem #4
Your current diet involves just strictly counting calories.
There are many reasons why this is such a huge problem.
But this is what a lot of "macro coaches" out there want you to follow. This is the IIFYM model.
The first problem of just strictly counting calories and just fitting everything in a calorie counting app is that it leads people to start eating these highly processed low calorie and low fat frankenfoods.
Again, they're typically high in sugar. They're extremely fattening because they're insulinongenic. High insulin blocks lipolysis which is fat burning.
The second problem is that it shifts you away again from eating highly satiating foods like fats and protein. Especially fat because you're scared of the calories.
The problem with the food pyramid
This all started back in 1980 when the USDA released the first dietary guidelines for Americans.
Telling everyone to eat 6-11 servings of the bread, cereal, rice, and pasta group. Which are 6-11 servings too many in my opinion.
The base of this pyramid are highly insulin stimulating and fat promoting types of food which are not satiating at all. That causes people to overeat.
While the top of the pyramid is where you can find fat. So we're told to cut calories and follow a grain based, high carb, low fat diet. Which is also the same time when this whole obesity epidemic started. Go figure.
We've been trying to follow this advice over the last 4 decades now and it hasn't really worked. In fact, it's been proven to have a 99% failure rate.
Because the calories in vs calories out models biggest flaw is that it treats all calories equal.
But you don't need to be a rocket scientist to know that 100 calories of cauliflower isn't gonna have the same fattening effect as a 100 calories of cookies.
Not all foods are created equal
Your body has a physiological response through the release of specific hormones.
The main one being insulin because it's the hormone that controls your body weight. It's the hormone that tells your body to store fat or to burn it and it's directly influenced by the foods that you eat or what you don't eat.
Your body is an absolute miracle in itself. It's a sophisticated and complicated system controlled by hormones and other things. It's not just a simple mathematical equation.
So if your goal is fat loss, what you really wanna do is focus on a diet that moderates your insulin levels. Because it's the only diet that will allow you to tap into your fat burning mechanism.
I'm talking about a high fat, moderate protein, low carb diet. The complete opposite of the standard American diet (SAD for short).
Because out of all three macronutrients, carbs, especially refined carbs and sugar (the processed low calorie foods I just mentioned) spike the hormone insulin the most.
While fat, especially pure fat, doesn't stimulate insulin.
Protein also stimulates your insulin levels but it also activates your satiety hormone Peptide YY (PYY) so you're kinda protected there.
If you've ever been to an all-you can-eat Brazilian bbq restaurant for example, you get to a point where you literally can't eat any more meat. You get the meat sweats.
But a funny thing happens when you're presented with desert. All of a sudden, you have space for it. This is called the second stomach phenomenon.
So again, a high fat, moderate protein, low carb diet is gonna help keep you full longer because it's gonna activate your satiety hormones.
You won't feel the need to snack on something sugary in between meals. It's gonna allow you to keep your insulin levels moderated which will allow you to start burning body fat for energy.
Why Am I Not Losing Weight On Calorie Deficit? Problem #5
The biggest reason why all diets fail is in the name itself. All diets die.
Don't think of your weight loss goal as something that you only do temporarily.
This is why people fall in love with fad diets or quick fixes or anything that promises instant results.
It's what gets people to go on juice cleanses. Then they just go back to their old habits afterwards. It doesn't work like that.
All you did was waste money. You might as well just light your money on fire.
Instead, I want you to think of your weight loss journey as a complete lifestyle change. You're in it for the term. This is why I want you to ditch calorie counting.
You can't keep doing the same thing over and over again and expect a different outcome. Instead, I want you to focus on eating real foods.
Think single ingredient, mostly unprocessed nutrient dense foods. Revolve your diet around high fat, moderate protein, and low carb meals and eat it to satiety. Do that and I promise you, you're gonna lose weight.
And follow this one last golden rule. Eat when you're hungry, don't eat if you're not hungry.
As always, if this was helpful, share it with a friend who could benefit from it as well!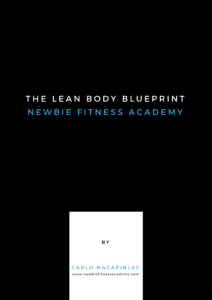 Need More Help?
Use this simple 4-step process to melt ALL the fat around your stomach and look good shirtless WITHOUT going on a crazy diet or wasting hours at the gym. Get the Lean Body Blueprint here for free!
PS. Have you nabbed your copy of The "No Diet" Diet yet? It's awesome, I promise. 
Click HERE
 to get a copy today!