If you're nowhere near close to achieving your weight loss goals, or worse, you're stuck. You've hit the dreaded weight loss plateau. Then you're in luck.
In this video, I'm going to share with you the top 5 most common reasons that cause people to hit a weight loss plateau and what to do instead, so you can finally start losing weight again.
1. You're still eating too much carbs
I mention this a lot on my YouTube channel because it's such a low hanging fruit that you can address if you ever find yourself stuck on a weight loss plateau.
And it always works.
For this to make sense, you need to know a little bit about basic human physiology. This will fly in the face of a lot of macro coaches out there who thinks that you can just plug in your food in a calorie tracker and call it a a day.
It doesn't work like that. Your body is a little bit more complex than that.
The reason why eating too much carbs is such a weight loss killer is that carbs, especially refined carbs and sugar, is the macronutrient that causes the highest release of the storing hormone in your body called insulin.
Insulin is what controls your body weight.
If your insulin levels are high, it locks up your fat stores so that it can't be used as a source of energy.
Because you can either be a sugar burner or you can be a fat burner. You can't do both.
You can't burn a little bit of this, and a little bit of that. Insulin is what controls this process.
It's not as simple as calories in vs calories out.
If your insulin levels are high, if you eat too much carbs, you can't access your fat stores and burn it for energy. You just can't. It just gets locked away and you just keep accumulating it.
If you eat the opposite of a high carb diet; a low carb diet. Then that's going to moderate your insulin levels, and you can easily tap into your fat stores and burn it for energy.
That means you won't be hungry, you'll have more energy, and you won't experience cravings because you have your entire fat stores available as immediate fuel.
That is called being metabolically flexible.
Protein can be insulinogenic as well. But it also activates your satiety hormones so that protects you. It's very hard to overeat steak for example.b
But when it comes to carbs and sugar? There's no limit.
While fat stimulates insulin the least. Which means you want to revolve your diet around high fat, low carb, and moderate protein meals.
And, no. Fat doesn't make you fat. Even though it's calorically dense. It has 9 calories per gram versus carbs and protein which only has 4 calories per gram.
That doesn't matter.
Because fat delivers 4 times the amount of energy when it gets broken down.
Again, it is not just about the calories. You have no calorie counter in your stomach anyway.
2. You're just cutting calories
When you cut calories but you're still eating a high carb meal. This also includes "healthier" options like whole wheat bread and brown rice by the way.
They're still suspect. Because your body still has to produce the same amount of insulin to digest it while also being high in anti-nutrients. Which causes a lot of autoimmune and digestive problems like leaky gut.
So if you're still eating a lot of carbs and you just cut calories because you think it's just calories in vs calories out. You are literally putting your body in a state of semi starvation.
Yes, you'll lose weight at the beginning doing this. So far so good, right?
Not for long.
Because as your body responds to this lower level of nutrition, let's say your basal metabolically rate or BMR is 2000 calories. That's the amount of energy your body burns at rest just to keep the lights on.
If you go on a calorie deficit of 1500 calories but you're eating a lot of highly insulin stimulating foods like processed carbs and sugar. Your body doesn't just make up that 500 calorie difference from your fat stores.
Because again, high insulin from eating a lot of insulinogenic foods block fat burning.
Your body literally goes through a state of semi-starvation. So what does it do to protect itself? It lowers your BMR to 1500 calories, or even less.
This is why you see some people eating 1200 calories every day. They're tired, they have no energy, they're hungry all the time, and they're barely eating anything.
They eat a lot of highly processed, low fat, and low calorie versions of foods which are also full of sugar, and they're not losing weight.
So what do they do? They just keep cutting calories.
Not only is it harder to lose weight as you cut calories, it's actually so much easier to gain weight as well.
Again, hypothetically speaking, let's say your BMR drops to 1500 calories from 2000 calories.
Not only will this cause a weight loss plateau when it comes to the decrease in BMR. But it's also going to make it so much easier for your body to gain back that weight because it's now burning less energy at rest.
Which means that it takes less food than before to gain back that weight.
And nothing illustrates this flawed model more than the the show, "The Biggest Loser." If you've ever it, they put the contestants on massive calorie deficit diets and extreme workout programs.
And they do lose weight at the beginning. But after they're done the show, they put all the weight back on because they all have an extremely low metabolism.
Calorie counting simply doesn't work long term.
And if this has been your method of weight loss all this time and you're now stuck on a plateau, you already know this to be true.
3. You still believe in the zero calorie myth
This ties back into the calorie restriction model in that you think it's all about the calories.
I'm talking about any "diet" version of any drink or any drink that's branded as "zero" calories but is artificially sweetened.
This is the greatest thing if you're a calorie counter.
All you need to know is that drinking diet soda promotes weight gain instead of weight loss.
Some studies even link artificial sweeteners directly to obesity. Which means the more of this stuff you drink this stuff, and it's highly addicting, the higher the likelihood you become obese.
Why? Because artificial sweeteners destroys our gut microbiome.
Think about it this way. We evolved 2.5 million years ago. Aspartame was invented in 1965. Diet coke came out in 1982. So that's only 38 years ago.
Simply put, our bodies simply hasn't evolved to process this stuff. Our Paleolithic didn't drink diet coke. It's completely foreign to our gut microbiome.
This also includes the "natural" sweetener, Stevia. I know. I probably just broke your heart. But I'm going to level with you on this.
Because I fought tooth and nail before I gave up this stuff  which probably meant I was also addicted.
I used to put it in my coffee and I drink multiple cups during the day, I also used to drink Zevia which is a soda sweetened with Stevia, and
I was also stuck on a weight loss plateau. And I never pointed the finger on it because again it was supposed to be better.
But here's the thing. All artificial sweeteners, including stevia, triggers the cephalic response insulin response (CPIR) in your body.
The CPIR is when your body thinks that there's food coming in.
So when you drink diet soda or when you put stevia in your coffee, you taste something sweet. What your brain does is it sends a signal to the pancreas to start producing insulin in anticipation to store all the food that's about to come in.
Yes, it's zero sugar. So it's a little bit better than regular pop. But it still triggers an insulin response which again puts you in fat storage mode.
And that's another key concept that you need to understand. Just because something isn't as bad for you. I'm talking about regular soda vs diet soda, or regular sugar vs artificial sweeteners, doesn't mean that it's good for you.
Nothing that sweet gets a free pass once it enters your body.
By the way, if you're doing intermittent fasting and drinks this stuff during your fast, you're inadvertently breaking your fast.
Because again, all artificial sweeteners trigger an insulin response. You're putting your body in fat storing mode during your fast.
So if you're already fasting, you're not losing weight, and you've hit a plateau, this is why.
Still not convinced? There's a study where even putting artificial sweeteners in your mouth and spitting it out was enough to trigger an insulin response when the researchers measured plasma insulin levels.
I felt so betrayed when I first discovered that but it was also such a revelation. Because I finally knew what I was doing wrong.
4. You're not eating enough
This ties back to the first couple of mistakes in that A.) You're eating too much carbs which are extremely nutrient deficient and not satiating. B.) You're just cutting calories.
Satiety plays a massive role when it comes to losing weight. When you don't eat until you're satiated, it causes your body to crave a quick hit of fuel and therefore, increase sugar and carb craving.
This should sound familiar if you're still eating a lot of carbs and you follow the calorie restriction protocol. Come mid-morning or mid-afternoon, you're crashing.
And you can only fight those cravings for so long.
So this isn't even about a matter of willpower. You're literally fighting your hormones. You're fighting against your physiology and your physiology will always win.
This will inevitably lead to snacking on highly processed carbs like chips, crackers, protein bars, or meal replacement shakes.
To make sure you don't get those cravings, you want to make sure you're eating until you're satiated.
Focus on building your diet around healthy fats and protein. Because they both activate your satiety hormones to help keep you full and satisfied between meals.
5. You're snacking throughout the day
This is a one way ticket to hitting a weight loss plateau.
Snacking to keep your metabolism high is based on nothing but bro science. There is no scientific data that proves eating multiple times throughout the day is somehow beneficial for fat loss.
Think about it this way. If you eat the same amount of calories, one is spread out 6 or 7 throughout the day, versus just eating two or three meals a day. There's a huge physiological difference there with how your body responds between those two.
When you're eating small meals throughout the day, that means you're always constantly having a stream of food coming in. Which means that you're always going to be in that constant storing mode because you always have a high amount of insulin.
Instead, you want to eat two or three meals and eat them to satiety. So you don't have to feel the need to eat multiple meals throughout the day.
This allows your insulin to dip back down between those meals, which is what we want, when we're looking to tap into those fat burning mechanisms.
So stop eating too much carbs, don't just cut calories if you're not metabolically flexible, stop using artificial sweeteners, make sure you're eating enough, and stop snacking throughout the day.
If you do those things, I can almost guarantee that you're going to break your weight loss plateau. It's not gonna be a matter of if you're going to lose weight, it's only going to be a matter of when.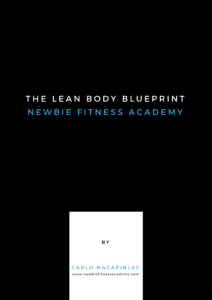 Need More Help?
Use this simple 4-step process to melt ALL the fat around your stomach and look good shirtless WITHOUT going on a crazy diet or wasting hours at the gym. Get the Lean Body Blueprint here for free!
PS. Have you nabbed your copy of The "No Diet" Diet yet? It's awesome, I promise. 
Click HERE
 to get a copy today!