If you feel stuck and you're not making any progress, you might be making one of these mental mistakes.
Mike Vacanti from ontheregimen.com talks about it in this 3 minute video:
Here's my take on these mental mistakes:
1. Lack of patience.
Some people forget that it took them months, even years to get to where they're at right now. It just didn't happen overnight. Yet we keep on looking for quick results. We want to be the next overnight success.
It simply doesn't work that way.
You need patience, dedication, and a proven plan if you  want long term sustainable results.
2. Forgive yourself quick.
A lot of start to feel like a complete failure when they have little slip ups when it comes to their diet.
One bad meal won't make you fat. Much like one good meal won't all of a sudden turn you in to a super model either.
If you're having a bad day, view it as just that and try to do better the next day.
3. Be radically honest with assessing your progress
People sometimes wonder why they're not seeing any results yet conveniently forget about the weekend bender they just put themselves through. Or they say they're not eating junk food but eat "protein" bars and diet soda like it's going out of style.
The problem is most of those "protein" bars are nothing more than just glorified Snickers bars. Yet we think it's good for us!
At the end of the day, it's all about just chipping away. Small daily good decisions add up to staggering results over time.
As always, if this was helpful, share it with a friend who could benefit from it as well!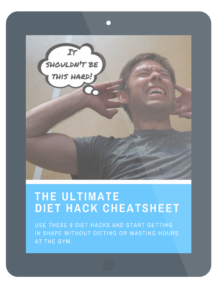 Need More Help?
Use these 9 hacks and start getting in shape without dieting or wasting hours at the gym. Get the Ultimate Diet Hack Cheatsheet here for free!