What's the best daily fat burning routine?
You're in the right place.
I'm gonna show you a daily fat burning routine you can follow so you can turn your body into a fat burning machine. I'm gonna give away all my secrets.
Here's What You'll Learn:
hide
The Best Daily Fat Burning Routine
I initially transformed my body 9 years ago and I haven't looked back ever since.
Over the years, as I learned more about fitness and nutrition, I've improved and refined my daily routine. We are creatures of habits after all.
So I'm gonna show you what a typical daily eating routine is for me. As well as my daily healthy habits that I practice overall. Feel free to tweak it and make it your own. 
I normally wake up at 7am every day.
It doesn't matter if it's the weekend. I do it to optimize my circadian clock. It's one of the best things you can do for your body.
And I'll have a cup of coffee. I love coffee. I honestly drink it for the taste. Caffeine is just a bonus. It's one of the simple pleasures of life for me. 
And then, I'll get into my morning ritual. Easily the most important part of my day. You need to do everything in your power to get your morning right. Protect it at all cost. Because it sets the tone for the rest of your day.
80% of people check their phone the moment they wake up. Don't be part of that statistic.
First, I practice 3 rounds of the Wim Hof breathing method. If you've never heard of Wim Hof before, you should look him up after watching this video. He's nicknamed the 'ice man' and he holds 21 Guinness world records. He's basically amassed a cult like following.
But basically, the WHBM is a 'controlled hyperventilation or power breathing' followed by a retention time. 
You're inducing voluntarily a short stress response which ultimately will lead to more resilience towards everyday stress, mentally and physiology, and feeling more in control.
I do my daily gratitude practice by journalling 5 things I'm grateful for.
Practicing mindfulness and gratitude is one of the best ways to lower stress, anxiety, and depression. It's basically like free therapy.
I used to be to cool for school when it comes to practicing it but it's honestly been life changing for me. I believe that mental health is true wealth these days.
In terms of food, I don't eat my first meal until 1:30 in the afternoon. This is called time restricted feeding or intermittent fasting. 
I have tons of energy to fuel me for the first half of my day because I'm metabolically flexible. Which means my body is good at tapping into stored stored energy aka body fat. I've trained it over the years to do just that.
After my morning ritual, I'll walk to the gym shirtless to get my daily dose of vitamin D.
I average around 12,000 steps every day.

 
Walking is the lowest hanging fruit when it comes to exercise. 
I'd argue that getting at least 10,000 steps a day is even more important than a structured fitness routine. Walking can get you pretty far when it comes to your weight loss goals. You should check out…
But let's quickly talk about exercise. I've been training in a fasted state since 2012. I don't need pre workout, BCAA, or feel the need to drink a protein shake afterwards.
It doesn't matter what the workout is. Whether it's a heavy leg day, flipping tires on the beach, a CrossFit WOD, or whether I'm doing Muay Thai. I always have tons of energy.
Heck, I was in a fasted state when I broke all the provincial records in my weight class and placed second worldwide in international competition when I used to be a competitive athlete. 
Plain and simple, workout supplements are overrated. You don't need them. Save your money and buy high quality food instead. The best workout drink is water. Or, coffee.
When I get home from the gym, usually at around 930am, I still won't eat for another 4 hours and I'm totally fine. Partly because I'm not hungry and I've got work to do.
But I'm not compelled to think, "I just finished my workout, I need to drink a protein shake."
The entire protein powder and workout supplement industry, which is a multi billion dollar industry, is built around that way of thinking.
You don't need to do that. If you're metabolically flexible and you're good at burning fat, you have all the energy you need. 
The average person has anywhere between 40-100,000 calories worth of stored energy in the form of body fat waiting to be used. It's not just there for looks.
I'm also one of those people who just never had a big appetite first thing in the morning. I remember force feeding myself when I was still in school. I also had a Dad Bod back then. Go figure. 
If you're not hungry, why are you eating? Don't eat. It sounds like common sense. But these days, common sense isn't so common. 
But if you're a sugar burner, which is the definition of metabolic inflexibility. Most people unfortunately operate in that space especially if you've just been following the classic food pyramid, and you haven't eaten for a while. 
You've depleted the glycogen stores in your muscles and liver. And because you're carb dependent, your body is expecting you to keep feeding it sugar all the time. And you can only store around 2000 calories in your muscles and liver. 
So when you run out, your brain starts freaking out because it doesn't want to die. It gives you the signal that you gotta eat. Now. This is when people get hangry. 
If you don't eat, your body is gonna release cortisol which is gonna tear down muscle tissue so that the amino acids can be sent to the liver to be converted into glucose so you can fuel your starving brain.
This is called liquidating your assets. You're tearing down the muscles you're working so hard to build because of your dependence on constant carb consumption.
All of that goes away when you're metabolically flexible. It should really be your number one priority, in my humble opinion. 
If you're metabolically flexible, when you don't eat, your body knows how to access body fat. 
You always have stable blood sugar which means you don't have these crazy energy and mood swings. More importantly, you get to spare your precious muscles. 
You just have to eat and make supportive lifestyle choices, by following this daily fat burning routine, to turn on your innate ability to burn fat. It's actually your default factory setting as a human being.
You can become metabolically flexible by the way in as little as 21 days. 
I'm obsessed with bio hacking.
I'm all about doing free things that yields the greatest ROI. And one of those things is taking cold showers. 
Cold therapy has gained more popularity lately because it's linked to numerous health benefits.
Scientists have found evidence that exposure to cold speeds up metabolism. It reduces inflammation, swelling, and sore muscles. It's also linked to improved quality of sleep, more focus, and even to an improved immune response.
Even as little as 30 seconds every day is enough to get you benefits. Yes, it sucks at first. Just breathe your way through it. You'll get used to it eventually. 
Remember, our hunter gatherer ancestors didn't have access to a water heater tank. If you wanna take things to the next level, do an ice bath.
At 1:30 in the afternoon, I'll have my break-fast meal.
That's literally what breakfast stands for.
I'm on a mostly animal based whole foods diet these days. My "break-fast" meal is 2 ounces of pan fried beef liver, 3 ounces of ground beef, a couple of eggs, and some avocado. 
I talk about why those foods specifically are some of the best foods you can eat for weight loss in this video. 
But I'm gonna give grass fed beef liver a quick shout out because it's the most nutrient dense food on the planet. It's the superfood of all superfoods.
I normally also eat non-starchy vegetables like roasted cauliflower, brussels sprouts, asparagus, mushrooms, and sweet potatoes back in Canada.
But since I'm in Mexico and my place doesn't have an oven and I'm too lazy too cook, I've ditched most vegetables.
By the way, I gave those specific numbers for meat because you wanna eat at least 30-50 grams of protein every meal to trigger muscle protein synthesis. 
After eating, I'll go for a 15 minute walk.
It's been shown to cut the blood sugar and insulin response from your meal by half. 
The faster you can regulate blood glucose and insulin, the faster you can start burning fat.
Then come mid afternoon, I'll take a 45 minute nap. We evolved to favour biphasic sleep, by the way. Napping is good for you. 
According to the most recent sleep research, it doesn't affect the quality of your sleep at night. If anything, it improves it. 
Even as little as a 20 minute nap will give you benefits. You can even take as long as an 1.5 hour nap to complete a full sleep cycle.
Then at around 630, I'll have my second meal which includes some type of animal protein again and a couple of eggs. And again, I'll usually have that with some roasted brussel sprouts and cauliflower.
When you become metabolically flexible and your appetite hormones become more regulated, you'll realize that you don't need as much food.
Don't get me wrong, I love food. I love to eat. But what I've learned over the years is around 3/4 of my way through a meal, I ask myself subconsciously and my body tells me this as well, am I still hungry?
If I'm not, I'm okay to stop eating. I don't need to finish the food in front of me. 
The Okinawans in Japan have a term for this called 'hara hachi bu'. They stop eating when their stomachs are 80% full. They also have the longest life expectancy on the planet. They're obviously doing something right.
But if I'm still hungry, I'll finish my plate.
After that, it's time to wind down. I gotta admit, I watch my fair share of Netflix. We live in the digital age. I think it's impractical to tell someone to not watch TV. 
Just try to finish your last episode an hour, or at least 30 minutes before bed time. 
Also, make sure you put your phone, laptop, and TV on night mode where the screen kinda turns orange. You can also wear blue light blocking glasses.
Lastly, let's talk about sleep.
This should be sacred time. It's usually lights out for me between 1030-11. I've become obsessed about rest and recovery, as I learn more about it and how important it is. 
Sleep is when the body renews and regenerates itself. It's so important. It's literally everything.
There is no metabolic flexibility or optimal health without it. Not getting adequate and quality sleep, 7 hours minimum, moves every health metric in the wrong direction. 
I give myself 8 hours of sleep allowance in a cool, pitch black room, every night. I wear a sleep mask and I also use a special mouth tape that I bought on Amazon, to make sure I'm breathing through my nose the entire night. 
If you snore or you have sleep apnea, taping your mouth could be life changing for you.
If I get less than 7 which is the minimum, I feel it the next day. One night of bad sleep can raise cortisol, which is your stress hormone, by 100%. You're basically in a pre diabetic state.
You can bet that I will do everything in my power so that doesn't happen again for a second consecutive day. I have been known to skip workouts if I'm just not feeling it that day. 
Very rarely will you see me out late from social gatherings. Because again, I wake up at the same time every day.
I also love Mindy Kalling's quote when she said, there is no sunrise so beautiful that it's worth waking me up to see it.
And, that's it. That's my daily fat burning routine. I understand that everyone's different. Just do your best to follow as much of it as you can. 
Your health and wellness should be your number one priority. And just know that you're absolutely worth the effort. You only have one body and you have to live in it. You might as well take care of it.
As always, if this was helpful, share it with a friend who could benefit from it as well!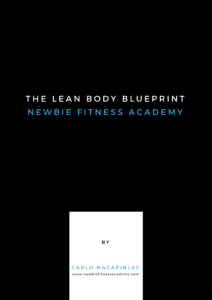 Need More Help?
Use this simple 4-step process to melt ALL the fat around your stomach and look good shirtless WITHOUT going on a crazy diet or wasting hours at the gym. Get the Lean Body Blueprint here for free!
PS. Have you nabbed your copy of The "No Diet" Diet yet? It's awesome, I promise. 
Click HERE
 to get a copy today!