Stuck with weight loss?
You're not alone.
In this video, I'm gonna show you the hardest part about losing weight that nobody talks about and how to get over it.
Stuck with weight loss? Start HERE
For the last 8 years and counting, I decided to do a few things that's resulted in some pretty dramatic changes in my body and I've been able to maintain it ever since.
I stopped eating dessert every day. Eating brown sugar cinnamon flavoured pop tarts every day was just automatic.
I stopped snacking in between meals.
I started eating better food.
I reduced my meal frequency.
I started working out more.
You can sum this up by saying I ate less and I moved more. And while that's technically true, it's not always that easy.
Weight loss is simple but it's not very easy for a lot of people. In fact, it's hard. It's really hard. That's why people get stuck with weight loss.
Saying just eat less and move more also isn't very helpful.
Because that's been the default weight loss model for decades now that still gets repeated up to this day by your trainer, "influencers", and so called experts.
It's just too big of a blanket statement. Ot won't work without optimizing your hormones and up regulating your fat burning mechanisms though proper lifestyle choices which I talk a lot about on my YouTube channel.
It's not just eat less and move more. It's not that simple.
But there's often one thing that gets overlooked that throws a wrench in people's efforts to lose weight.
Why people get stuck with weight loss
In my opinion, people get stuck with weight loss because they can't get a grip when it comes to behaviour change.
Breaking bad habits and changing the story you've been telling yourself. That's the hardest part.
Because you're literally going against a lifetime of eating habits and certain things you tell yourself when it comes to food. Certain stories in our heads that we associate food with; not all of them are good.
When I was just starting out, it was hard for me to deal with the feeling of being hungry. Why? Because being hungry sucks. The next person that tells me that they like being hungry would be the first.
In the past, I associated the feeling of being hungry with catabolism for example.
I told myself things like, "My body is eating away my muscles. I'm wasting away. I'm becoming weak. Give me my protein shake!" That's how people get suckered into snacking and never skipping a meal.
I have a separate video that talks about popular weight loss myths that you can check out here.
I associated overeating with strength.
I made myself believe in things like, "This 3rd trip to all you can eat sushi this week is gonna fuel my muscles. This second plate of pasta is gonna make my squat so strong tomorrow."
Both of those stories are silly looking back. But it was hard for me to retrain my brain to not freak out when I felt a little hungry especially when I started eating less frequently.
The truth is, if you're trying to lose weight, you're gonna be hungry sometimes. And that's okay. That's not necessarily a bad thing. It really depends on what's causing you to feel hungry.
The two types of hunger
There's two different types of hunger.
The first is the type of hunger that we feel from a lifetime of eating habits. It's been ingrained in our heads that breakfast is the most important meal of the day for decades.
If you skip it, you will get hungry. Your brain sends signals through the hormone Ghrelin, which is your hunger hormone, that you should eat something.
Then there's the other type of hunger that we feel when we're in a semi-starved state. Because you're just cutting calories and you're eating a lot of highly processed low calorie foods that are not satiating at all.
It's a vicious cycle.
So we keep eating more of these processed snacks whenever we feel hungry. We equate hunger to even more snacking.
But when I was eating those foods, it didn't really make me feel good. I had no energy, I was tired, I would get hangry, and I think you've experienced that in some way shape or form.
I also stuck with weight loss even though I was eating less and moving more.
Then I started learning more about nutrition and I discovered how important meal frequency was. I learned the importance of satiety when it comes to losing weight.
I learned that what you eat and when you eat are equally as important when it comes to weight loss. That was when I started intermittent fasting.
I had to wrap my head around being okay with skipping breakfast. I had to change the story in my head that I was gonna die if I skipped a meal.
That it was actually good for weight loss and it was healing my body. I mean, that's a pretty big change in your belief and your behaviour around food first thing in the morning.
We're so used to just shoving a piece of toast down our throats.
In order to facilitate this shift in your head, you need to start small. One of my favourite books is called Atomic Habits. Great book. You should check it out.
But it's in the title itself. You need to start on an atomic level. Start so small, you don't even notice it. Tthat's what atoms are. You don't notice them, but they exist.
I wouldn't even think about skipping breakfast right off the bat. I would start by eating a better breakfast instead.
Because there's a world of difference with how your body reacts to a piece of toast with some jam versus bacon and eggs for example. I would just start there.
Change your belief and your behaviour from, I don't have time to whip up some eggs, to waking up 10 minutes earlier so you can actually make yourself a proper breakfast.
When I started intermittent fasting, I just moved my breakfast one hour later. Looking back, I wouldn't even start with that.
Instead, I would move it by 10 minutes. Do that every day. By the end of the week, you would've moved it by at least an hour.
Do that for 4 weeks, and there's your 16 hour fasting window. You've just completely changed your behaviour around breakfast.
Stuck with weight loss? You need to reframe old beliefs
When I was growing up, my family didn't have a lot of money.
It was hard for me to wrap my head around the fact that it was okay not to finish all the food on my plate even though I was already full.
Because growing up, we're told that we had to finish our food. Think about all those starving kids in Africa was what my Mom would say.
But now, I eat a lot of highly satiating foods. When I'm full, I stop eating. I don't feel bad if there's still food on my plate.
I also used to be an emotional eater. This is big problem for a lot of people stuck with weight loss.
A lot of people use food as a crutch. Especially when they're having a bad day. We turn to food for comfort.
But that's like taking one step forward towards your weight loss goals, and two steps back.
I really had to learn how to love myself on another level in order to get over the story I was telling myself that it's okay to eat a tub of ice cream in one sitting.
Changing your behaviour is determined by your relationship with yourself. The problem is, a lot of people don't have a good relationship with themselves.
So, I had to start there. I had to learn to believe that I was actually worth it. That I deserve to have a better body.
Because if you have a good relationship with yourself, your behaviour will change. You'll make better decisions.
That's also how I was able to wrap my head around going to the gym. People see me these days that I'm an absolute gym rat and that's true. I love training.
But once upon a time, my brother had to drag me to the gym kicking and screaming because I associated a lot of negative thoughts about going to the gym.
It was intimidating. I thought that people would look at me weird. People would see how weak I was and would make fun of me.
But those were just stories that I made up in my own head. I had to reframe that story that I kept telling myself.
Stuck with weight loss? Start small
You need to start small.
I wouldn't even recommend going to the gym. This is why I always talk about starting by just going for a walk.
Try to get 10,000 steps every day especially if you've been living a pretty sedentary life. If you get in your 10,000 steps, you will notice a drastic difference in how you feel.
Then I would start by doing home bodyweight workouts. You should check out my Lean Body Blueprint: 21 Day Weight Loss Challenge if you want a proven plan on how to get started with exercise.
Keep doing home workouts until you get more comfortable. Only then should you even think about signing up for a gym membership.
Think about it this way. This is a very important concept that you need to understand. I want you to do this because you love your body, not because you hate it.
Remember, you change best when you feel good. Not by feeling bad.
Celebrate the small wins. That's how you feel good. Because celebration is the bridge between tiny habits to big changes in your life.
If there's one thing that I want you to take away from this, celebrate tiny successes.
Celebrate every good food decision. Be proud that you went out for a walk today. Celebrate every hour that you fast. Celebrate that you put pants on today.
Think about a baby learning how to walk. We celebrate every small win. Because we know how important it is to take that first step. We need to use that same concept and apply it to ourselves.
These days, I have a better relationship with food compared to when I started. My behaviour around it is so much better. This is how I can wrap my head around just eating one meal a day.
I've learned to embrace voluntary hardship and delayed gratification.
That's the price that I'm willing to pay because I don't wanna go back to my former self who used food as a crutch. I like how I feel about myself a lot better these days.
I've learned to delay but definitely not deprive myself of foods I love. So I don't feel bad about having a cheat meal every once in a while.
I've learned that there's a time and place to really enjoy food and splurge. But doing it every night is probably not a good idea.
I had to change some of my habits and reframe the story I was telling myself. I had to change my behaviour. For most people stuck with weight loss, that's the hardest part.
This not only goes for weight loss but also your relationships, finance, or really anything that leads to you making progress.
Whether you're trying to lose some weight, trying to get better sleep, trying to quit smoking, or you're trying to workout. You need to be aware of your behaviours, your actions, and the stories you're telling yourself.
If you want to change, you first need to change the way you think.
As always, if this was helpful, share it with a friend who could benefit from it as well!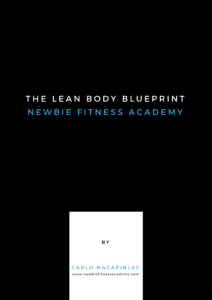 Need More Help?
Use this simple 4-step process to melt ALL the fat around your stomach and look good shirtless WITHOUT going on a crazy diet or wasting hours at the gym. Get the Lean Body Blueprint here for free!
PS. Have you nabbed your copy of The "No Diet" Diet yet? It's awesome, I promise. 
Click HERE
 to get a copy today!