Should you eat before working out?
Or are you better off training on an empty stomach? Let's find out in this video.
Should you eat before working out?
There's still a lot of prevailing opinion in the fitness and nutrition industry in that you need to eat before working out. Because it's somehow gonna magically bring you energy.
But the truth is, it really doesn't. Let me explain.
When you eat before working out, and this is basic human physiology, your body needs to digest that food. Blood gets diverted to your stomach, then your stomach processes that food. Your body in turn absorbs those nutrients, and so on.
Here's the thing. Every time you eat, your insulin goes up which is a storage hormone. And I talk about insulin a lot in my videos because it's super important.
So when you eat, your insulin goes up and that signals your body to go into fat storage mode. This is also called the 'Fed State'. Which means that you can't get your energy out, aka burn fat, because your body is trying to push it in.
All you need to remember is high insulin blocks fat burning. And your body can only be in one of two states. It's either you're in the fed state or you're in the fasted state. And it's pretty self explanatory. When you eat, you're in the fed state. And when you don't eat, you start transitioning to the fasted state and this usually happens 3-6 hours after your last meal.
It's either you're storing fat or you're burning fat. You can't do both at the same time.
So let's answer the common myth that you need to always eat before working out. Because we have this preconceived notion that if you don't eat, you won't have any energy for your workout. Well, think about it this way.
Think about the last time you ate a big meal. Maybe you had a big lunch. Or think about your last Thanksgiving meal for example. Did you feel sharp and energetic afterwards? Not really. Right? You just wanted to lie down on the couch and watch football or take a nap afterwards. The common term for this I believe is food coma.
That huge meal didn't really give you a lot of energy. Right? In fact, it made you feel tired and lethargic. And have you ever worked out after eating a big meal? You didn't feel so good, right? Like if you've ever done jumping jacks or done a high intensity workout, it made you feel like throwing up. Listen, if your goal is fat loss, then you'll greatly benefit from not eating before working out. This is more commonly referred to as fasted training. Let me explain.
Working out on an empty stomach aka 'Fasted Training'
The biggest reason why you wanna workout in a fasted state is to be able to tap into stored energy in your tissues, also known as your body fat to fuel your workout.
Studies on fasted training show that you'll not only burn more fat when you train on an empty stomach, but you'll also increase the amount of fat that's metabolized from your cells. And there's a lot of benefit to training on a fasted state rather than eating before working out and drinking lots of energy drinks while you're working out and so on. And we'll talk about that in a second here.
The benefits of fasted training
Fasted training can help boost your performance which has been a highly researched topic by a lot of sports and performance institutions over the past few years. A lot of elite athletes these days and MMA fighters like Georges St Pierre routinely trains in the fasted state and he's credited that when it comes to improving his performance. He also happens to be a UFC champion. Actors like Hugh Jackman and Terry Crews are also big proponents of training in the fasted state. And I think they're doing okay.
Because instead of relying on limited glycogen stores, your body can only store about 2000 calories, you can use the almost unlimited energy available your in fat stores when you train fasted. Your muscles actually adapt to use whatever energy source is available. Which means that when you use up your stored glycogen, you're gonna start burning fat for energy. And if you're trying to lose weight, that's exactly what you want.
And from an evolutionary standpoint, this makes sense. When food wasn't available back in the Paleolithic times, our hunter ancestors simply switched to burning body fat for energy. We would've gone extinct if our bodies didn't have this capability. Because that's what body fat is there for. It's not just there for looks. Think of it as granola bars strapped all over your body. It's stored energy waiting to be used.
Working out in the fasted state actually triggers a variety of metabolic adaptations that'll increase your workout performance and health markers. These metabolic adaptions include:
Anti-aging effects because of increased growth hormone levels. Some experts refer to growth hormones as the real fountain of youth.

Better brain function because you have an increase in ketone levels when you fast which your brain can use as fuel

Improved insulin sensitivity because you're training your body to use up your glycogen stores

Increased testosterone. Your testosterone can go up by 180% after an overnight fast.

Other benefits include enhanced your fat loss, you get better endurance because you're tapping into your unlimited energy from your fat stores, and better hunger management.
Now, I'm not saying that eating before a workout is bad for you necessarily. Let's say you had grilled salmon with some asparagus for lunch and you had some nuts and cheese for dessert. There's nothing inherently wrong with that. In fact, that sounds like a great meal. But it's when we get into completely processed and artificial stuff that comes pre-packaged that things start to go sideways.
And that's kinda where the bro science kicks in for a lot of people. That you need to snack throughout the day to keep your metabolism high, and that missing a meal is bad for you, or being married to the post anabolic window that you need to eat right away after your workout, and other stuff that makes absolutely no sense.
Nowadays, snacking is more convenient than ever. And that's kinda the problem with people when they decide to eat before a workout. When we get into energy bars, granola bars, and meal replacement bars for example is when eating before a workout, and eating those things in general becomes really bad for you.
A protein bar or energy bar for example will say that it has 20 grams of protein. We see that, and all good reasoning goes out the window, and we automatically think it's good for us. But we're completely blinded by the amount of sugar and the amount of processing, and chemicals that goes into making that bar. And most of the time, the type of protein that they use with protein bars doesn't get absorbed very well by your body anyway.  It's shitty protein. Same thing with drinking artificially sweetened pre workout or BCAA or worse, sipping on energy drinks like Gatorade.
The TRUTH about energy drinks
Here's the truth about energy drinks. Unless you're a professional athlete burning thousands of calories during a three hour game, you have no business drinking Gatorade. None. It makes absolutely no sense, whatsoever.
Listen, if you have excess body fat that you wanna lose, and most people do. That means you have at least 20,000 calories worth of energy in the form of body fat waiting to be used. Why on earth would you need to sip on a sugary drink to give you more energy? You are literally drinking liquid sugar. It's the same thing with energy bars and granola bars. They're nothing but sugar bombs once it enters your bloodstream. How could you possibly think that's good for you??
But that's kinda the power of advertising, right? You see that a protein bar has 20 grams of protein and you automatically think that it's good for building muscle. Or you see a Gatorade commercial with your your favourite professional athlete doing cool shit and you automatically drink that you'll perform better if you drink Gatorade. Do you know what the best workout drink is? Water. And the best pre workout drink is black coffee.
And that's kinda the problem with fasted training. There's nothing sexy about it. It doesn't sell any product. Food companies can't make money out of it. And no, zero calorie drinks aren't better for you either. Check out my video about drinking diet soda if you wanna know more about it.
Does fasted training affect performance?
And for those of you concerned about whether your actual workout performance will suffer as a result of training in the fasted state, don't worry. 
A study from 2013 looked at the effect of fed versus fasted resistance training during Ramadan in Muslim bodybuilders. At the end of the study period, they found that both groups maintained their training volume and didn't report any changes when it comes to their performance. If you're not familiar with Ramadan fasting, Muslims have to fast from sunrise to sunset with no food or drink, including water, which is actually a form of dry fast. The men in the study worked out between 4-6 pm, so they were fasted for about ~15-16 hours with no food or water before training and their athletic performance didn't suffer.
If you're worried about losing muscle, don't be! This study revealed that you can actually maximize your muscle gains when you train in the fasted state. And another study indicates that when you do strength training in a fasted state, the nutrients you consume afterwards will be better utilized by your body than if you hadn't been fasting during your workout. So that's a nice little double win.
And based on my personal experience with it long term, training in the fasted state transformed me from an overweight desk jockey to a National Level weightlifter. My private coaching clients also seem to thrive in this way of training.
The keto adaptation period
Full disclosure: There's a bit of a catch. If you're used to eating before your training sessions, then your body is more accustomed to a steady flow of glucose during your workouts. Right? When you begin training fasted, you might notice a dip in energy.
Some athletes call this phenomenon "bonking," which happens when your glycogen stores are depleted and the steady flow of fuel to your muscle cells is gone.
Don't worry, it's temporary and only lasts about two weeks.
Because as you deplete your body of sugar, your muscles need time to adapt to using fat. You can't just flip a switch from being a sugar burner to being a fat burner. It takes a little bit of time. This process is sometimes called keto adaptation.
The best way to combat bonking is by switching to a high fat, low carb diet where your body becomes more efficient at using fat for energy so you can easily switch fuel sources from the foods that you eat to burning your own body fat for energy. If you wanna know how to do this effectively then make sure you stick around until the end of the video.
Listen, there's nothing wrong with eating before working out. As long as you're eating a nice nutritious meal void of sugar or processed carbs. But there's also nothing wrong with not eating before working out. It really depends on your goals.
If you're trying to gain weight, then eating before your workout probably isn't a bad idea. But if you have excess body fat and you're trying to get rid of it, then training fasted might be something that you wanna start incorporating in your regular routine.
As always, if this was helpful, share it with a friend who could benefit from it as well!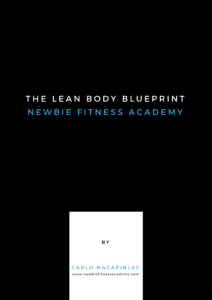 Need More Help?
Use this simple 4-step process to melt ALL the fat around your stomach and look good shirtless WITHOUT going on a crazy diet or wasting hours at the gym. Get the Lean Body Blueprint here for free!