Your morning routine for weight loss will greatly influence whether you're moving towards your weight loss goals or away from it.
This can be a make or break scenario for a lot of people. Because if you start your morning on the wrong foot, then you're basically playing catch up for the rest of the day. And it becomes that much harder to make progress. You're basically taking one step forward, two steps back.
But if you start your day out the right way, and prime your body for the rest of the day to get it in a healthy space. Then that's when you see real transformation happen. And it's a beautiful thing.
Here's What You'll Learn:
hide
Best Morning Routine For Weight Loss
So, what's the best morning routine for weight loss?
How are you supposed to get your day started the right way? How do you prime your body to start out on a good note?
Well, let's start with the pre-requisite for this to work. You need to do everything in your power, and I don't care if you have to move mountains, to get the best quality sleep possible.
This should be one of your top priorities. And quality and quantity are equally as important here.
For example, if you set your alarm for 6am. Then you hit the snooze button 6 times. And you end up waking up at 7am. Why not just set it at 7am to begin with? That way, you get that extra hour of quality uninterrupted sleep.
Getting enough and good quality sleep is one of the best and most powerful things you can do for your body if you want to lose weight, build muscle, be healthy, and have good quality of life.
Now, once you actually get out of bed, you go the bathroom and do your business, and brush your teeth.
Your first task is to drink a glass of water
Baby steps, I know. But we're gonna build on this.
If you're wondering what the optimal water intake is, a good rule of thumb is to convert your bodyweight in kilos and drink that in ounces. So if you're 70 kilos, your goal is to drink 70 ounces of water.
And I know this sounds obvious. But it's important that you start your day off by drinking a glass of water because you just went all night without it. It's important you always stay hydrated.
And bonus points if can do this. And it's gonna be a little different for everyone depending on your sodium intake from food. It also depends where you live and how much you sweat.
But if you're someone like me, who doesn't get enough sodium sometimes, and this is really because I do OMAD. I eat one meal a day. Then you might benefit from putting some Himalayan pink salt to your water. It's kinda gross but it is what it is.
And this is a great remedy if you do intermittent fasting which I talk a lot about on my YouTube channel. If you ever get headaches, that usually means you're salt deficient.
Just like water, salt is essential to life. You would die if you didn't have enough sodium in your body. Anybody who tells you that salt is bad for you, probably hasn't read a book since high school.
The other thing as well that I just want to point out is be very mindful of who you take advice from. The general rule is, if you're gonna listen to someone, you need to ask, does this person have what I want? Better yet, has this person gotten other people what they want. Is this person known to get other people results.
For example, do you think it's a good idea to take financial advice from someone who's broke? Would you take diet advice from someone who's overweight? It's probably not a good idea.
And if that kinda triggered something in you? Good. That's the idea.
My point is, so much information out there especially when it comes to diet and nutrition is so outdated, it's not even funny. The myth that more salt in your body is somehow bad is one of them. 
If you're someone who's been brainwashed to think that fasting is bad for you? You've got some work to do. And I'm gonna debunk a couple of more nutrition myths in this video.
Side note. Do not use table salt or iodized salt or whatever cheap salt is out there. Those are highly processed and are very inflammatory. There's a reason why they're cheap.
So, after I drink my water with some sea salt I head back to my room. I put on my AirPods, I find a comfortable sitting position in my bed, I open up an app called Headspace, and I meditate for 10 minutes.
Practice mindfulness
Let's talk about the woo. If I could turn back time, practicing mindfulness through meditation is right near the top as one of the things I wish I would've started a lot sooner. It's had that big of an effect in my life and all my students. It's been life changing to say the least.
If you've never done this, it might take a little bit of getting used to. So start slow. That's why using a guided meditation app like Headspace is so beneficial. When you're just starting out, you get the option to just do it for 3 or 5 minutes. Easy peasy.
Now, you're probably wondering. Why? What's the point? This is all woo woo stuff. I'll just share with you this awesome quote.
Someone asked Buddha skeptically, "What have you gained through meditation?" The Buddha replied, nothing at all. However, let me tell you what I lost: Anger, Anxiety,  Depression, Insecurity, fear of old age, and death.
Meditation is one of the best ways to manage stress. And that's crucial if you want to lose weight and live a healthy and happy life. Personally, I started practicing it when I went through a break up a few years ago and I was going through a really hard time. I was in a very dark place. And meditation brought me out of that dark place. And I've been practicing it daily ever since.
To add to my point, I'm gonna give you an analogy here. This is next level stuff. Think of your mind as a bright blue sky. Think of your thoughts as cute little fluffy clouds. It doesn't bother you, right? We see clouds all the time and we just let it pass.
But sometimes, there's a lot more clouds in the sky. You're a little stressed. Sometimes, there's even a storm. This is when everything goes wrong in your life. And sometimes we get so caught up that we forget about the blue sky altogether. But it's still there. Think about when you're on a plane flying through the clouds. There it is, right? Without fail. Blue skies.
It's easy to forget that what we're looking for when we're stressed, is already here. And that's why we need reminding. You are the blue sky.
Meditation gives you that. It's like free therapy. It gives you a chance to put yourself in a great mental space from which to start your day. Are you with my so far?
After you meditate, why not start your day with a nice cup of joe
If you've been following my YouTube channel, you'll know that I'm a big fan of black coffee. If you can't drink it black, you can put a splash of heavy cream and it's not the end of the world. You can also drink tea.
But I'd be doing you guys a disservice if I didn't explore other potentially better options when it comes to getting results. And if it benefits me, it benefits you as well. So it's a win win situation.
And this can be extremely beneficial if you're just starting out your weight loss journey or maybe you're new to intermittent fasting.
So, recently, I have made the switch to drinking bulletproof coffee. And this isn't anything new or revolutionary. I'm kinda late to the party. This has been around since 2011.
I recently got exposed to Dave Asprey's books. And he's the inventor of bulletproof coffee. He's also into biohacking. He wants to live up to 180 years old. Anybody who's got lofty goals like that and is into human optimization automatically gets my attention. And I now aim to be a super centenarian like him.
What is Bulletproof Coffee?
And one of the things that he preaches is drinking bulletproof coffee in the morning.
Going bulletproof is where you add grass-fed butter and MCT oil to you coffee and you blend it. And it's turns into, I kid you not, the most delicious, guilt-free, creamy, frothy cup of joe you'll ever have. I honestly can't get over how delicious it is. It brings me so much joy.
I thought I loved coffee before but bulletproof coffee takes it to the next level. 
By the way, if you're gonna try this. Make sure you're using unsalted grass fed butter, the highest quality MCT oil, you want to pick the one with the highest C8 content, and mold free coffee.
And I'm gonna have to create separate video on why I switched to mold free coffee. But again, this is just part of bio hacking. You want to look at everything you're doing and see if you can improve on it. There levels to this. The higher you get, the better.
And one of the things that I've never really looked into was the type of coffee that I was putting in my body. Think about this. There's fast food meat and then there's pastured animals. Which one do you think has the superior nutritional profile? Which one would you rather put in your body?
Well, I recently discovered that there's a world of difference between cheap coffee, and there's a reason why they're cheap just like fast-food, versus mold free coffee.
You want to drink coffee that's been tested to have low, to no levels of mycotoxins, mold fungus, yeast, pesticides, and any other ingredients that might affect your health.
Again, kind of outside the scope of this blog post. I just wanted to quickly address it.
If you're intermittent fasting, drinking bulletproof coffee technically breaks your fast. But, you still get most of the benefits of intermittent fasting especially if your goal is fat loss because it keeps you in ketosis. So you're still okay.
MCT by the way stands for medium chain triglycerides. When you drink this stuff, your body turns it into energy units called ketones and it becomes usable energy for your body right away. It doesn't get stored as fat. Dave Asprey refers to them as energy fats. It also becomes usable energy for your brain. Anybody who tells you that your brain can only run on glucose is a fool. You can quote me on that.
When you do this, you're gonna have bulletproof coffee for "breakfast". This is called bulletproof intermittent fasting by the way. Then you're just gonna have lunch and dinner. Preferably in a 6 hour eating window.
If you do that and you follow the rest of the tips I'm about to give you, I'm willing to bet a lot of money that you're gonna get results. I'm that confident about it.
And if this is the first time you're hearing about bulletproof coffee, and you have reservations against fat? Because you think that fat makes you fat? 
That is completely false. You should check out my other videos if you want to know about the explanation behind it. Or you can just trust me. We're good either way.
It's time to get your daily sun exposure/morning walk
This is a two for one deal here but why not? And this kinda depends where you live but you want to set a goal to get around 20-30 minutes of sun exposure every day. The more skin you can expose, the better.
And that's about the dose of daily sunlight that you'd need to get your daily dose of vitamin D. Assuming that you live in a relatively sunny place. If you get a little more, your body just banks it. And you need sufficient vitamin D to keep your body functioning well.
Vitamin D helps keep your bones strong and could even help prevent some cancers. And again, what is the best source of Vitamin D? The sun. You need to expose your skin. As much skin as possible. 
No, the sun does not cause cancer. I mean obviously don't bathe in the sun all day. Otherwise, you'd turn into a lobster.
But again, a lot of people are still under the belief that the sun is bad for you. That is wrong. We evolved with the sun. It's been around for millions of years. We are sun beings.
I'll do you one better. Vitamin D is actually made from cholesterol in the skin. That's another myth that hasn't died yet. Some people still think that cholesterol is bad for you. No. It's essential to every cellular function in your body. You'd die without it.
Morning sun exposure also helps you regulate your circadian rhythm which is really important when it comes to regulating your sleep. If you disagree with me on this, that's okay. Keep hiding from the sun. I won't lose sleep over it. .
Because the other side of this is deficiency in vitamin D can cause all sorts of problems. Including muscle weakness, pain, fatigue, and depression.
This is why seasonal depression is real especially if you live far away from the equator. Like if you live in Canada. Fortunately, I live in Calgary which is the sunniest city in Canada. True story.
On top getting your morning sun exposure, why not combine it with going for a walk. Going for a walk while drinking bulletproof coffee has now become one of my favourite activities. That's also when I listen to audio books. It makes me so happy. Talk about the little joys of life.
And I talk about the science behind why walking is so beneficial in this video.
After you get home from your morning sun exposure/walking combo…
Practice daily gratitude
The combination of practicing mindfulness through meditation and a daily gratitude list has got to be one of the best things you can do for your mental health. And, it's free. If you take care of your mental health, your physical health will follow.
And you don't need to overcomplicate this if you've never done this before. Grab a piece of paper or you can get a little notebook and just write 5 things you love about yourself and you're grateful for. And you can freestyle this. There are no rules.
You can be thankful for your morning cup of bulletproof coffee. Be thankful for waking up. You can be thankful for your dog. You can say you love your body. Just start with 5 things. But feel free to write more. When you're done, I want you to read and internalize it.
If you do that, you can't help but feel good. You just can't. It's impossible. And that just sets you up for the rest of the day. You feel like you're on top of the world already.
Do's and Dont's:
Do a fasted workout if it fits your schedule so you can take advantage or certain elevated hormones like cortisol and growth hormone. And I talk about the science behind that in further detail in this video.
Do not eat a traditional breakfast of toast, cereal, instant oatmeal, rice, granola bar, or really anything that is made out of refined carbs and sugar. If those are your only options, then breakfast might be the most important meal of the day for you to skip. You should check out this video if you want a list of other morning habits you should avoid.
Wrapping it all up. The whole point of this morning routine for weight loss is to make yourself feel good. Why is that so important? It's because you change best when you feel good, not when you feel bad. And if you follow all tips in this video, you are gonna be well on your way to always have the best morning ever and set yourself up for success the rest of the day.
As always, if this was helpful, share it with a friend who could benefit from it as well!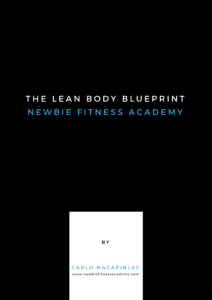 Need More Help?
Use this simple 4-step process to melt ALL the fat around your stomach and look good shirtless WITHOUT going on a crazy diet or wasting hours at the gym. Get the Lean Body Blueprint here for free!
PS. Have you nabbed your copy of The "No Diet" Diet yet? It's awesome, I promise. 
Click HERE
 to get a copy today!