There's a lot of bad information out there about trying to lose weight without counting calories.
I think there's actually more bad than good. That's why it gets so confusing. But fear not! In this video, I'm gonna go over with you 10 different steps on how to lose weight WITHOUT counting calories.
They're so effective, I've never seen it, not work. Double negative, I know.
How do you actually lose weight without counting calories?
Because you've tried losing weight before. You've exercised, you've gone on a diet but you always put the weight back on.
Then you try again.
Maybe you cut more calories. Or you try a juice cleanse or a detox diet. Maybe you stay on the treadmill a little bit longer.
You lose weight again.
But then you put all the weight back on and then some after a while. That is literally the definition of yo-yo dieting and it's extremely frustrating.
So how do you actually lose weight? How do you make it so that it's healthy, it's sustainable, you're not miserable, so you don't yo yo diet. And it's a pretty big topic. It's a multi billion dollar industry.
Just check how many searches there are when you google the term 'how to lose weight.'
Last time I checked, it had 450,000 searches per month. And it yields 800 million search results. 800 million different strategies to lose weight!
How do you even sort through that? No wonder it gets confusing.
And a lot of these 800 million strategies on how to lose weight capitalizes on different mechanisms within the body.
But I can almost guarantee that a majority of them involves some form of calorie restriction that will cause your body to lose water really quickly which is the "Diuretic Phenomenon", which causes your body to lose weight if you step on the scale. But you're not really losing any fat which is what you're looking for.
You want to lose fat. You don't want to lose water because that's gonna come back right away. You want to focus on fat loss. And that's what I'm gonna show you today.
How To Lose Weight Without Counting Calories
1. Don't count calories.
So I'm going to start with a big one that flies in the face of a lot of trainers, "influencers", and so called experts out there. Don't count calories.
Yup. Don't be so obsessed with counting calories. You have no calorie counter in your stomach anyway.
Think about it.
In terms of apex predators, and we're on top of the food chain here. But think about lions, sharks, wolves, etc. None of them are fat. Do you see them counting calories?
We, on the other hand, the so called "top of the food chain apex predator" are so obsessed with counting calories. We're also suffering from an obesity epidemic. It doesn't add up.
And calorie counting is so tedious. You're probably not doing it right anyway because it's really hard to exactly track what you're eating unless you're carrying around a food scale with you when you leave the house. That's just not reasonable/borderline obsessive.
You don't wanna live like that.
I'm gonna tell you now that you don't need to count calories in order to lose weight.
So many of my students inside the Fat Loss Accelerator have never heard of MyFitnessPal, Fat Secret, or other calorie counting apps.
They also don't follow scheduled meal times. Meal times are completely made up anyway.
Instead, they follow this one simple rule I give them. Eat when you're hungry, don't eat if you're not hungry. Then they focus on eating real foods. The right kind of foods. The stuff that we evolved to eat as human beings because we're still genetically identical to our Paleolithic ancestors. Which leads me to the next tip.
2. Eat a lot of green leafy non starchy vegetables
It's insane how well this works.
I wish I started this a lot sooner because I was fat in my early twenties. I'm what you would consider a late bloomer.
Listen, we evolved as human beings to eat plants and animals and tip number two is eat a lot of green leafy vegetables, preferably at the beginning of your meal.
Turns out that your mom or your grandma was right when she said to eat your vegetables.
But again, not just any kind of vegetables. A potato is a vegetable and you definitely don't wanna eat a lot of that. You don't wanna eat a lot of starchy vegetables if you wanna lose fat.
I want you to focus on eating green leafy vegetables. A perfect example of this are cruciferous vegetables like broccoli, cauliflower, brussels sprout, and the likes.
What this does is it increases your fibre intake. In order to turn off hunger hormones, which is really what you need to focus on instead being obsessed with counting calories, you need to activate your satiety hormones.
You need fat, protein, and fibre because those three things activate your satiety hormones.
Cruciferous vegetables for example are extremely filling, they're extremely nutritious, they're extremely high in micronutrients, they're low in carbs, and they're also extremely low in calories. But again, who's counting.
And this is the perfect hack if you're a volume eater like me. I like eating a lot of food. So eating a lot of vegetables satisfies that craving. You should be eating one to two cups of vegetables for every meal. And I want you to eat it first so they don't become leftovers.
If you love eating rice for example, how about switching to cauliflower rice? Cauliflower rice has a mind blowing 800% fewer carbs than regular rice. Making that simple switch alone especially if you eat rice every day, or if you replace any starch in your diet with cauliflower rice, you're gonna lose fat, I can almost guarantee.
3. Don't drink diet soda or use artificial sweeteners.
I mention this tip a lot because nothing stops you from losing weight faster than drinking this stuff. This just ties back to the first tip of not being obsessed with counting calories.
And that's the biggest selling point of diet sodas in that here you are presented with something that tastes really sweet. But you can enjoy it guilt free because it's zero calories. So it gets a free pass which leads to over consumption.
Instead of you drinking a can of coke every once in a while, you drink diet coke every day. Some people drink this stuff like it's water.
The problem is, diet soda and artificial sweeteners, time and time again, has been shown to promote weight gain instead of weight loss. Another study links it to higher risk of stroke and dementia. Other studies link it directly to obesity because it destroys our gut microbiome.
We simply did not evolve to drink anything that's artificially sweetened. Our paleolithic ancestors did not drink diet soda or put splenda in their coffee.
And people turn to this stuff because they're trying to cut out sugar. They have the right intention but the wrong execution. And this is a big problem in today's society, so many people are addicted to sugar. I know, because I used to be one of those people.
The thing with sugar is it raises your blood glucose which causes really massive spikes in insulin which is your storing hormone. It's also the hormone that controls your body weight.
And one key concept that you need to understand, and it might be the most important concept to take away is that you cannot reduce body fat on a diet that stimulates chronically high insulin levels. And both sugar and artificial sweeteners both stimulate a high insulin response which makes them extremely fattening. Which leads me to tip number four.
4. Take sugar or artificial sweeteners out of your morning coffee.
I was one of those people that were addicted to artificial sweeteners. I used to put 3 packets of Stevia in my morning coffee every day and I drink multiple cups a day. I also wasn't losing weight.
But I also understand that some people can't drink their coffee black. That's fine. So I'm gonna meet you halfway here because this is what I do now and I don't crave artificial sweeteners anymore.
Instead of putting sugar, I want you to put a splash of heavy cream instead. It takes the edge off the bitterness of black coffee and it makes it creamy and delicious. Because pure fat, that's what heavy cream is, has no effect on your insulin levels.
Again, that's your storing hormone and that's gonna allow you to tap into your fat burning mechanisms faster. Especially if that's all you drink in the morning and you don't eat breakfast.
5. Schedule a cheat meal/day.
This again flies in the face of conventional wisdom because we're taught to have an all or nothing mindset with dieting. You gotta go all in, they say.
Yeah. That can only last for so long.
As human beings, we're extremely flawed. We always want what we can't have. If you tell someone that they can't have something, the more they want it. This is why you should never rely on will power alone because it runs out eventually and it leads to binging.
So I like going the other way on this. You can have it. Just not all the time.
One day a week, for lunch and or dinner, live your best life. Eat whatever your heart desires. I mean, be sensible about this obviously.
And this falls in line with the 90/10 rule that I live by. 90% of the time, you're following a proven fat loss plan, while the other 10%, if you wanna eat cheesecake, and I use this all the time as my example because it's my favourite, eat it.
One bad meal won't make you fat. Just like one good meal won't magically make you skinny.
But the key is to just keep it to one day. You can have everything, just not at the same time. You need to be intentional about it and schedule it.
There's even studies to back this up that this helps people maintain their weight loss goals longer and it makes complete sense. It keeps you sane. If you can't enjoy yourself every once in a while, what's the point of all this?
6. You need to sleep.
Get more sleep.
I can't believe I lasted until tip number 6 to mention this. It's super important.
According to the CDC website, 1 in 3 adults don't get enough sleep. I personally think it's more than that. My point is, most people do not get enough sleep.
Not only that, they don't get quality sleep. You want to get deep quality sleep. That's the key here. Deep sleep is where all the good stuff happens in your body. That's when the rest and restore action happens and your body repairs itself.
If you don't get that, that's when you wake up and you feel completely out of whack. And we've all been there before. Your Ghrelin levels are messed up, that's your hunger hormone, which causes you to crave sugary things. Which then makes it almost impossible for you to say no to that box of donuts in your office kitchen.
Plus, if you don't get good sleep, you also get increased cortisol, which is your stress hormone. It is also the hormone that's directly tied to the weight gain around your belly. You just don't function as well when you're sleep deprived. Think about the last time you were up at some ridiculous hour, did you ever wake up the next day and say, "I feel amazing!"
No. You felt like crap.
7. Be inconsistent with your workouts
If you've been following my YouTube channel, I've made a couple of videos recently about why excessive running, also called chronic cardio, is not good.
Because it's extremely stressful to your body and it stimulates cortisol, again which is your stress hormone, way too much. Which again leads to weight gain around your belly.
Instead, I want you to slow it down and go for a walk instead.
Ideally, you're aiming for 10,000 steps every day spread throughout the day. And that's a big enough goal that it forces you to move constantly throughout the day. Because that's how we evolved as human beings.
Our paleolithic ancestors walked a lot. They also climbed trees. They built shelters and fire which meant carrying heavy pieces of rocks and giant logs. They also sprinted when they were hunting or when they were being hunted by a sabre toothed tiger.
They did not just do spin class 7 days a week. They did not run every day. They did not do chest on Monday, legs on Tuesday, back on Wednesdays, etc.
Long story short, they did not have a scheduled routine.
Because again, you don't wanna fall into chronic exercise patterns. Routine is the enemy. You wanna change it up. Be inconsistent with your workouts.
Maybe one day go for a run. The next day, lift heavy weights. Then go for a bike ride the next day. All the while trying to get 10,000 steps every day.
That sounds way more fun than going to your 6am spin class every day and cranking the resistance to the max limit because you wanna burn those extra calories.
Fun fact. Calories burned during exercise doesn't translate to fat burned in your body. And if you haven't lost weight even though you've put in countless hours doing spin, you already know that to be true.
8. Don't just cut calories
Let's dive into this concept a little bit more.
When we eat less than what our body needs, if you're just strictly cutting calories, our body thinks that it's starving. And your body protects itself from this state of famine by decreasing your basal metabolic rate (BMR). Your basal metabolic rate is the amount of calories your body burns to keep your heart pumping, keep your brain running, keep your organs functioning, etc. You know, important stuff like that.
So again, when your body slows down your BMR to protect itself from starving, that means you burn less calories at rest. Your body is in survival mode. It's trying to conserve energy.
This is why you're not losing weight even though you're on a calorie deficit and you're only eating1000 calories. Your metabolism has slowed down.
It also makes it so that it increases your Ghrelin, which again is your hunger hormone, because your body is starving which makes you crave sugary foods. Because glucose is a quick hit of fuel in the body.
So it's really important to eat until you're satiated. And in order to feel satiated, you wanna eat fat, protein, and fibre because again all those foods activate your satiety hormones specifically Cholecystokinin and Peptide YY.
What do you think is more satiating for breakfast for example? Eggs and bacon with some avocado? Or toast with some jam and some breakfast cereal?
The former is high in healthy fats and protein which again keeps you full longer. While the latter is an absolute sugar bomb and it's gonna cause you to snack mid morning and reach for something sugary, like a granola bar or protein bar. Which again is full of sugar and you get stuck in this sugar cycle throughout the day.
And they say that breakfast is the most important meal of the day. I'll go a step further on that and say that breakfast is the most important meal of the day not to mess up.
9. Ditch Protein/Granola Bars
We rarely sit down these days and eat a proper meal and everything is convenient and available on the go. And I think protein bars and granola bars epitomizes this concept.
So we pack one of these as a snack or we just eat it for breakfast because it's convenient. It's like breakfast on the go.
And I don't really know when this became the norm but if you look at the ingredients of these bars, even the "natural" ones, they are loaded with sugar. I did an example in one of my other videos where the main sugar ingredient for one of these "natural" bars is dates, and it had like 16 grams of sugar.
Do you know what else has 16 grams of sugar? 4 Oreo cookies. You probably shouldn't eat 4 Oreo cookies if you're trying to lose weight.
Listen, there's nothing good about granola bars and protein bars.
They're extremely processed and they're extremely high in sugar. Which causes a huge spike in your blood glucose, which then triggers a corresponding spike in your insulin levels, which makes protein bars and granola bars extremely fattening. You're literally just eating a glorified snickers bar. And sometimes we eat two or three of these every day.
Again, this ties back to my last tip in that you wanna eat a breakfast that's satiating so you won't feel the need to eat a snack in between meals. Just eat three meals a day like a normal human being.
And that's the point of tip number 9. If you're someone who normally eats these in between meals, so you eat 5 or 6 meals a day. And if you're eating a snack before bed for example, and you just cut that down to just three meals a day. So if you cut those in between snacks, I guarantee you you're gonna lose fat.
10. Start doing intermittent fasting
I saved the best for last.
Since I opened up the topic of cutting meal frequency, again I'm not talking about eating less. I don't want you to just cut calories. I want you to eat less frequently.
I want you to utilize the amazing fat loss benefits of intermittent fasting. I have tons of videos about how awesome it is and it's amazing benefits so make sure you check that out on my YouTube channel.
But one of the biggest benefits of intermittent fasting in terms of fat loss is that it improves your insulin sensitivity. Again, insulin is what controls your body weight.
So when you moderate your insulin levels, and fasting is the best way to do that, you activate your fat burning mechanism. And every time you eat, assuming it's a blend of carbs, fat, and protein, your insulin goes up.
So when you don't eat, when you're fasting, your insulin stays low. And that is the only time your body is able to tap into your fat burning mechanisms. Your body is able to tap into your fat stores and burn it for energy.
And if you're new to fasting, I don't want you to think of it as starving yourself. You're not.
Again, you have about 100,000 calories in the form of body fat waiting to be used. It's not just there for looks. Think of it as just taking a break from eating and letting your body burn up some of that body fat that's been living rent free in your body all this time.
And this is my all time favourite question to ask. What do you think will happen if you stopped eating? You're probably, most likely, gonna lose weight. A lot of weight.
Again, make sure you check out all my videos about it on my YouTube channel. Because in my opinion, intermittent fasting is the most powerful method of fat loss, bar none. 
Listen, if you just do all 10 things I mentioned, you're gonna feel amazing, you're gonna have more energy, you're finally gonna lose weight, you're finally gonna achieve your weight loss goals and you won't have to count calories in the process.
By the way, I want you to comment below. Which one of these strategies are you most excited to try? I wanna hear what you're gonna implement and I wanna hear about your progress.
As always, if this was helpful, share it with a friend who could benefit from it as well!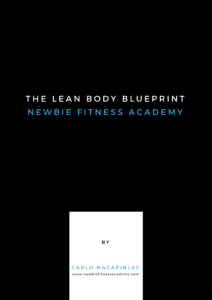 Need More Help?
Use this simple 4-step process to melt ALL the fat around your stomach and look good shirtless WITHOUT going on a crazy diet or wasting hours at the gym. Get the Lean Body Blueprint here for free!
PS. Have you nabbed your copy of The "No Diet" Diet yet? It's awesome, I promise.
Click HERE
to get a copy today!