Should you make the switch?
The plant based diet movement is gaining a lot of steam these days when it comes to being the "best diet" for humans. 
Plant based substitutes are popping up everywhere. The question is, is a vegan diet good for you? Is a vegan diet healthy long term? Find out in this video.
Should I go vegan?
I have nothing against vegans.
In fact, I have a lot of respect for vegans. It takes a lot of commitment, discipline, and dedication to stick to that diet and lifestyle. 
But to really understand if following a vegan diet is good for you, we need to look into some history. We need to know how we evolved as human beings to settle this debate once and for all. Is a vegan diet healthy long term?
Let's look at a little bit of ancestral science to answer that question. First, we evolved and became human two and a half million years. According to research done on early human remains, we evolved to eat plants and animals. 
We're omnivores. We hunted Megafauna which are big animals like mastodon, sabre tooth tigers, giant beavers, and giant sloths. And then we would stumble upon plants and wild berries when our ancestors migrated to warmer places.
We are not herbivores. The Innuits in Canada for example and other tribes in remote parts of the world still live in this hunter-gatherer lifestyle where they hunt animals for food. This is especially true for the aforementioned Innuits in Canada. They live up north and they don't really have access to plants and berries. They hunt seals which is their main source of food. What they do is when they catch a seal is they would go after the fatty parts of the seal and organ meats because they are the most nutrient dense part of the animal. They would actually feed the lean cuts of meat to their dogs because it didn't contain a lot of nutrients. 
Hunting and eating animals is how we evolved as human beings. That is an undeniable fact. Veganism and going on a vegetarian diet is nothing but a modern human experiment. I know that's hard for vegans to hear but that's the truth. 
If you study traditional people for example, there are no ancestral groups that identified as being vegans or vegetarians. Veganism hasn't really existed in human history until recently. 
If you ask any anthropologist for example, they'll tell you that eating meat and being able to cook meat is how we were able evolve as human beings. It's how we rose to the top of the food chain. We developed spears, bows, and arrows to hunt big animals. We cracked their bones and gained access to the bone marrow which is extremely nutrient dense.
You have to think about it this way. Back in the Paleolithic times, we evolved to survive the harshest conditions that this planet had to offer. The way we did that was by learning how to hunt and be able to access nutrient dense foods. 
Then we discovered how to make fire. We used fire and learned how to cook meat which made the nutrients more bio available. This allowed us less time for foraging. We didn't have to go out and gather leaves and berries anymore. We would just cook animals and get all our nutrients from just that one source. 
If you look at monkeys for example, they spend 80% of their day foraging for food. They would just go around and eat leaves and berries and whatever they can get their hands on. As highly evolved humans, we don't need to do that anymore. 
So the simple fact that we learned how to hunt and cook meat is what allowed us to develop our brains and advance civilization and society. We used that extra time from not having to forage food and we started to build pyramids, airplanes, and iPhones. 
Speaking of bioavailability and nutrient density, it is very hard to get all the nutrients that your body needs from a vegan diet. Protein for example is a really big topic when it comes to fitness and nutrition. You've got to eat a stupid amount of beans and broccoli for example to get the proper amount of protein that your body needs to build muscle. Compare that to eating a five ounce piece of meat for example. 
Plant Foods vs Animal Foods
The other thing that you have to consider is the bio availability of the nutrients in plant foods versus animal foods. 
Let's use plant protein for example. Let's say you eat 100 grams of protein from plant based foods like broccoli and beans. The bio availability of plant protein is actually just 20 percent. Which means that if you eat 100 grams of plant protein, you're actually only getting 20 grams of it. Whereas animal protein absorption is about 80 percent. That's a big difference when it comes to actually absorbing all the nutrients that you're eating from animal foods versus plant foods. 
The other argument for vegans is they say they feel so much better since switching to a vegan diet. That may or may not be true. But you have to consider the baseline of where some of these people are coming from. If your baseline is eating chicken nuggets, Twizzlers, Twinkies, and Doritos for breakfast lunch and dinner and you switch to a vegan diet, of course you're going to feel better. 
But here's the thing. If you ask any vegan or vegetarian person out there, they'll tell you that they're eating way too much carbs.They're eating way too much bread, pasta, cereal, and fruit. Because that's all they're allowed to eat. They're eating way too much food and their predominant macro nutrient is carbohydrates. 
And that's the biggest problem with the vegan diet.
The Problem With The Vegan Diet
If you eat too much carbs, specifically, refined carbs, process carbs and sugar, the likelihood of you gaining weight, developing obesity, and heart disease skyrockets. Those diseases are directly related to eating too much of the aforementioned foods. The problem is, it's extremely easy to overeat on carbs because it doesn't active your satiety hormones. 
So what activates it? What is satiating? What actually satisfies your hunger and cravings? Satiating foods are fat and protein. And this is basic human physiology. Fats and protein are what activates your satiety hormones. It's very hard to overeat on steak, for example. Whereas if you put cookies, chips, candy and crackers in front of anyone, there's no limit. Next thing you know, you're staring at the bottom of the bag and you're left wondering what happened. 
The other thing that's worth mentioning are the endless plant based substitutes you can buy at your local grocery store instead of meat. Beyond Burger is a perfect example of this. It's all the rage these days. Every fast food chain and a lot of restaurants carry Beyond Burger options these days. 
But here's the problem with the Beyond Burger movement. If you look at the ingredient of a beef burger patty for example, there's one ingredient: Beef. But if you look at the ingredients of a Beyond Burger patty, I can't even pronounce half of those ingredients.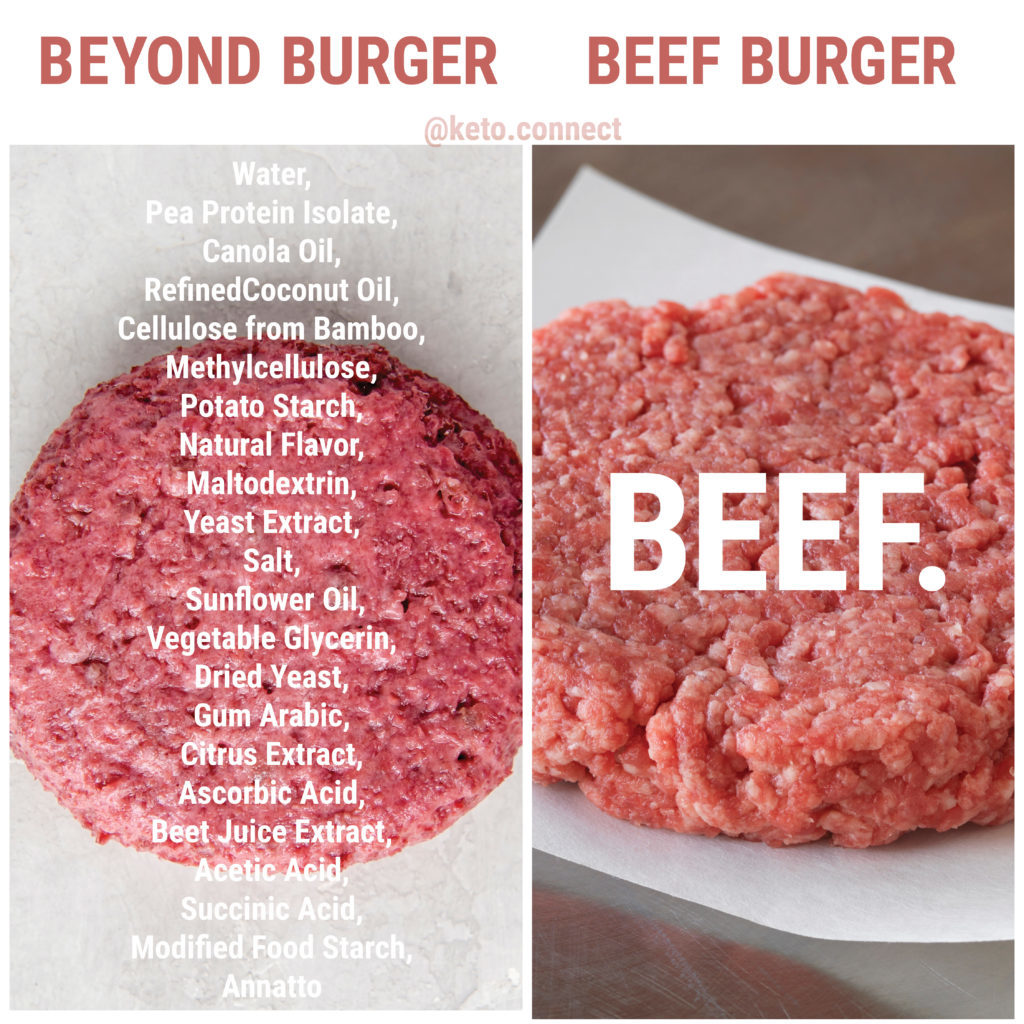 It's highly processed and you can't possibly think that that option is healthier versus a grass fed burger patty. It's just not. I don't think you need to be a rocket scientist to figure that out. 
The Problem With 'What The Health'
So there's that but then all good reasoning goes out the window when we're presented with an ideologically based documentary like, 'What The Health'. The documentary, if you haven't seen it, makes a lot of unsubstantiated claims without any real evidence to back it up.
They claim for example that eating an egg is as bad as smoking five cigarettes. Find out more about that topic in this video.
Or that eating meat causes diabetes. They say that cholesterol is the devil in the documentary and other weird health claims that doesn't make any sense. The problem is, the documentary does a really good job of pulling your heart strings. People see these erroneous health claims and they take it as the truth. 
The thing is, none of the health claims in 'What The Health' is based on good science. The claims that they made in the documentary are based on what's called an epidemiological study. If you don't know what that is, an epidemiological study is an observational study. It's a study where they ask 100 people for example. They give people food questionnaires and they ask them, "What did you eat over the last six months?" As If we can remember what we ate last week or even yesterday. Either way, participants in the study do their best to answer these food questionnaires to move the study forward. 
Epidemiological Studies Explained
Here's where it gets interesting. The people conducting the study then looks at patterns. For example, they look at who ate eggs and who had a heart attack. They then try to make a correlation between the two. They'll say that eating eggs causes heart attacks. Does that sound like good science to you? So they use that information and then they make these crazy claims about eating an egg is as bad as smoking five cigarettes a day. Crazy stuff. But what you can only establish is there's a correlation between the two. The problem is, correlation does NOT equal causation.
Listen, if you choose to follow a vegan diet, you need to follow it perfectly if you want to be healthy. That's just the way it is. Some people do it, but most people don't. There are high level athletes out there, like professional vegan bodybuilders for example, that are doing very well on a vegan diet. 
But they're more of an exception and not the rule. 
Because if you follow a vegan diet, you need to stay on top of your supplements. And that's just not what a lot of people do when they follow a vegan diet. They just eat plant based foods and a shit ton of bread and pasta and they think that they're eating a healthy diet. But they're not. A really big nutrient that people miss out on is essential fatty acids when they go on a vegan diet. Specifically, EPA and DHA, which you would normally just get from eating fish. You can't get that from a vegan diet. 
And that's where supplementing comes into play. But supplementing in itself also comes with bio availability problems. Again, you had to take an excessive amount of supplements to get the same amount of nutrients as you would normally get from just eating a three ounce piece of fish.
Another thing that vegans miss out on is Vitamin K2, which is important for cardiovascular health. It can only be found in animal products. Same thing with Vitamin B12. Yes, you can take supplements but you're usually just getting the precursor to that vitamin, instead of the actual vitamin itself. 
Your body then has to convert what you're taking in (the precursor) and it just reduces the nutrient that you're actually getting. A perfect example of this is eating carrots. When you eat carrots, you're only getting Beta Carotene instead of Retinol which is what your body actually needs. Again, you would only get Retinol from pasture raised animal fats and grass fed organ meats. 
Another example is getting Iron from spinach. Spinach is good for you, right? It naturally contains Iron. The problem is, your body doesn't absorb Iron from spinach the same way it absorbs Iron from meat. 
Are you catching my drift here when it comes to following the vegan diet long term? 
Here's a fun little trivia question for you: What's the most nutritious food on the planet? The most nutritious food on the planet is grass fed liver. The problem is, nobody is used to eating organ meat anymore these days. But if you ask your grandparents for example, they used to eat liver and onions. That was a normal thing to eat back then. But hey, it's all about eating Beyond Burger, right?
Bottom line is this. You can get all of the vitamins and nutrients that your body needs from animal foods. You cannot get that from a vegan diet. It's just not possible.
The last argument that I'm going to make for vegans is that they do it because they want to reduce their carbon footprint on this planet. I'm on board with that. I totally agree. I'm with you 100%. That's why people go plant based is for moral reasons. I am totally on board with that reasoning. 
That's why you want to consume meats that are ethically sourced and are pasture raised. Stay away from feed lot animals. You want to focus on quality versus quantity when it comes to eating animal products. 
At the end of the day, if you want to follow a vegan diet for ideological reasons, that's totally fine. But there are no randomized controlled clinical trials that proves that a vegan diet is the healthy diet for humans. There just isn't any. 
There is however a lot of rigorous research, a lot of randomized controlled clinical trials, done on thousands of people that shows that a diet higher in fat and lower in carbs leads to better outcome in terms of weight loss, improvement in overall health, and preventing diabetes and heart disease. 
Listen, if you're following a vegan diet, you just have to ask yourself this one question: If you're following a diet for moral and ideological reasons but it's actually affecting your health in a negative way, is it really worth it?
As always, if this was helpful, share it with a friend who could benefit from it as well!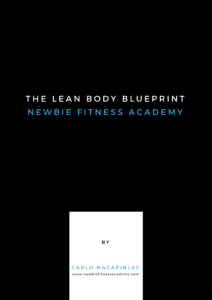 Need More Help?
Use this simple 4-step process to melt ALL the fat around your stomach and look good shirtless WITHOUT going on a crazy diet or wasting hours at the gym. Get the Lean Body Blueprint here for free!
PS. Have you nabbed your copy of The "No Diet" Diet yet? It's awesome, I promise.
Click HERE
to get a copy today!