Here's the low down when it comes to sticking to your diet.
The number one predictor of success when it comes to dieting is, drum roll please, compliance.
Your success with whatever diet you follow depends on how well you can adhere to it. It doesn't matter if somebody discovers 'The One Diet To Rule Them All' if that diet consisted of eating mustard, kale, and pickles for the rest of your life.
I hate those three things.
Now, I obviously have my own personal opinion on which diet works the best for weight loss and it's what all my private coaching students follow and I'm gonna link to it somewhere at the top here if you wanna check it out.
But here's the thing when it comes to dieting. All diets work when they're strictly adhered to as long as it puts you in a caloric deficit. All of them. So it's not necessarily about what diet you need to follow but how well you can adhere to that diet that matters most. 
In one study for example, researchers noted how well participants adhered to a diet was strongly associated with weight loss. They tested this in four popular diets. The study concluded that increased adherence was associated with greater weight loss regardless of which diet they followed.
Ok, so diet adherence is important when it comes to being able to stick to a diet and not cheat. Cool. So how do you improve it? I'm glad you asked! Here are 6 proven ways on how to stick to a diet and not cheat.
How To Stick To A Diet And Not Cheat
1. You need to enjoy what you're eating
As I mentioned earlier, all diets work as long as it puts you on a caloric deficit. It's a matter of you enjoying the foods that you eat when you go on a specific diet. You shouldn't unnecessarily restrict foods or eat in a way you don't enjoy. Otherwise, you're not gonna stick to your diet, I guarantee 100%.
If you enjoy eating carbs for example, then following a Ketogenic diet might come as a complete shock to your system. If you enjoy eating meat but then you start following a vegan or vegetarian diet or vice versa, you're probably not gonna last. Same thing if you decide to follow an elimination diet like the Carnivore diet where all you eat is meat. It's way too restrictive.
Listen, don't make dieting harder than it needs to be. Find a diet that includes the foods you enjoy for the most part and you'll find sticking to the diet a lot easier.
2. Be real with your expectations
Listen, we all know someone or have read a story online where Silly Sally lost 30 lbs in 30 days or some ridiculous number and here you are, you've been dieting for 4 weeks and you've barely lost a pound in the process.
First of all, people's success with dieting isn't the same for everyone. Just because Joe Blow lost x amount of pounds in 4 weeks doesn't mean you should expect the same kind of results.
Listen, it probably took you months, if not years to put on the weight that you're trying to get rid of due to poor diet and lifestyle choices. You can't expect to just lose it all in one week. It doesn't work like that. And no, you can't just freeze your fat away either. If you paid someone for a diet that guarantees overnight success, then you should immediately ask for your money back.
Now, this doesn't mean you shouldn't set big goals. I'm all for looking at the big picture here. Let's say you wanna lose 50 lbs. Great. Set that as your big goal and then be realistic with the amount of time you're gonna need to get there. 1-2 lbs per week is a realistic number that you can aim for in case you're wondering.
The power of being consistent with your diet
Now you're probably like, 1 lb a week? That's way too little! Well, if we do a little math here, if you stick to your diet consistently, 1 lb of fat loss per week can add up to some pretty staggering results. Don't believe me? Here's one of my private coaching clients. She lost 25 lbs in 24 weeks. That's less than 6 months. If you ask me, that's a very small time investment for something that's life changing.
Listen, I'd rather you set a small achievable goal that you're able to hit every week than go for a hail mary and feel like a failure because you didn't hit it.
An ambitious goal with a weekly realistic target will work in tandem to keep you motivated. So you've got your big picture, I wanna be on the cover of Men's Health or Women's health magazine, then you've got your weekly goal of 1-2 lbs of fat loss. Oh, I almost forgot. This is important. You're gonna need to be patient. Like, really patient because change, and I mean real sustainable change, takes time. 
3. Set yourself up for success by controlling your environment
Your environment and what you surround yourself with has a lot to do with how successful you are with your diet. And your environment is something that you can easily control especially when it comes to food that you stock at home.
I only have one rule when it comes to what goes in your fridge. Don't stock crappy food. The chances of you not sticking to your diet goes up astronomically if there's bad food at home. It's as simple as that. You're like a shark smelling blood in the water. If it's there, you're probably, most likely, definitely gonna eat it. You might be able to resist the temptation for one or two days but you'll eventually cave in.
For example, cookies are my kryptonite. If I see it at home, I'll go full cookie monster on it. The solution? I don't stock cookies at home. I don't put myself in a position where I have to decide whether I should eat something or not.
Listen, if you're serious about sticking to your diet, this is one of the simplest things you can do to set yourself up for success. If you have bad food in your fridge or pantry, toss it out. Don't feel guilty that you're wasting money. Your diet success is more important than the snickers bar you're throwing out. If you want a treat, go out of the house and get it and don't bring any home.
Again, if it's there, you're gonna eat it. And usually, the fact that people have to leave their house to get a treat is usually enough to deter them from having it to begin with. For me, if I'm at home and it involves putting pants on, it ain't happening.
If, for whatever reason, you have to keep unhealthy foods in the house, let's say you have a roommate, make them your accomplice and ask if it's okay to keep treats out of sight. You're doing yourself and your roommate a huge favour by doing this.
4. Track your progress
Listen, you can't control what you can't measure.
You have to measure your progress. 85% of successful dieters weigh themselves regularly and track their calories. Tracking your progress with anything is a good habit that you should adapt in general.
Now, one of the biggest reasons people give up on their diet is because they feel like they're not making progress. And the reason for this is because they have no tangible way of quantifying progress. They're just guessing. Am I making progress? Maybe? Maybe not? Oh, a cookie! Maybe I'll just have that instead.
Listen, tracking your progress doesn't have to take a whole lot of time. I've been weighing myself every day since 2012. I do it at the same time every morning after going to the bathroom and I write down my weight on a white board. That way, it's easy to see where you're at with your numbers. I also recommend taking weekly progress pictures and weekly measurements.
This is something that I get all my private coaching clients to do because the scale doesn't always tell the full story when it comes to your progress. You've probably heard this a million times but muscle weighs more than fat. So if you're losing body fat while building lean muscle at the same time, the scale might just show a small difference but if you compare your progress picture from the week before, and compare your measurements, you'll see that you're actually leaning out and losing inches off your body. Here's a perfect example.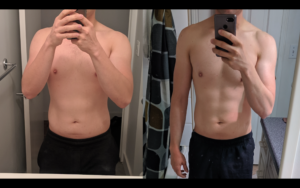 This is one of my students. There's only a 4 lb difference between each picture but the picture on the right is way leaner than the one on the left.
Next, track your workouts. This is just good practice in general. Track your 1 rep max for the three big lifts, squat, press, and deadlift. If you do high intensity workouts, track how long it took you to do a specific workout. That way, if you repeat the same workout or the same lift, you'll know if you're actually getting fitter and stronger.
Even buying a fitness tracker like Fitbit helps with this. In one study, overweight women who used a fitness tracker lost six times more weight than women who didn't use them.
Listen, if you don't track your results, your progress will always be a guessing game. Just do it.
5. Get a good night's sleep
This is kind of a no brainer. I've literally never met anyone who complained about getting a good nights sleep. You just feel better overall and it keeps your hormones regulated. And if you don't get good sleep? You feel like crap the next day. That's a fact. But not only does it make you feel like crap the next day, it also wreaks havoc in your system.
Here's all you need to know if you're somebody who thinks they can just run on 5-6 hours every night and think they can get away with it. Poor sleep decreases the 'satiety hormone' leptin and increases the 'hunger hormone' ghrelin. Meaning when you eat, your body doesn't get the proper signal that it's full so you keep eating. And then a couple of hours later, you're hungry again for some reason.  Lack of sleep makes self-control harder because it increases hunger and cravings and impairs your decision-making. You're literally going against your body's natural hormonal response. Good luck with that.
If you don't get good sleep, you're far more likely to say screw it to your diet the moment someone brings free donuts to the office. Notice how you have very little will power to resist temptations and you're just craving the worst food when you don't get a good sleep? Your hormones are literally screaming at you. That's why.
6. Have a cheat meal or even a cheat day
Yup, you heard me. Once a week, go off your diet, live your best life, and eat whatever your heart desires. Now, I'm only going off of personal experience here and the results of my students but I've found that diet adherence increases drastically if you allow someone one meal or even one full day to just enjoy themselves. But you have to limit it to just one day. You can't do a full weekend binge and expect to stay on track.
You get one meal or one day, depending on how aggressive you are with your goals. And the math here is pretty simple. A compliance rate of 6 out of 7 days is better than you being completely miserable because you feel so deprived. The more somebody tells us that we can't have something. The more we want it. That's just human nature. That's why I like going the other way on this. You can have it. Just not all the time. Adhering to your diet 6 out of 7 days during the week means an 86% compliance rate. That's pretty good in my books.
It's a good way to break the monotony of dieting and it keeps you sane. And it's also been shown that being in a caloric deficit for too long is not very good because your body will eventually adapt to it and slow down your metabolism. That's why people hit a weight loss plateau. Think of your cheat meal like a curve ball to your diet to keep your metabolism high. I've seen my students achieve great results by simply giving them something to look forward to every week.
At the end of the day, you need to set a goal, pick a diet, and have a plan on how you're gonna execute. Remember, compliance is the science. The most successful people are the ones that are the most consistent and are the most compliant. That's the best way on how to stick to a diet and not cheat.
The best diet is the one you can adhere to. It's as simple as that. 
As always, if this was helpful, share it with a friend who could benefit from it as well!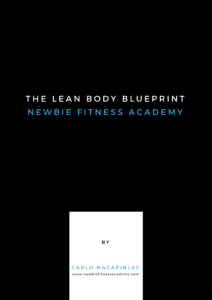 Need More Help?
Use this simple 4-step process to melt ALL the fat around your stomach and look good shirtless WITHOUT going on a crazy diet or wasting hours at the gym. Get the Lean Body Blueprint here for free!