How to NOT gain weight.
How do you do it?
I could give you the best information on weight loss, and the best workouts on the planet. But, here's the catch. But if what's going on in between your ears isn't in the right place. If you don't get that part right, you are gonna be severely disappointed with your results. Or, lack there of. You're always gonna be living in yo-yo dieting city.
Or you might get results at the beginning, but it's temporary. It won't be sustainable.
This is the one thing that stands in the way for so many people. The problem is, they don't actively realize it most of the time. It never dawns on them.
If you have a complete plan of everything you need to do in order to help you get to where you want to be. Whether, it's fat loss, building muscle, improving your health, healing an autoimmune disease, or all of the above?
You can have that plan at your disposal. But if you don't have the right mindset when it comes implementing that plan, it's not gonna work.
You're not gonna be able to stick to it. Or it's just not gonna get you to your goals. You're always gonna want to go back to your comfort zone. So today, I'm gonna talk about the 5 most important mindset shifts you need to make. In order for you to lose fat, build muscle, and finally get to your weight loss goals, and stop yo-yo dieting forever.
Fair warning, what I'm about to share with you will most likely rattle your change, and trigger you. You might even feel personally attacked. It might even shatter your reality. But that's the point.
Here's a big takeaway for you right off the bat. The more uncomfortable conversations you're willing to have with yourself, the better off, and the more successful you're gonna be not just with weight loss but with life moving forward.
5 Steps On How To NOT Gain Weight
A lot of people want to change.
That's why people still make new years resolutions. The problem is, only 8% actually go on to achieve those resolutions and most people are completely off the wagon by February.
Why? Because they're not ready to commit themselves to the necessary steps in order to actually get results. It's one thing to want something and know what you need to do to get there. It's another thing to be fully ready and committed to implement what you have to do. Those are two completely different things. So, how do you shift the odds to your favour?
1. Create space in your life for change
If you want to lose weight and change your body, you're gonna have to make some sweeping changes to your lifestyle.
Think about a glass full of water. And it's gone stale. Maybe it's even contaminated. If you add more water to it, it's just gonna overflow. You need to dump a little bit out so you can add fresh clear water. And what does that clean water do? It improves the overall quality of the water in the glass.
But if you don't make space for these changes to happen, it's not gonna stick. It's just gonna overflow. You won't be giving yourself the space to grow into the new, more awesome version that you're trying to become.
It starts with setting clear boundaries
For example, if you're in the US, the average adult is overweight. So you're gonna need to start moving your body more. That's why I'm a big fan of setting a goal of 10,000 steps every day.
You're also gonna need to start working out. But truth be told, that's gonna take some time. You're also gonna need to follow a better diet than what you're currently doing. Which is gonna require some changes. Because what you're doing right now, isn't working.
And those changes can have an impact on your social life. And this is a big one. Because we're social beings. You need to set social boundaries when you're trying to change.
If you're a social butterfly. You love hanging out with your friends. Then this might be challenging at first. But again, you're gonna have to set new boundaries to create that space to do these other things that you need to focus on.
So you're gonna have to create space in terms of time. Instead of hanging out with your friends 2 to 3 times per week, maybe you'll cut that down to 1 to 2 times per week. So you can free up some time and use those extra hours to workout and prepare healthy meals.
Speaking of which, you're also gonna have to create space nutritionally. If you're trying to improve your diet but whenever you hang out with your friends, you're either drinking and/or going for fast-food, you need to set boundaries with them.
You need to say, "Hey, these are my goals. I'd really appreciate it if we could change it up. We could do something else that doesn't revolve around eating bad food and drinking."
Hopefully, your friends will understand and maybe even hop on the bandwagon. And that's the best case scenario.
Another place where you need to carve out space is your schedule. Maybe you're gonna have to become a morning person. And for the longest time, I never considered myself a morning person.
I had these ready made built in excuses on why I couldn't wake up early and what not. But it was just that. They were just excuses. Nowadays, mornings are my favourite part of the day.
That's when I get to practice mindfulness through meditation. I go for my daily walk while drinking my bulletproof coffee. That's when I practice gratitude through journalling. And guess what? I am a completely different person because of it.
But I had to create space for that to take place. I had to pour some water out of my glass.
Another thing is that maybe you're gonna have to cut down on playing video games or watching Netflix. And you can use that time to meal prep. And you can use that reduced screen time to get quality sleep. Create that space for yourself.
2. Say goodbye to your old self
This is a big one.
You need to make peace with anything that you're leaving behind and that includes the old version of you.
The idea of having to give things up, or give people up, or give part of your life up in order to develop a new life. That is, the life you want to live, holds a lot of people back. And they never get over it.
One of the things I mentioned earlier is carving out space for your healthy lifestyle out of your social life. Because here's the thing. You are the average of the five people you hang out with the most. You're the average weight of the five people you hang out with the most. Think about it.
So this lifestyle change that you're doing might mean you're leaving some of your social life behind. You're leaving some of your friends behind. You're leaving a part of you behind.
Here's how it usually goes. You've decided to focus on yourself. You've decided you wanna get healthy. You wanna lose weight and get fit. But you have this group of friends that doesn't share the same mindset. They're doing the same stuff you did in high school. And they don't like it. They start to make fun of you because you're starting to become a different person. Because you now have different goals and interests.
I mentioned this earlier but this is why it's so important to draw boundaries. You need to draw the line in the sand. And if for some reason, your friends are against this. And this is worst case scenario. They make you feel bad. And this is the crabs in a bucket mentality. They're trying to pull you back. Then you need better friends.
And this happens a lot. And it holds a lot of people back. But you need to make a decision here. Because if you can come to terms with that. That will set you free. And it's gonna allow you to become the person you want to be.
Personally, I had to say goodbye to the old version of me that didn't have a good relationship with money. My family didn't have a lot of money growing up and that shaped the way I looked at money. That kept me stuck. There was a glass ceiling above me and I had to break through. I've used a lot of glass metaphors in this video.
So if you're struggling coming to terms with leaving anything behind. If that's what's holding you back from reaching your goals, I highly recommend framing it in your head as though you're carving out space in your life going back to step number one. And you're now filling it with the things that are gonna give you the life you want.
It's okay to put yourself first. It's okay to be a little selfish. And I don't even like to call it that. It's called self love.
3. Be open minded
I want you to be open to different ways to get to your goals that might actually work better for you. Maybe you might have this grand plan in your head. Or maybe you bought this plan last year. And you're gonna following everything to a tee.
Because you see it work for other people. Maybe it worked for you in the past. So you're committed to it. And you're going through the process, but it's not working. You're frustrated. And you're left wondering what's going on.
You're like, I'm following exactly like how I did it before and it got me results. I see this other person and he/she is getting results. But nothing is happening this time.
This is a perfect time to take a step back. Come at it from a completely unbiased perspective, and reconsider what you're doing. Because if you keep doing the same thing over and over expecting a different outcome, that is the definition of insanity. You need to come to terms that maybe you need to try something else.
But here's the problem when you identify with a certain diet. It almost becomes a religion for some people. And going vegan/vegetarian are perfect examples of this. People identify with these diets and with it comes the sunk cost bias.
You need to be open minded with trying different things. It's okay that you've been vegan for the last couple of years and you initially lost weight. But if it's not working for you anymore, you're not healthy because you're missing key vitamins and minerals like Vitamin K2 and B12 that you can only get from animal products.
You need to accept that. It's okay if it's not working. Get rid of your sunk cost bias. You don't have to be vegan or vegetarian your entire life. You can say, yeah. I had a good experience with it. I did it for ethical reasons. But it started to affect my health. And my health is more important. Now I'm doing something else.
Plus, if you're worried about the environment, pastured animals from ethical and regenerative sources are actually carbon negative. Eating plant based meat substitutes like beyond burger? Yeah that's no good for the environment.
4. Fully commit to changing
Don't have a back up plan. You need to fully commit to change so you can eliminate the chance of you making excuses. The built in excuse behaviour might be the number one thing that holds people back from change.
And this is hard wired in our DNA. Why? Because it leads to the path of least resistance. We will always default to that. To the point where most of the time, you don't even realize you're making excuses.
So don't even entertain it. This is why taking charge of things you have complete control over is so crucial when it comes to instituting change.
And one of the things you have full control over is your environment. This is why you should never, ever, ever. I cannot stress this enough. Stock bad food or trigger foods in your house.
If you're new to my
channel
and you're watching this, you need to go to your fridge or pantry after watching this video and you need to do a complete purge of anything that doesn't contribute to your goals.
Throw it out. Or if you feel bad throwing out food, donate it to your local food bank. Do not eat it on your way there. You need to be ruthless about this. You can't think, oh I feel bad throwing it away. I'll just save it for later. No. Think about your stash of protein bars. Which are really gloried snickers bars with some crappy low quality protein in it.
You feel bad throwing it out. So you eat it instead. You need to reframe that mindset. Because you're putting $3 or however much you paid for that protein bar. You're actively putting $3 over your health and your progress. Something doesn't sound right there. Your health is worth so much more than that.
Why it is important to do a complete purge
Human beings are not wired for self control. We're just not. So if you have ice cream in the fridge. And you're saving it for your cheat meal next week. But one day, you're having a bad day. Guess what you're gonna reach for?
And having these foods at your house just goes back to having built in excuses. Don't even put yourself in that position. Having it at your house also eats away at your willpower. It's like having the forbidden fruit in your fridge that just calls after your name every time you open it. Why would you even do that to yourself? That's basically torture. It's not helpful.
That's why you should never rely on sheer willpower alone. Because your willpower runs out.
Again, I can't stress this enough. If you're trying to make dietary changes, just get rid of everything that doesn't belong in your new lifestyle. Leave the fat version of you behind. That's not who you are anymore.
This is why I'm a big fan of starting with the end in mind and work backwards from there. Ask yourself, who do I want to become? What's your endgame? And then, you wanna ruthlessly get rid of everything that doesn't contribute to that.
Whether it's the food you stock in your kitchen or people you hang out with. If they're not adding to your goals, you need to get rid of them. Or put as much distance between you and them as possible. They're just distractions that eventually become excuses.
That's why it's hard so hard to change. It's so hard. You're already gonna be fighting an uphill battle because the old version of you is gonna fight tooth and nail to keep you stuck. To keep you from evolving. Don't make it harder by making yourself battle your environment as well because you can control that.
Speaking of which. The people that are closest to you that are most likely living with you. If there's someone in your life that plays a huge part in influencing your decisions especially when it comes to food. I cannot recommend enough having a chat with them. Communicate your goals and what you're trying to achieve. And tell them what they can do to support you.
Because it's so easy to use other people as an excuse why you can't lose weight. Because it completely shifts the blame from you to that other person. That's weak. So if you can remove people from your list of excuses. I like your chances of success.
5. Be flexible with the endgame
For a lot of people, losing the last 5 pounds probably won't make you any happier. Yeah you might see some changes in the mirror. You see an extra vain pop or your abs are a little more defined. And you're like, oh that's nice.
But if those extra 5 pounds throws a wrench and completely changes your new lifestyle that you've completely fallen in love with. What I mean by that is if losing those extra 5 pounds means you can't have your weekly treat. Or you have to completely cut out dark chocolate or eat less butter or eat less avocado. And you start to feel deprived. Then you need to ask yourself, is it worth it?
Listen, if you can't learn to love yourself now at where you currently are, losing those last 5 pounds won't make you any happier. 100% guaranteed.
That's why I've been really focusing on making sure that you have a good relationship with yourself first and foremost in a lot of my recent videos because it's so important. You want to come from a place of love when you're trying to change your body. Do it because you love your body, not because you hate it.
Because if you attach your happiness to those last 5 pounds and you're struggling to get there.  And you have to really start restricting yourself in order to get there, it might not be worth it.
The reason why it's hard is probably because your body is telling you that hey, I'm happy with this new body set weight. So it's fighting you to stay there. It's health and it's happy right now. But you're trying to fight against that. You're going against your physiology now.
So it's entirely possible that you're gonna be happier and healthier if you just listen and accept what your body is trying to tell you.
Full transparency, I don't look like that every day. I look more like this (see video).  I'm happy with my body either way. The only difference is I'm happier and I feel better when I look like the latter. Because that dude gets to eat dark chocolate, pistachios, he doesn't have to actively count calories, and he gets to have a cheat meal every week and doesn't feel bad about it.
So being intellectually honest with myself, this is the body I get with what I'm currently doing. And I'm okay with that. I can live with that. Can I be leaner? Sure. But right now, this is what I've got with what I'm doing and I'm perfectly happy and content. To me? That's the most important thing.
Change is never easy. It can be scary because you're meeting a new version of yourself that you've never met before. While at the same time, having your old self fighting kicking and screaming to keep you where you're at. To keep you stuck.
Because if you want something you've never had before, you need to do things you've never done before. And you're gonna need to make some pretty big changes. That's just part of the process. So you need to make a decision. And if you follow all the things I mentioned, you're gonna figure out how to not gain weight.
Your life will change. You know what? It's absolutely worth it.
As always, if this was helpful, share it with a friend who could benefit from it as well!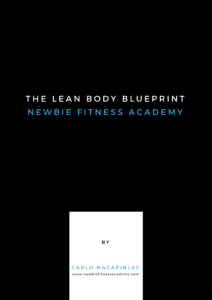 Need More Help?
Use this simple 4-step process to melt ALL the fat around your stomach and look good shirtless WITHOUT going on a crazy diet or wasting hours at the gym. Get the Lean Body Blueprint here for free!
PS. Have you nabbed your copy of The "No Diet" Diet yet? It's awesome, I promise. 
Click HERE
 to get a copy today!