Want to know how to not gain weight during the holidays?
For a lot of people, especially if they're from North America, all bets are usually off when it comes to their diet during that 6-week stretch between Thanksgiving and New Years. And with it comes the dreaded holiday weight gain.
But, fear not. In this video, I'm going to show you exactly how to avoid that uptick on the scale. And if you do things properly, you might even keep losing fat during this festive time.
Here's What You'll Learn:
hide
How To Not Gain Weight During The Holidays
The holiday season is notorious when it comes to derailing a lot of people's weight loss progress. Don't worry, I've got you covered. Here are my top 10 tips to stay on track.
Let's start with probably my most important tip. If you just take away one thing away from this, this is it.
1. Don't just mail it in during the holidays.
The best tip on how to not gain weight during the holidays?
Don't just give up and go YOLO and say you're gonna start over on January 1st. That's why New Year's resolutions are so popular.
The problem is, only 8% of people achieve their Resolution. And most people are completely off the rails by February. Those aren't very good odds.
So don't let yourself get off track just because in your mind you've already decided that you're going to get off track anyway because it's the holidays. That's such a defeatist attitude.
Just because the average person gains a few pounds during the holiday season, and that's a fact, doesn't mean you should. You don't have to be part of that statistic.
You've worked so hard over the course of the year to get to where you're at. Don't just throw it all away because 'tis the season. In fact, you should even be more vigilant during this time.
2. Focus on what the holiday season is all about.
It's about spending quality time with loved ones. It's all about family. Don't make it all about how much turkey, ham, pie, casserole, and other treats be the centre of your attention.
This is directly connected to my first tip. I want you to keep living your life as you normally would regardless of whatever time of the year it is.
If you wouldn't normally eat a full pie in one sitting during the non-holiday times of the year, don't do it during the holiday season just because 'tis the season. They're just labels.
Again, don't let the holidays be an excuse to let yourself get off track. Don't think you have to eat everything in sight. That's a scarcity mindset.
There's always gonna be next year and other holidays.
3. Plan ahead for the actual days of festivities.
So for thanksgiving, Christmas, new years, and any other parties that fall in between those days that you might celebrate. Plan ahead.
Just like any other planned "cheat day" or treat day, don't worry about what you're eating during those holiday days. Enjoy yourself responsibly.
What you should really be focusing on is staying on track during the non holiday days which is like 90% of your other days. Again, that's why it's important to stick to the 90/10 rule.
90% of the time, be good. Stay disciplined. The other 10%? Live your best life.
Because here's the thing. People don't gain weight during the holiday season because of the holiday days themselves. Eating an extra 500 calories for 4 days out of a month and a half is nothing in the grand scheme of things.
The problem lies when people just mail it in especially around December, and the entire month just turns into open season. You just stuff yourself with all the treats you can get your hands on. That's where the real damage comes from.
When you start indulging on the treats that people start bringing at your office. You order whatever Christmas drink they just invented at Starbucks. All those extra calories add up. That's where the real danger lies.
Even if you have a holiday party every weekend during December, that doesn't give you the green light to go off track during the week. You still have to keep doing what you've been doing. Keep practicing what got you to the dance. Follow the 90/10 rule.
And then during the actual holiday day themselves, allow yourself to enjoy the day. And if you want to know some ninja tricks on how to bounce back quickly after these treat days, you should check this video.
4. Schedule your life
For the most part, a lot of holiday parties are planned in advance. Which means you can also plan ahead of time and decide how many days you're gonna let yourself enjoy the treats.
If you're from Canada then you've already had Thanksgiving. But if you're from the US then you've got Thanksgiving, Christmas Eve, Christmas Day, and New Year's Eve where it's okay to indulge a little. That's only 4 days.
I don't even celebrate New Year's Eve. And I'm going to sound like a party pooper when I say this but I don't care. I personally think it's the most overrated holiday of the year. Especially when people just get black out drunk.
You're basically welcoming the new year with a hangover. That sounds like an awful way to start the new year if you ask me.
To me, new years eve is just another day. I go to bed early so I can just go about my regular routine the next day. Again, not a big fan of labels.
If you're a social butterfly, you might have a few parties on your holiday calendar. Just pick a few and just enjoy yourself. Schedule your life. Plan ahead so if you over indulge on those days, it's fine. It's on your calendar.
If you want to quickly get back on track, you can even just do intermittent fasting combined with a fasted workout the day after the party.
You should be doing some of intermittent fasting anyway which I talk a lot about on my channel. So if you're new, make sure you check out my other videos about it.
What I'm trying to say is you're going to be fine. You can enjoy yourself eating all the delicious food while spending time with your family knowing you'll be back on track the next day.
No need to feel bad about yourself. You don't have to feel guilty.
In fact, that's something you don't want to do. You don't want to go about this with an all or nothing attitude that because you already feel bad, let's see how far you can take it.
You follow up that planned holiday party with an unplanned cheat day the next day. Then you just go YOLO for the rest of December, and then you tell yourself you're just going to start over on New Years.
Again, that kind of mindset is how you become part of the holiday weight gain statistic. Be the exception here, not the rule.
And that's one of the biggest traps for a lot of people by the way.
5. Thinking that the start of a new year is a magic reset.
Everything resets back to zero.
Breaking news. Your body doesn't magically reset on new years. No. You're stuck with the 6 weeks of damage you did to your body because you went on the see food diet during the holidays. You see food, you eat it.
Here's a fun fact for you. Another reason why I'm not a fan of labels. Named days are just made up.
We're the only species on the planet that decided to name days, Monday through Sunday. They're completely made up.
Do you think your dog knows it's Saturday or whatever day it is you're watching this video? Or that January 1st is the start of a New Year? No.
My point is you have to stay on track. That's how health and fitness works. It's a lifestyle. It's not something you can switch on and off depending on what time of the year it is.
6. You always have a choice.
If you get an impromptu invite to a holiday party, that's fine. You should go. You always have options.
Go and just have one drink to be social. Better yet, have a non alcoholic drink. By the way, as long as you have a drink in hand, most people won't notice that you're not eating. Especially if it's a mingling type of party.
If you decide to eat, you can be responsible and go for the healthy options. That should be obvious. If it's a potluck bring a healthy dish.
If you choose to not indulge and just have a drink, make sure you eat something healthy before you go to the party so you're not tempted when you get there.
Don't go to the party on an empty stomach unless you're used to fasting. Because the temptation to eat is going to be at an all time high. Don't unnecessarily torture yourself.
7. Don't eat like an A hole.
This isn't a give an inch, take a mile scenario. You should enjoy food responsibly even on the days where you plan to indulge.
You have to be sensible about it. Don't eat a whole pie to yourself. Don't stuff yourself with stuffing.
Eat your veggies, protein, and healthy fats like you normally would. Then allow yourself to enjoy treats afterwards.
8. Avoid the leftover trap.
Okay, you don't have to avoid the leftover ham, turkey, Brussels sprouts, or any of the good stuff. But you definitely want to skip the leftover stuffing, mashed potatoes, and pie.
If what you had for your holiday party dinner isn't part of your regular diet, don't have it again the next day.
One bad meal won't make you fat. Just like one good meal won't magically make you skinny.
The first mistake is never the one that ruins you. It's the spiral of repeated mistakes that follow.
One treat meal isn't the problem. It's when you consciously follow it up with another one. Because that's the start of a new habit.
9. Keep doing everything that got you to the dance.
This is the best way how to not gain weight during the holidays.
If you've been on track with your health and wellness goals, keep doing what you've been doing even if it's the holidays.
Keep working out. Don't use holiday parties as an excuse to skip the gym. Your muscles doesn't know that it's the holidays.
If you've been intermittent fasting, keep doing that. Don't just mindlessly start grazing on food just because they're a little bit more abundant this time of the year.
If you do go to these holiday parties, make sure you're still going to bed at a decent time. Things start to go sideways real fast when you start compromising your sleep.
Lack of sleep affects important fat loss hormones like ghrelin, leptin, and cortisol. Which greatly affects your decision making when it comes to food. You're way more susceptible to eat everything if you don't get adequate sleep.
Make sure you're still getting your 10,000 steps every day. Make sure you're doing your best to manage your stress and not use food as a coping mechanism.
10. How to not gain weight during the holidays: Don't lose track of your ultimate goal.
Again, you don't have to be part of that holiday weight gain statistic. That is a choice you can make.
At the end of the day, it's important to not lose track of what the holidays are all about. It's all about spending quality time with family and loved ones. It's not about just mailing it in until the start of the new year.
Don't forget about all the hard work that you've put in.
Yes, there's going to be food involved during the holidays. Yes, there's going to be impromptu invites to parties. That's fine. Just don't lose track of your ultimate goal of improving your health and fitness.
Don't just throw away all your hard work because 'tis the season. Keep following the 90/10 rule. You can absolutely enjoy yourself during the holidays. Just be sensible about it.
As always, if this was helpful, share it with a friend who could benefit from it as well!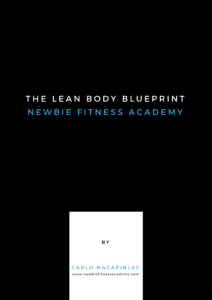 Need More Help?
Use this simple 4-step process to melt ALL the fat around your stomach and look good shirtless WITHOUT going on a crazy diet or wasting hours at the gym. Get the Lean Body Blueprint here for free!
PS. Have you nabbed your copy of The "No Diet" Diet yet? It's awesome, I promise. 
Click HERE
 to get a copy today!