Wanna know how to lose weight without exercise?
It's possible.
Just know that if the benefits of exercise could be put in a pill, it would be the biggest blockbuster medication of all time. 
When it comes to improving your overall health and quality of life, there is literally nothing better you can do than to be as physically strong as humanly possible. And you do that through exercise. So, exercise is awesome. 
But what if for some reason, you can't workout? Are you forever doomed in a life of despair? Not if you do what I'm about to tell you. Today, I'm gonna show you how to lose weight without exercise.
Here's What You'll Learn:
hide
How To Lose Weight WITHOUT Exercise (Proven Weight Loss Hacks)
Here's something that I want to make very clear. If you're able to workout, you should. 
If you want to maintain and build muscle, have that tight and toned look, fit better into your clothes, and just be a healthy and happy human being, you need to exercise if you can.
However, if you wanna know how to lose weight without exercise just because you're lazy, you are looking at this completely the wrong way.
I want you to think of exercise like brushing your teeth. You should do some form of it every day. And I'm not saying you should go to the gym every day. No. I don't even go to the gym every day and I'm a gym rat. What I'm trying to say here is there are many different forms of exercise like lifting weights, running, cycling, swimming, and other cool stuff like playing. Your goal is to try as many of those modalities as possible.
Now, a lot of people think of exercise as a tool they can use to build muscle. And that's definitely one of its main benefits. And there's absolutely nothing wrong with have that as your goal. But it's so much more than that.
The benefits of exercise
Other benefits include increased insulin sensitivity, reduced stress, improved brain health, reduced risk for chronic disease, enhanced detoxification, it improves sexual function, it slows down the aging process by increasing your mitochondrial efficiency. Just to name a few. It basically helps you become a more functional human being. 
And I say that because exercise is so important in the aging process. Again this circles back to longevity and having quality of life. When you're younger, you're not gonna see the biggest difference, like I know a lot of people who don't exercise. And they're. But you can't do that forever. 
As you age, the average north american gains 1.5 lbs of fat and loses half a pound of muscle starting at the age of 25 until 55. This is why you see people just start to pack the weight starting in their mid twenties and they don't know how to reverse it.
But you don't need to be part of that statistic. Because building and maintaining muscle mass through exercise is the key driver of your metabolism. It greatly improves bone density and bone strength which helps you maintain your independence longer. 
Think about your typical elderly person. They're frail, they're very slow, it's hard for them to take care of themselves. But it doesn't have to be like that. Even something as simple as  walking regularly has been shown to reduce your risk of getting Dementia by 40%.
And when you look at the exceptions. You look at those few elderly people who take care of themselves. And Mark Sisson is my favourite example of this. He's the author of some of my favourite fitness books and that's where I got the stat about dementia. He looks like that. He's 66 years old. You don't end up looking like that without exercise.
What if you physically CAN'T exercise?
Having said that, there might be certain times when you can't exercise. Like if you have an injury. A few years ago, I broke my back from training when I was a full time athlete. This is actually the video where I broke my back. When I caught the lift at the bottom, something called a Pars Fracture happened. And I knew right away that something bad just happened you can see me grab my lower back.
Or maybe you're sick and you can't workout. Just to continue my broken back story, I actually developed pneumonia a few days after. Talk about a double whammy, right? Just when you think things couldn't get worse. I honestly think my immune system just shut down because I was so depressed that I broke my back. 
So when you're sick, exercise can actually slow down your healing process. Because exercise is a type of stress. It's a good stressor on the body if you're healthy. But if you're not healthy. If your body is trying to fight off an infection for example, like Pneumonia, exercise will then add more stress that could make things worse. 
And when you're sick, exercise should be the last thing on your mind anyway. Your goal should be just to get healthy.
The minimum effective dose of exercise
And when you're just starting out your weight loss journey, not worrying too much about exercise might not be a bad thing. There are levels to this. If you just focus on the minimum effective dose of just trying to get 10,000 steps every day for the first couple of weeks for example, then focus on higher leverage pillars, you're gonna be way better off in the long run. 
Because 80% of your body composition is determined by your diet. While the other 20% is achieved by making supportive lifestyle choices that upregulate your fat burning metabolism. And that includes exercise. It actually only falls in the 20% category. And we'll talk about the rest of those supportive lifestyle choices, or as I like to call them pillars of health, in a second here.
The problem is, a lot of well meaning people start their weight loss journey by focusing too much on exercise. They think it's a 50/50 split with nutrition. No. It's good for you, but it only plays a supporting role when it comes to weight loss.
The SECRET on how to lose weight WITHOUT exercise
So you're gonna get a way better ROI if you just focus on your diet. And that's exactly how one of my students was able to drop 25 lbs and 6 dress sizes in 8 weeks without exercise. She couldn't workout because she was dealing with wrist and knee injuries so she focused on her diet instead. And once she was healed from those injuries, then she started working out.
My point is, sometimes you can't workout because you're injured or you're sick. Or both. Just like me. That's fine. You can still lose weight. Or at the very least, maintain your results so you don't start trending the wrong way. But once you're back to good health, you need to focus on adding exercise if and when you can.
Because without it, it's actually way harder to reduce your overall body fat percentage. If you don't workout because you're just lazy, the weight that you're gonna lose will come from both fat and muscle. Because again, exercise is how you build and maintain muscle. It's that use it or lose it concept. If you don't workout and you keep losing fat and muscle, that's how you get the skinny fat look. It's not a good look.
Having said all of that, how do you actually do it? How do you still lose weight without exercise? Well, let's look at it this way.
The 5 key pillars of health
There are 5 pillars of health. Sleep, nutrition, stress, exercise, and your mindset. If you get rid of one of those pillars, that places more load on the other 4 pillars. And I'm a big fan of the 90/10 rule. 90% of the time, be good. The other 10%? Live your best life.
But if you get rid of exercise, you're gonna need to improve on that 90% score for the rest of the pillars.
So let's talk about each pillar, starting with stress. 
Pillar of health #1: Stress
If you're not on point with managing your stress. And exercise is an unbelievably powerful way to reduce stress because your body release endorphins from exercise. That's your feel good hormone by the way. If you take that out, then you're gonna need to find other ways to better manage your stress levels.
Pillar of health #2: Sleep
Let's talk about sleep. If you're already struggling with sleep. If you get like 5 hours of sleep every night. That's not ideal already. But when you take exercise out of the equation and all of its amazing benefits. Then the negative effects of lack is sleep is just gonna compound and make it even harder to lose weight. So it becomes even more paramount that you find ways to improve your sleep.
Pillars of health #3 and #4: Nutrition and mindset
Let's talk about nutrition and mindset because they basically go hand in hand here. As if diet wasn't important enough to begin with, but it basically becomes your focal point if you want to lose weight without exercise.
You're gonna have a lot less wiggle room and you're gonna get away with less without exercise. For example, when you have a cheat meal. One of the best ways to violently recalibrate your appetite hormones to quickly bounce back from it is by doing intermittent fasting the next day. Preferably a 16 hour fast but feel free to extend it if you can. The longer you go, the better. If you can just do OMAD the next day. Great.
And then you want to combine your fast with an intense workout to empty out your muscle glycogen stores as quickly as possible. 
If you take exercise out of the equation, then you might have to go from being able to have an optional cheat meal every week to one every two weeks. If that. 
And when it comes to your daily diet, it becomes very important that you put even more emphasis on just eating single ingredient, mostly unprocessed, nutrient dense foods.
The BEST diet to lose weight without exercise
In terms of your macros, it becomes paramount that you focus on a set up that moderates your insulin levels. I mean that should be your goal all the time anyway. If you like carbs for example, the best time to eat carbs is after a hard lifting session and/or a super intense workout. Because that is when you're the most insulin sensitive and the carbs you eat will be used to replenish your muscle glycogen stores.
You can't get away with that without exercise. So you're gonna want to limit your carb intake even more. Because it serves no purpose. Your body can just run on fat for energy which is exactly what you want if you want any chance of losing weight without exercise.
I haven't said this in a while so if you're new to my channel listen up. There are essential fats and protein. And by essential, that means your body can't create it. But you need it to survive. Otherwise, you would die. Or you'd become very unhealthy and then you'd end up dying. You don't want that. 
Essential fats are based on linoleic and alpha linoleic acid like EPA and DHA. You need both of those essential fatty acids to survive. There are essential protein like amino acids which is the building block of life. It's what your body uses to repair and build muscle.
However, there are no essential carbs. Zero. Look it up. Carbs are not required for human survival. Even though they're delicious. Anybody who tells you otherwise probably hasn't read a book since high school. If you've giving that person money for nutrition advice, you should ask for your money back and start running the opposite way. Because your body can create all the glucose that it would need for survival through a process called Gluconeogenesis. Take a deep breath if that was breaking news to you.
Having said all of that, your macros ratio needs to be high fat, moderate protein, and very low carb if you want to lose weight without exercise and actually maintain your results. It's usually the macros ratio that I recommend anyway because it's the best ratio to moderate insulin levels. You become a fat burner this way. And fats and protein are delicious. Who doesn't like eating steak, eggs, bacon, butter and avocado. And have nuts, cheese, and dark chocolate as your treat? 
Fats and protein are also extremely satiating. So they activate your satiety hormones, turn off your hunger hormones, and moderate your insulin levels. That sounds like a great recipe for weight loss. In layman's terms. It turns you into a fat burner, while keeping you full longer.
Now, you can definitely do this by eating intuitively and eating all the foods that I talked about.
But, if you want full control of your diet. And this is definitely a good idea if you're not able to workout, is to track your macros. Because you can adjust your activity level on MyFitnessPal or whatever calorie counting app you use and it'll give you a lower number that you're gonna work with.
Knowing your exact numbers is important just to verify that you're getting enough protein and your carb count doesn't get out of control. And by low carb, I'm talking 50 grams or less. That almost guarantees to put you in a state of ketosis. That's when you become a fat burner. You also want to get 0.7 grams per pound of lean body mass for protein. And this also ensures that you're on a calorie deficit. So it definitely helps tracking your calories. 
Calorie counting works IF you do this one thing
Now, I want to quickly address putting yourself on a calorie deficit. I've said this many times in my other videos. A calorie deficit will only work long term. I mean long term sustainable results. If you optimize your hormones for fat loss. It will only work if you're metabolically flexible. If you're fat adapted. Basically if you follow everything I've talked about in this video so far.
Quick disclaimer. If you can't exercise because you're sick. Don't even worry about being on a calorie deficit. Again, your goal is to get healthy first. 
If you're not able to workout for 30 days for example, and you're worried about losing muscle. As long as you get adequate protein, you're gonna be okay. If you don't, then that's when you atrophy. 
Because just as hard as it is to put on muscle, it's just as hard to lose it. Again, just make sure you're eating adequate protein.
But losing weight without exercise is doable. Especially if it's just a few weeks where you can't exercise. Because again, 80% of your body composition is determined by your diet. Is it ideal to lose weight this way? No. Is it possible? Yes. 
The middle ground here is if you're dealing with an injury for example. Like if you're dealing with a hamstring injury, you can still do upper body workouts. If you're dealing with a shoulder injury, you can focus on lower body exercises.
Just do what you can. Do whatever your body allows you to do. Some, is better than none. Just remember that we evolved to move as human beings. Otherwise, you'd be a tree. 
My biggest recommendation here is just focus on your health first. That should always be your number one priority. Funny enough, the best medicine is food. Eat the good stuff. Nourishing your body with the best quality food you can afford is one of the best forms of self love in my opinion. And once you're healthy, then you can start working out again.
As always, if this was helpful, share it with a friend who could benefit from it as well!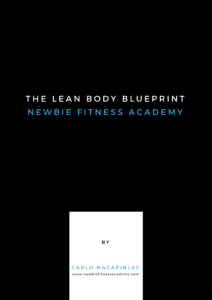 Need More Help?
Use this simple 4-step process to melt ALL the fat around your stomach and look good shirtless WITHOUT going on a crazy diet or wasting hours at the gym. Get the Lean Body Blueprint here for free!
PS. Have you nabbed your copy of The "No Diet" Diet yet? It's awesome, I promise. 
Click HERE
 to get a copy today!