Do you wanna know how to lose weight with no exercise?
I've said this many times in my other videos because it's easily one of the best ways to describe it. That's why I keep using it. 
If the benefits of exercise could be put in a pill, it would be the single greatest blockbuster medication of all time. It's that good for you.
But what if, for some reason, you can't workout. Maybe you're injured or your mobility is very limited. Are you just bound to gain a ton of weight? 
Not if you follow the tips I'm about to give you. I'm gonna show you how to lose weight weight with no exercise. And as always, we're gonna come at it from different angles because there are levels to this.
How to lose weight with no exercise – explained
If you follow my personal account on Instagram, you're gonna see that I'm hanging out in Playa Del Carmen, Mexico, right now. 
My gym is on the beach so I'm there basically every day usually doing something active. It's either I'm doing Muay Thai or CrossFit. 
But for about a week, it was just crickets. Right? I wasn't posting anything. 
It's because I injured my calf from Muay Thai. I landed on my left leg during a routine drill and felt a pop. If you've ever injured yourself, anything that involves feeling a pop is usually bad news.
I immediately knew something was wrong because my left leg all of a sudden wasn't working anymore. I was in a lot of pain – I literally couldn't put any weight on it.
Now that I am pretty close to full health and I'm back doing my thing, I can now make write this for you.
For a few days after my calf injury happened, I was very limited to even how much walking I could do. 
The first couple of days was the worst, I basically had to drag my injured leg with my foot turned sideways so I don't put any pressure on it. Because if I did, it resulted in excruciating pain.
I was also limited to just upper body work at the gym. So no Muay Thai which is what I do for "cardio", only upper body resistance training, and not a whole lot of steps.
The good thing is it's not my first rodeo when it comes to injury. 
A few years ago when I was a competitive weightlifter, I broke my back from training. That one sucked. I wouldn't recommend it to anyone. Not even my worst enemy.
I was basically bed ridden for about a couple of weeks. I was also limited to just occasional movement around the house for about a month.
The biggest issue for me whenever these occasional injuries happen is that I love working out.
If you Googled the words 'gym rat', you'd probably see a picture of me. I love it. It makes me feel amazing. My day feels incomplete if I don't do some form of exercise. 
If you're someone who regularly works out, you know exactly what I'm talking about here.
So having that get taken away from me for a little bit over the years definitely gave me a little bit of an identity crisis during those times.
I definitely didn't feel as good because I wasn't as active. But my body needed the inactivity for that injured area to be able to repair itself.
And because I've gone through that time when I broke my back, no part of me was worried about getting fat from not being able to do my regular exercise routine when I injured my calf.
I went from training 6 days a week to instantly training zero days a week. And basically just doing the bare minimum when it comes to movement.
For a lot of people, if they approach this the wrong way, it's very easy to gain weight.
Thankfully, because I have some experience, I know how to deal with minor setbacks like a calf injury. It's peanuts compared to breaking my back. I'll tell you that much.
Two weeks? No problem. I didn't gain weight. In fact, I lost weight. And I'm gonna give you some ninja tips on how to lose weight with no exercise in a second here. 
Again, we're gonna come at it from different angles. Because there are levels to this. That's probably my favourite thing to say.
How to lose weight with no exercise – The key
When I'm on my usual schedule of training 6 days a week, I usually also eat the same amount of calories every day because I'm a mono structural eater. 
Meaning, I basically eat the same food every day. And, I love it. I'm a big fan of keeping things simple.
Then once a week, I'll have a "treat." You can bet that I'm on a calorie surplus when I have these treat days. They're the best.
I only track my calories basically once every quarter. And I usually just do it to make sure I'm getting enough protein and that my carb intake reflects my goals.
So I know how much I'm eating, I eat mostly the same food every day, I enjoy it, I'm on point, and I maintain a physique that I'm happy with. I feel good inside and out. 
I never feel deprived when it comes to my diet and I'm happy with how my body looks. It's a great setup. That should be the goal for everyone.
When exercise got taken out temporarily, because I've built up this routine, I was able to eat intuitively.
And because I'm at a point where I'm happy with my physique. My "aesthetic goal", if you will, was just to maintain. 
And if you're injured, thinking about your aesthetic goals should be the least of your concerns. 
You should focus on recovery and getting healthy first. Think of it as a spectrum. One side is fitness and the other side is sickness. 
When you're in peak physical shape, you're on the fitness side. When you're injured, you're on the sickness side. 
Your goal is to work your way towards neutral. Towards health. Then, back to fitness.
So I didn't really feel the need to have to start from scratch and recalculate my calories when I got injured. Because I knew that if I ate intuitively and not eat like an ass, I would maintain weight.
I've also built a good relationship with myself over the years. Especially when it comes to food. I don't use it as a crutch. I'm not an emotional eater. I don't use it as a form of entertainment. I've successfully deleted mindlessly snacking from my habits. 
I eat when I'm hungry, I don't eat when I'm not hungry. I also know when to stop eating because I'm full and I don't feel the need to finish my plate every single time. 
And that's huge. Because my family didn't have a lot of money when I was growing up. I was always told to finish the food on my plate because you don't want it to go to waste. 
For a while, I had a scarcity mindset. I had to put in a lot of work to develop an abundance mindset.
So if I use those tools, my weight will stay the same. The biggest thing that I made a point of doing though is making sure I still eat enough protein.
And that's the beauty of learning how to eat intuitively and why I think that should be the goal for everyone.
Because you don't wanna be tracking calories every day for the rest of your life. It's just not practical. It's not something that you wanna have to do when you're 60. 
Tracking calories can be an amazing tool. Because you can't control what you can't measure. 
Everyone should track their calories when they're starting out. And then you build your diet around that until you can learn how to eat intuitively.
How to lose weight with no exercise – build a solid muscle foundation
Thankfully when I got injured, my training is still based mostly on resistance training. 
What it's done over the years is build a solid muscle base on me. I've got some muscles. I've got some traps, some decent sized quads, glutes, and calves. 
But they're not just for show. They've also sped up my metabolism as a byproduct. 
So even if I can't workout, I still have my muscles. It continues to burn calories even when I'm not my usual active self. Because muscle is a very energy expensive tissue to build and maintain.
The more muscle you have, the more energy your body has to burn throughout the day just to maintain that muscle. The more you get to eat.
Because I've put in the work to build a solid muscle base. When I injured my calf or broke my back, I still had my muscles working for me.
They're still burning calories. Which means I can eat quite a bit more than I would compared to if I hadn't built as much muscle.
Again, this is why I will always advocate for resistance training over pure cardio when it comes to fat loss. 
And if you're a female who's reading this and you wanna achieve that tight and toned look, you need to put on some muscle on your frame. 
Strong is the new sexy.
If you're worried about losing muscle because you can't workout temporarily, don't be. 
It's very hard to put on muscle. It takes months, if not years of hard work and dedication to put on some solid lean muscle mass. Which means that it's also hard to lose it. You're not just gonna waste away.
You can be out from working out for up to a month. But as long as you eat enough protein, you don't have to worry about atrophy.
How to lose weight with no exercise (The four pillars of health)
There are 4 pillars of health. 
Getting adequate and quality sleep, proper diet, exercise and general movement, and managing stress. They all need to work together in unison. 
Because you're taking out one of them, or you're limited to what you can do, it becomes even more imperative that you stay on point with the other three. So let's quickly address what you can do.
1. Focus on getting quality sleep
According to Dr. Walker from the book Why We Sleep, Insufficient sleep – roughly defined as less than seven hours per night – moves every health metric in the wrong direction.
Increases insulin resistance
Increases next-day hunger and reduces feelings of fullness after eating.
Drives more food consumption and worse food choices.

 

Raises blood pressure and significantly increases the risk of a heart attack
Compromises the immune system
Negatively impacts emotions and mood
It raises the risk of depression and anxiety
All from getting less than 7 hours of sleep. This one's pretty simple. You need to prioritize getting adequate and quality sleep every night whether you're injured or not. 
I love it when Mindy Kaling said, "There is no sunrise so beautiful that it's worth waking me up to see it."
2. Diet
You shouldn't eat like a butt when you're healthy to begin with. 
But it becomes imperative that your diet be on point when you can't workout. 80% of your body composition, assuming that you get good sleep, is determined by your diet.
And I have other videos that dives into this in further detail. But let me just give you some rapid fire tips.
A.) Eat whole, mostly unprocessed, single ingredient foods. We're talking eggs, steak, fish, chicken, avocado, berries, etc. Keep it simple. 
B.) Prioritize protein. The amino acids in protein becomes the building blocks from which your body builds yourself from within. 
It's crucial that you eat enough of it. You should aim to eat 0.7 grams per pound of lean body mass.
C.) No liquid calories. What you stop eating has far more impact to your health than what you start eating. Or for this instance, drinking.
Liquid calories have zero redeeming qualities to them. Regularly drinking this stuff is like pouring gasoline on an already aggressive fire. They just make you fat and sick. 
If you regularly drink this stop and you stop, your life will drastically change.
D.) Drastically reduce your intake of added sugar, artificial sweeteners, and refined grains. 
So no Diet Coke, don't put Splenda or Stevia in your coffee, try not to eat 
so much bread, rice, and pasta. Basically, don't eat like a butt.
Think about it. If you're injured, what you put in your body becomes the raw materials your body will use to rebuild itself. Do you want your body to be made out of Captain Crunch and Doritos?
E.) Do intermittent fasting
I talk about intermittent fasting ad nauseam on my channel so make sure to check out my other videos about it. It's basically the cheat code to fat loss and improving your overall health.
How to lose weight with no exercise (make or break point)
This is the one that could make or break your outcome.
I'm a big believer these days that mental health is true wealth. It becomes even more crucial that you take care of it if you can't exercise.
The biggest thing you have to remember if you're injured is, just know that it's temporary. 
Unless something permanent happens to you. Then that's a completely different topic.
But a lot of times, people get down on themselves when they can't workout. It's very easy to just have a pity party. 
Just remember that things happen for you, not to you. Read that line again if you have to. It's true when they say life is 10% what happens to you and 90% how you react to it.
If there's something you've been putting off, now is the time to do it. You've got time on your hands.
Also, be careful with your words. The mind and body connection is unbelievably powerful. Instead of telling people that you're injured, say that you're healing.
Long story short, my secret for how to lose weight with no exercise and very little movement is to have put in the years of hard work. To have built a solid muscular foundation that will continue to work for you and burn calories even without exercise.
But also, to have put in the effort to have a good relationship with yourself, especially when it comes to food. 
You've learned how to eat intuitively and give your body what it needs. And not use food as a crutch to make yourself feel better.
Having said all of that. Just because I've showed you how to lose weight with no exercise, doesn't mean that that should be the goal. It should not be your status quo.
The goal should always be doing what's best for your body. Part of achieving optimal health is working out. Regardless of whatever your aesthetic goals are.
So if you can workout, you should do it. I had major FOMO when I couldn't do what I love for a couple of weeks. 
I almost wanted to cry when I got through my first Muay Thai class since injuring my calf.
Try to work around it
If you're injured, do what you can.
Again, there are levels to this. The goal, if you can, is to work around it without the risk of hurting yourself even more. Be smart about this.
If you injured your hand or shoulder, that's probably the best case scenario because you can still do almost everything. 
You can still squat which is the king of all exercises. Best of all, you can still walk and stay active. 
If you have a lower body injury like what I had, it gets a little tricky. 
I still had to go out the day I injured myself to get food. I'm almost a too stubborn for my own good sometimes. So I still went out. But I was slow and was literally dragging my injured leg. But I still did it.
I can't be the only one who starts to feel anxious being cooped up for hours at a time. It's as if my body is telling me that I need to move.
I still went to the gym the next day even though I was very limited with what I could do, because my community was there. 
That's another important thing to have by the way. You wanna have good people around you. Surround yourself with people that'll lift your spirits.
When I broke my back, that was a different story because I spent 90% of my time in bed for a couple of weeks.
But again, if you can, work around it.
Don't feel bad for yourself. Always look for the silver lining. Again, things happen for you, not to you. 
If it happened, it was supposed to happen. That's probably the fastest way to get over something horrible happening to you (Stoicism at its finest). Your job is to find the lesson behind it. Life is trying to teach you something. 
Just remember that it is an absolute privilege to move your body. You don't realize it until it gets taken away from you. 
When I was literally dragging my other leg, I couldn't help but think what an absolute privilege it is to be able to walk like a normal human being.
So if you're an able bodied human being, do me a favour after reading this. Move.
As always, if this was helpful, share it with a friend who could benefit from it as well!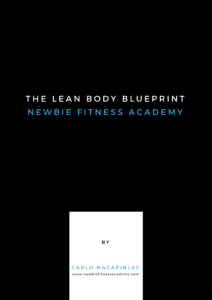 Need More Help?
Use this simple 4-step process to melt ALL the fat around your stomach and look good shirtless WITHOUT going on a crazy diet or wasting hours at the gym. Get the Lean Body Blueprint here for free!
PS. Have you nabbed your copy of The "No Diet" Diet yet? It's awesome, I promise. 
Click HERE
 to get a copy today!