If you were to just read one thing on how to lose weight and keep it off, this would be it.
We're finally gonna get rid of all your unwanted body fat that's been living rent free in your body all this time.
Some of these tips might even seem a little unconventional. But that's not a bad thing.
Because if you follow the government diet recommendation in North America, you're gonna be overweight. 
Instead, if you follow the 10 things I'm about to give you on how to lose weight and keep it off, you're gonna get results. They're so effective, I've never seen it not work. I initially transformed my body 8 years ago, and I've been able to maintain my results all this time.
Quick disclaimer. If you're looking for a secret weight loss hack that's gonna get you to lose 10 lbs in 10 days, this isn't it. But if you want to look and feel great. If you want to be healthy, and if you're focused on longevity, and having good quality of life as you get older? This is NOT for you.
Here's What You'll Learn:
hide
How To Lose Weight And Keep It Off
1. Prioritize your health, specifically your metabolic health
If you look at all changes that you're trying to make in terms of your health. Specifically improving your metabolic health, it's gonna set you up for success so much better in the long run. Because where people tend to go wrong is making decisions based purely on looks. Their aesthetic goals. 
Not that that's wrong. But this is when you usually see people just go on weight loss gimmicks and crash diets. They put themselves on these massive calorie deficits. They're eating a lot of highly processed low calorie foods. I like to call them frankenfoods. All for the sake of fitting it in their macros. 
If you do that, it can get you good results pretty fast. I'll give you that. And for 6 months, you'll look great. But if those changes are not optimal for your health. Because you're eating fake food. And because your body is an adaptation machine. After a while, your body is gonna start fighting against you. Usually in the form of hunger and a decrease in your metabolism.
This is where you hit the dreaded weight loss plateau. And you're gonna start losing all those initial positive changes.
And not only will you be sliding backwards. But it's gonna make it so much harder to make progress. And you're gonna be fighting an uphill battle against your body that's rebelling against you. This is called yo-yo dieting. You're now in weight loss struggle city.
But if you focus on improving your metabolic health, the aesthetics will naturally follow. Don't just look at the amount of calories on a food label for the sake of fitting it in your macros. Plus, if it comes in any sort of packaging and it comes with that nutrition label sticker, it means that it's most likely been processed.
The more processing your food goes through, the worse it is for you.
2. Slow and steady wins the race
Motivation is awesome. But you have to put that motivation in the right place. Because if you use it the wrong way, this is when people tend to get in that all or nothing attitude.
They wanna do all of the things, all at once. But guess what? That's not sustainable. 
Because here's the problem with motivation. You only have a finite amount of it. This is why only 8% of people achieve their new years resolutions by the way. And most of them fall off the wagon by February. As soon as that motivation fades, you're gonna be back to your old habits. You're back to square one. The only difference is you're more frustrated than ever. Sound familiar?
Instead, if you start with slow and small simple changes. You focus on creating tiny habits and build them into your lifestyle as you progress. If you make them a part of who you are. I mean on a cellular level. You can just build from there. 
And eventually, establish that healthy lifestyle pattern that feels good for you. It becomes easy. It's seamless. And it gets you to your goals eventually. 
It's really about going at a pace that you can maintain. Everyone's journey is gonna be different but the common denominator is adherence. Adherence is everything. Speaking of adherence…
3. Find workouts you enjoy
Yes, I personally think that there is an optimal form of exercise to help you achieve your goals. I think CrossFit is the best strength and conditioning workout program on the planet. But that's just me. But, if you hate CrossFit, you're not gonna do it.
Whereas if you find a type of workout that you love. You can keep doing it. You can be consistent with it. That is when you see real transformation. Consistency trumps any "best exercise" for weight loss regimen out there. 
For fat loss, body recomposition, and improving your overall health., the best thing you can do is resistance training. But if you hate lifting weights, then you're never gonna do it. 
Whereas if you love Barre for example. And I've seen people get great results from it. You're gonna see so much more progress by doing that because you're actually gonna do it.
4. Aim for a complete lifestyle change, not a temporary fix
You don't want to look at weight loss and improving your health as a temporary thing that you do for a month. And I've always been fascinated by people that do sober October or juice cleanses and then they just binge after. Like, what's the point of that?  
When you start your weight loss journey, remember that everything you do. All the positive changes you make are things that you wanna be part of your lifestyle. Rather than something that you feel like you have to force yourself to do. 
For example, everyone loves pickles but I hate it. I don't care if it's the healthiest food on the planet. I don't like it. So I'm not gonna eat it. Same thing with Kale. I don't see the hype. 
So I had to find other healthy alternatives. Some of my go-to healthy staples are cruciferous vegetables, pastured meat and eggs, nuts, and dark chocolate. I love them. I look forward to eating them. That's what's gonna make those changes stick. Because I like what I eat. 
But people are susceptible to quick fixes. We live in a world where we're always after instant gratification. That's when you see juice cleanses, drinking detox tea, crash diets. Or when people count points. Like weight watchers. Like I really don't get that. Do you think our paleolithic ancestors looked at food and asked, I wonder how many points this food has? No.
Listen, none of those things are sustainable long term. They can't be part of a healthy lifestyle. So don't even do them. Plus, juice cleanses are extremely expensive. When I was doing my research for this video, I saw a 6 day cleanse juice package for $239. Who in their right mind pays $239 for juice?
I would spend that money buying real food instead. You're gonna get a way better ROI from that.
And looking at it from that perspective. I just wanna circle back to my previous tip, this is why I want you to pick a workout program you enjoy doing. That way, you look at working out as not something you have to do. But it's just part of your life now. It's in your DNA. Because when you achieve that, then motivation isn't a factor anymore. It's part of your identity now. 
Do you have to think about brushing your teeth? No. It's just something you do every day. Working out? Same thing. Getting 10,000 steps every day. No problem. Eating whole foods? That's automatic. It's not something where you have to dig deep and find motivation to do it. It becomes so much easier when it's just part of your lifestyle. It's part of who you are as a human being.
5. Consistency is key
Those crash diets, juice cleanses, and detox teas I mentioned in the previous tip aren't something you can do consistently. And they're really expensive. You're paying more, for less. That's a bad deal.
Listen, long term sustainable results doesn't come from a one week juice cleanse. Sustainable long term change comes from consistency from doing the right thing. Small daily good decisions done repeatedly, consistently, turns into staggering results over time. 
It's better to do less but be consistent with it. Than to go all in for two weeks then you're back to your old habits afterwards.
Let's use intermittent fasting for example. Person A does a daily 16 hour fast for a year and pairs it with a nutrient dense whole foods diet. 
Person B decides to do a 24 hour fast, or alternate day fasting or longer fasts. And goes on a massive calorie deficit eating a lot of highly processed frankenfoods but can only sustain for a month. Maybe. If that person even gets there. 
By the end of the year, person A is gonna be night and day ahead of person B. Because person A was able to do a 16 hour fast and maintain his diet consistently.
By the way, consistency only works if you're doing the right thing. If you're doing the wrong thing, I don't care how consistent you are. You ain't getting results.
6. Fast results aren't sustainable results

 
I mentioned this earlier but your body is an adaptation machine. If you go all in to get fast results, your body is gonna adapt very fast. If you eat less than 1,000 calories a day for example, you will see some pretty drastic changes. 
But as soon as you stop doing that, because it's not sustainable and you're gonna be hungry, your body is gonna readapt to your previous lifestyle. It's gonna want to go back to your original body set weight.
You're gonna lose all the results from your crash diet as soon as you go back to your previous lifestyle. Because eating less than 1,000 calories every day is not sustainable. You are literally starving yourself if you do that. 
But your body is really smart. It wants to survive. This is why if you go on a crash diet, your metabolism will slow down as a consequence, and it will break down precious muscles for energy. You don't want that.
7. Be patient
I know it sucks to feel like you're doing everything right for a week or two and not see results. Or even a month. You put in all that effort. You step on the scale and you don't see a difference. It sucks. 
But guess what? If you're consistent. Again, assuming that you're consistently doing the right thing. By focusing on improving your metabolic health, you will get results.
It's just gonna take some time. This is a very important concept you need to wrap your head around. Your rate of weight loss depends on how long you've been carrying the excess weight you're trying to lose. It depends how long you've been insulin resistant. It also depends on your genetic predisposition to storing body fat. Bio individuality plays a huge role. 
That's why you should never compare yourself with anyone. You're only gonna get one thing. Disappointment.
8. There's no "right way"
There are many different diets you can try to get to the same end goal. Yes, certain diets may be more efficient than others. They might be more enjoyable than others. 
I personally think that a very low carb, high fat, moderate protein diet that's comprised of single ingredient, mostly unprocessed, nutrient dense foods is the best diet for weight loss, improving your metabolic health, and longevity. 
Because it's the best diet to moderate your insulin levels. Insulin is your master hormone. It's the hormone that controls your body weight. It's important that you keep it moderated at all times.
But, full transparency, you can also improve your metabolic health by following a vegetarian diet, albeit very hard to do and requires massive supplementation. 
You can also improve your metabolic health by following a Paleo diet. I've seen people reverse autoimmune disease by following a Carnivore diet. What I'm trying to say is there's no one path you have to take to get to where you want to be. You can carve your own path.
For example, when I started my weight loss journey. I just started fasting because I read that it's awesome. But I had no idea what I was doing. I just knew I had to take a break from eating. Then I learned how to track my macros properly. I starting learning more about nutrition and that's when I switched to a low carb/keto diet. I did a little bit more digging and found out about the importance of high quality food like eating pastured animals .
Over time, the path that's gonna be best for you is gonna change. What worked for you a year ago might not work for you this year. 
Like if you went on a crash diet last year and it got you results. So you do it again this year and you barely see results. That's not uncommon.
Because our bodies change. Our lives change. A lot of different factors can go into what's gonna be most effective and efficient for you.
Don't get frustrated and discouraged if you're doing something now and you're not getting the results you did last time. It's mostly likely that things have changed and you need to change things up. You need to adapt. You need to pivot.
It only becomes a problem if you keep doing the same thing over and over again expecting a different outcome. That, my friend, is the definition of insanity.
9. Your goal for any diet is to achieve metabolic flexibility
This is the next step once you're metabolically healthy.
Being metabolically efficient, being fat adapted, keto adapted, or achieving metabolic flexibility, those are all interchangeable terms by the way. Should be your number one priority when you're choosing a diet that is right for you.
Metabolic flexibility is where your body is able to tap into your fat stores and burn it for energy in between meals. It's a metabolic state where your body literally turns into a fat burning machine.
And you achieve this by following a diet and following a compressed eating schedule aka intermittent fasting where your body only has to produce a minimal amount of insulin. Again, it's the hormone that controls your body weight. You want to make sure that you keep it moderated at all times in order to achieve metabolic flexibility.
And my entire channel is basically dedicated towards getting you fat adapted so make sure you check out all my other videos especially if you're new.
I'm also gonna link to my programs at the top here and in the description box if you just want a step-by-step blueprint on how to become metabolically flexible.  
10. Make supportive lifestyle choices that promote metabolic flexibility
There are 4 different pillars of health and wellness. We've already talked about two of them so far which is nutrition and exercise.
The other two important factors are sleep and stress. And it's not about putting 25% effort on your diet, 25% on exercise, and so on. No. It's 100% commitment to your nutrition. 100% commitment on daily movement and resistance training and 100% commitment to getting sufficient quality sleep and managing your stress levels. 
If you miss out on one of them, you are gonna be severely disappointed with your results. 
But I also understand that life happens. There are levels to this. You goal should be 100% efficiency at all times but if you can only get to 90%, that's okay. You need to be flexible and roll with the punches.
And I have separate videos that really dives in these two pillars but I'm just gonna give you the main point here.
You will find zero research that connects lack of sleep to good health. It is so important to maintaining health. None of this is going to work if you don't get at least 7 hours of quality sleep in a pitch black room every night.
When it comes to stress, the problem starts when it becomes chronic. When you're constantly stressed. Because chronic stress leads to chronically high insulin levels. Which leads to chronic inflammation. Which opens up pandoras box to all sort of disease including diabetes, obesity, cancer, arthritis, autoimmune and cardiovascular disease.
So if you're on point with your nutrition and exercise. Check in with your sleep quality and how you're managing your stress levels. I guarantee as soon as your fix those, you're winning. 
And if you follow all the tips I just mentioned, your life will change. You're welcome.
As always, if this was helpful, share it with a friend who could benefit from it as well!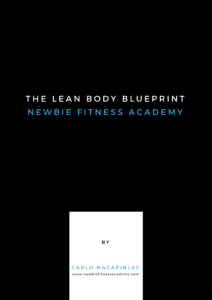 Need More Help?
Use this simple 4-step process to melt ALL the fat around your stomach and look good shirtless WITHOUT going on a crazy diet or wasting hours at the gym. Get the Lean Body Blueprint here for free!
PS. Have you nabbed your copy of The "No Diet" Diet yet? It's awesome, I promise. 
Click HERE
 to get a copy today!