How often should you workout to lose weight?
That's a question I see in the comments of a lot of my videos. I also get questions like, "What kind of workouts should I do? Should I do this? Or should I do that?"
I'm gonna cover all that including some unusual and even forgotten ways to approach exercise to get the most out of your efforts. 
Prepare to get your mind blown.
In this video, I'm gonna show you how often you need to exercise to lose weight.
Here's What You'll Learn:
hide
How often should you workout to lose weight?
Let's talk about the optimal training frequency so you can maximize your progress, and use every minute of your time efficiently and wisely. 
Because I'm all about getting the best bang for your buck. So here we go.
Optimal training frequency – the minimum
First, let's talk about the minimum amount of exercise you need to be doing for your weight loss goals. This is the minimum effective dose. 
And to be fully transparent, the minimum amount is technically zero. 
And I've seen this first hand with some of my students (see video). She lost 25 lbs of fat and dropped 6 dress sizes in 6 months without exercise because she was dealing with some injuries. 
So she focused on her diet instead. But now that she's back in full health, she's now on a regular workout routine.
All you need to do, assuming you're in good health, to lose weight is to focus on your diet. If you're metabolically flexible and you go on a calorie deficit, you will lose weight. 
This is kind of an extreme example but think about people in hospital beds. And they're just getting IV drips and they're not eating anything. They lose weight. Right? 
Now, this does not mean that I'm recommending you don't exercise. Far from it. If the benefits of exercise could be put in a pill, it would be the biggest blockbuster medication of all time. And you can get it for free.
So this isn't about me showing the benefits of exercise because there's too many. I'm just gonna assume that you already understand the importance of it since you're looking for information when it comes to optimal training frequency.
My point here is it's not optimal for your health and longevity if you don't exercise. We evolved to move as human beings. And lack of daily movement compromises fat burning, promotes insulin resistance and sugar cravings.
What is the minimum amount of exercise to support weight loss and health?

 
I'm gonna give you a multifaceted approach when it comes to this. 
Because I've been learning a lot on bio hacking and longevity and I now plan on being a super centenarian. Meaning I plan on living over 100 years old with all my bells and whistles fully functional and intact. And if that's also something you're remotely interested in, then pay attention.
Based on what I've learned, and this also comes from years of being a national level athlete, and coaching thousands of people. 
The minimum effective dose of exercise
The minimum effective dose for exercise is to get 10,000 steps every day, two sessions of resistance training every week.
Let's talk about the first one. Why 10,000 steps? 
Getting 10,000 steps every day is a big enough goal that it forces you to move your body throughout the day. Because again, nothing turns off your fat burning genes faster than prolonged periods of inactivity aka being sedentary. 
And those 10,000 steps also includes your general movement at your house throughout the day. Which is called Non Exercise Activity Thermogenesis (NEAT). And the remaining balance translates to about 60 minutes of walking outside your house. 
I personally go for 4 walks minimum every day. And I look forward to every single one of them. Because they're so relaxing. They're so therapeutic. I can just be with myself. And I always come back in a better headspace. 
And that's key by the way is you want to spread out your 10,000 steps throughout the day. Again, this gets rid of those prolonged periods of inactivity.
Why is 10,000 steps such a magical number?

 
Well, the average North American gets about 4,700 steps every day. That person also sleeps for 8 hours, is glued to a screen for 11 hours, and only moves around for 3 hours. That is the definition of a sedentary lifestyle. 
The average North American adult is also overweight. 3/4 American adult are in the overweight or obese category. And with that comes a boatload of health problems.
So we want to be above the average North American when it comes to getting in your daily movement. Hence the 10,000 steps a day goal. 
You can get a FitBit or most smartphones these days can also be used as a pedometer to track your steps. If you don't have either, just accumulate 60 minutes of walking or other low intensity cardio every day.
But then I'll always hear someone say. "I don't have time. I have kids. My family come first." 
No. That is the wrong way of looking at this. You come first. Because if you don't prioritize your health and you get sick. Who's gonna take care of your family? Who's gonna take care of you? 
And this is such a great way to lead by example for your kids and your family. By taking care of yourself.
And I also have a separate video that dives into further detail about the science behind getting 10,000 steps every day so make sure you check that out. 
But let me give you a couple of stats. Because I'm a numbers guy. Numbers don't lie.
The benefits of walking
Walking every day has been shown to reduce your risk of getting dementia by 40%.
Walking after a meal has been shown to reduce your blood glucose response by 50%. The faster you can regulate blood glucose, the faster you can tap into your fat burning mechanism.
Being able to walk a mile without stopping is also a huge indicator of lifespan. 
If you have to stop and take a break because you're huffing and puffing from walking a mile, you have a very high risk of dying within the next 5 years. You've got your work cut out for you. 
The good thing is, it's not too late. All these stats by the way are from the book Keto For Life by Mark Sisson.
Our Paleolithic ancestors regularly walked 5 miles every day and they were all naturally lean and strong. They didn't suffer from modern modern western disease like obesity, cancer, diabetes, and cardiovascular disease.
One quick note. If you're active in other ways like if you bike to work, or if you bike to the grocery store, or if you're on your feet all day, you can count all those things towards your 60 minutes of daily movement goal. 
Just move, baby. And it's free.
Resistance training – Why it's non-negotiable
Next, let's talk about resistance training. This is a big one. For me? This is non negotiable. If you have any reservations about this, you can stop reading this now. I'm not your guy. It won't hurt my feelings. You should seek divine intervention instead. 
One of the best things you can do if you want to be a happy and healthy human being is to be as physically strong as humanly possible. 
The best way to do that is through resistance training. Ideally, with weights. If you don't have access to weights? That's fine. You can get plenty of work done using your bodyweight as your form of resistance. 
Now, why resistance training? Why not running? It's because resistance training sends a signal to your body through growth hormones and testosterone to not only maintain but also build muscle. 
And this isn't a knock on running. Running once or twice a week for example can be beneficial to your cardiovascular health. Because it makes your heart stronger and it can pump more blood throughout your body. 
Or, maybe you're training for a marathon. But that's more on the specialty side of things. 
I wanna talk about the general population here who just wants to maintain and build muscle, have that tight and toned look, fit better into their clothes, and just be a healthy and happy human being. 
You can achieve all those things by doing resistance training for a minimum of twice per week.
Less, but better
Your resistance training workouts doesn't have to be long. 
They can be anywhere between 5-25 minutes of high intensity workouts. That is enough to trigger the adaptive and hormetic effects that we're after, and gain access to all the benefits that you're looking for through exercise. 
If you've ever done a CrossFit workout, and that's my preferred way of training, you'll know that you can get a lot of work done and you're on the floor because you feel like you just got hit by a bus twice from doing a 5 or 10 minute workout. 
To me, that's a great return on your time investment. You can also check out my Lean Body Blueprint: 21 Day Weight Loss Challenge if you just want a done-for-you workout program.
And this isn't just about looking good shirtless. Although that's one of the best benefits of resistance training. So, why not? 
You wanna build muscle because it's so important in the aging process. Again this circles back to longevity and having quality of life. 
When you're younger, you're not gonna see the biggest difference. I know a lot of people who don't exercise and eat absolute trash. And they look fine. But you can't do that forever. 
As you age, and father time is always undefeated when it comes to this. The average North American gains 1.5 lbs of fat and loses half a pound of muscle starting at the age of 25 until 55. 
This is why you see people just start to pack the weight starting in their mid-twenties and they don't know how to reverse it.
But you don't need to be part of that statistic. Building and maintaining muscle mass through resistance training is the key driver of your metabolism. It greatly improves bone density and bone strength. 
It also helps you maintain your independence longer. Think about your typical elderly person. They're frail, they're very slow, it's hard for them to take care of themselves. It's kinda sad. But it doesn't have to be like that. 
Because when you look at the exceptions. You look at those few elderly people who take care of themselves. Mark Sisson is my favourite example of this. He's the author of some of my favourite fitness books and he looks like that (see video). He's 66 years old. If I look something like that at his age, I like my chances of being a super centenarian.
The forgotten form of exercise
I'm gonna add a bonus recommendation here and it's kind of become a forgotten thing for adults – Play. 
Think about it. Some of our happiest and best memories as a kid growing up is when we were playing. But at some point as we got older, and this usually stops after we graduate high school because it's a requirement to attend gym class if you went at all, we stop playing.
And we go through most of our life not playing again. Unless you have kids and you're a good parent and you spend time playing with them. 
Which again circles back to my main point. Aren't you just happier when you're playing with your kid? It brings out the inner kid in you. Whether it's playing catch or just chasing your kid around. Same thing if you have a dog and you play with it.
And diving into this topic goes beyond the scope of this post. But I think we all know someone who's in their 40's, 50's, or even 60's (like Mark Sisson). They look amazing. They look nothing like their age. 
If you ask any of those people, on top of eating a proper diet obviously, they'll usually tell you that they exercise. And, they participate in some form of play.
So those are my three recommendations as the minimum effective dose for health. Obviously there are exceptions like if you're dealing with an injury or if you're sick. 
Then your main goal should be getting back to an optimal state of health where you're able to exercise. So it doesn't apply to everyone. 
What happens when you just diet and don't exercise
By the way, another reason why I recommend doing resistance training at least twice a week is if you don't exercise and you just go on a calorie deficit, that weight loss is not body fat loss. I hate to break it to you. Instead, you're looking at a total reduction in body weight which includes your precious muscles.
Again, let's circle back to people that are bed ridden. They lose weight because they're on a calorie deficit of just IV. But their muscles also atrophy because they're not getting exercise.
Just remember this concept. Diet is for fat loss, exercise is all about daily movement with the emphasis of building muscle. 
The minimum effective dose is 5-25 minutes of high intensity resistance training twice per week, while getting 10,000 steps every day. Which translates to roughly around 60 minutes of low intensity cardio like walking outside. 
By the way,  it's not the end of the world if you only get 8 or 9,000 steps every day. The closer you get, the better. There are levels to this. That's still twice as much as the average North American gets. 
How often should you workout – The MAXIMUM

 
Now that we've establish the minimum effective dose of exercise, let's talk about the ceiling. 
Let's talk about the maximum. This is the amount of training where your progress is actually gonna start to taper off, and you're not getting a good ROI anymore. It could possibly even start working against you.
The problem with overtraining
This is called overtraining. And it comes in many different ways and forms. 
Unfortunately, the limit is different for everyone. But I'm gonna do my best to give you some guidelines and hopefully you can identify with one of them. 
The lowest hanging fruit here is if you're someone who does chronic cardio patterns where you are on the elliptical machine, the stair master, or the treadmill. Maybe you go for a jog every day. 
You're doing those types of cardio workouts that are a little bit too hard, a little bit too frequently, with insufficient rest. This by the way also includes group fitness classes like Spin and CrossFit where it feels like a near death experience every day you go. 
You're always exceeding your maximum aerobic heart rate whenever you do these workouts. Again, I break down the science of exercise in my other videos so make sure you check that out.
Long story short, these are the people that are on their chosen cardio machine every day. 
They have the right intention but the wrong execution. They're sweating their heart out. They're on the machine literally every day. They might as well have their names on it. And, they don't take days off. 
But then you look at them, and they're not losing weight.
They do this because they're counting the calories burned on the machine or whatever their calorie tracker says. Unfortunately, it's now been proven that calories burned on your fitness tracker does not translate to body fat burned in your body. 
And if I just described your regular workout routine, you already know this to be true.
Why too much exercise can compromise weight loss
The more pressing thing about chronic cardio patterns is it compromises fat burning, it spikes stress hormones, and prompt sugar cravings. Which leads to that all too familiar weight gain around your stomach. 
That's why you can't get rid of your muffin top even though you've almost worn out the handles on your favourite elliptical machine.
You have to realize that exercise is a type of stress. 
We are looking for the hormetic response by our body which is increased testosterone and growth hormone to build muscle and other awesome stuff. You don't want that stress to become chronic.
And I experienced this personally when I was a full time athlete. I had to train 6 days a week and my body felt broken the entire time. So I wouldn't even recommend 6 days training. It's too much.
How often should you workout – The sweet spot
These days, I only train 4-5 days per week and that seems to be the sweet spot for me and a lot of my students. So the happy medium here is 4-5 days per week of resistance training. That's my recommendation. 
For example, you can go two days on and one day off. That kinda works out to be 4-5 days per week. 
If you go on the higher side of things, that's when you can build a great base level of fitness and drastically improve your quality of life.
The key – Rest and recovery
Let's quickly talk about rest and recovery because it's just as important. 
If you're extra sore and you're supposed to workout, take the day off. Listen to your body. Take a nap instead. You're not trying to qualify for the olympics here. 
At the end of the day, even if you take that day off, you're still hitting your minimum of twice a week.
And also important to note is the amount of training you body can handle will change over time depending on your situation. 
If you're at a good place in your life. Your stress levels are very low. You're getting good sleep and your diet is on point. You're gonna be able to handle a lot more training. 
You can be in that 4-5 days per week bracket and reap all of its amazing benefits. 
But if you're going through a break up, you're stressed out of your mind at work, you're going through financial problems, and you're not sleeping well? 
Then you might fall into the minimum effective dose of just twice per week. And that's totally fine. 
How often should you workout – The secret sauce
Which brings me to the last piece of the puzzle to put this all together. If you do this, you're winning. You're gonna get maximum results and maximum happiness. Are you ready? 
You want to be inconsistent with your workouts. 
What I mean by that is our Paleolithic ancestors did not wake up at 5am every morning to go to their 6am spin class. No. Like I said, they regularly 5 miles every day. 
They also climbed trees, they hiked mountains, they carried heavy rocks, they swam, they sprinted when they were hunting or when they were being hunted, they played, and all sorts of other activities. 
Your goal is to model your exercise and activity patterns to that. 
What does that look like in real life? Maybe one day go for a run, the next day lift heavy weights, the day after go for a bike ride, the day after that do a HIIT workout, then do an active recovery day like yoga, then go for a hike, go for a swim the week after. 
All while trying to get as close to 10,000 steps every day. Most of the things I just mentioned are free.
And, don't forget to play. Play with your kid and/or your dog. Play with your neighbours dog. Join a co-ed sports team like ultimate frisbee. Why? Because it keeps you young. 
Your workouts doesn't have to be confined within the four walls of your gym. It's better if you're inconsistent with your workouts. To me? That sounds way more fun.
At the end of the day, just remember that exercise is all about daily movement. Not calories burned on your fitness tracker.
As always, if this was helpful, share it with a friend who could benefit from it as well!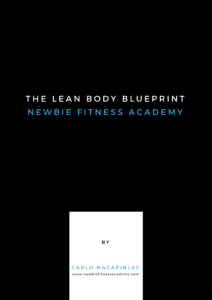 Need More Help?
Use this simple 4-step process to melt ALL the fat around your stomach and look good shirtless WITHOUT going on a crazy diet or wasting hours at the gym. Get the Lean Body Blueprint here for free!
PS. Have you nabbed your copy of The "No Diet" Diet yet? It's awesome, I promise. 
Click HERE
 to get a copy today!