How much protein do you need a day?
I'm gonna show you the simplest way to determine how much protein you should be eating for optimal health. No calculations required.
I'm also gonna give you some advanced strategies so make sure to read all the way through.
Here's What You'll Learn:
hide
How much protein do you need a day for optimal health?

 
The answer is actually two fold. 
First, it's on a per meal basis. You need to eat 30-50 grams of high quality protein per meal. By high quality, I'm talking about protein from animals and animal products.
Because it has the most abundant and bioavailable amino acids. Which means the body absorbs it better. 
There are 20 amino acids. 9 of them are essential, meaning the body can't make it or can't make it in sufficient quantity. 
Leucine being the most prominent amino acid because it's what triggers the all important muscle protein synthesis through mTor. mTor is short for Mammalian Target of Rapamycin. 
30 grams of protein is very easy to get if you're eating animals and animal products. It's 4 oz of meat or 6 oz of fish. It's a couple of eggs and 3 slices of bacon. Or, it's one scoop of high quality whey protein.
If you're plant based, you need a mind bending 6 cups of quinoa, which also contains all 9 essential amino acids, to get those 30 grams. 
Which is just metabolically devastating. It's catastrophic to your insulin levels eating that much carbs.
And I've talked about the importance of moderating insulin ad nauseam on my channel. You don't want to have a massive insulin response from your meals. 
It doesn't matter that it's "slow carbs". That's actually not a good thing. It means that your body has a hard time digesting it because of its anti nutrients content. 
That's why there's really no argument between getting your protein from animals vs plants.
Any sane person should know that eating a piece of steak is not the same as kale. It's just not. Pause this video and look at the nutrient comparison side by side. It's not even close.
At the same time, plants like I just mentioned, contain anti nutrients which slows down the absorption of nutrients.
Tofu, another plant based protein option with all 9 essential amino acids, also contains trypsin inhibitors which blocks trypsin, an enzyme needed to properly digest protein. Do you see the irony in that? 
It also contains phytates, another type of anti nutrient, which reduces the absorption of important minerals like calcium, zinc, and iron.
You also need to eat two hard blocks of tofu, around 240 grams, to get those 30 grams of protein to initiate muscle protein synthesis. That's a lot of tofu just to get 30 grams.
Eating a steady source of anti nutrients can lead to inflammation and gut issues among other things. So, yeah. It's up to you.
Now, The USDA RDA is a measly 0.8 grams per kilogram of bodyweight.
So a 180 pound or around 82 kg person would only need to eat 65 grams of protein. That's not enough. 
The definition of RDA is the minimum intake to prevent a deficiency. It doesn't make it optimal. There's a world of difference between the two.
How much protein do you need a day?
According to the work of Dr Gabrielle Lyon and Dr Donald Layman, one of the world's leading experts in protein research, you should actually aim for 1 gram per pound of ideal bodyweight.
So if your ideal bodyweight is 150 lbs, you should eat 150 grams of protein. Simple, right?
Now, the more important question you should be asking is…
Why is protein so important?
Why do you need to eat 30-50 grams of protein every meal and eat 1 gram per pound of ideal bodyweight in pounds?
I already gave away the answer earlier but those numbers trigger muscle protein synthesis.
Muscle is actually the largest organ in the body. It's an endocrine organ. 
Endocrine are the glands that release hormones into the blood. 
When muscle contracts, aka when you exercise, it releases myokines. Which are proteins that travels throughout the body to protect the bone and the brain. 
It also helps with nutrition partitioning, glucose disposal, fatty acid oxidation, and it's anti-inflammatory.
Brain derived neurotropic factor (BDNF) is another myokine that gets released by muscle when you exercise which is often touted as Miracle Grow for the brain because it helps with memory.
Oddly enough, inactivity seems to impair this myokine response.
We often just look at muscle as kind of this aesthetic thing. That's actually it's least important function.
Muscle is our metabolic currency
It's the key driver of our metabolism. It determines everything about our body composition.
More importantly, it's a key indicator of lifespan. It's the organ of longevity.
The higher the muscle mass, the better the protection against all cause mortality.
And that is so important for diseases of aging like type 2 diabetes, Alzheimers which is actually type 3 diabetes, and cardiovascular disease. It actually all starts in the muscle first.
So the best way to fix everything is optimizing muscle and changing your  weight loss paradigm. 
It's not about being over fat. Which is why it hasn't worked for so many people. It really is, from a metabolic perspective, about being under muscled.
You have to fix your metabolic composition first. If you optimize muscle, by eating enough dietary protein and doing resistance training, the weight will come off. 
I've literally never met anyone who complained about having muscle and said their life got worse. No. Muscle makes everything better.
But if you focus on purely weight loss and just cutting calories, the byproduct is usually not eating enough protein, you're always hungry, eventually you're gonna run into some problems.
Because it's not about the weight you lose. It's about the quality. Because if you just cut calories, the weight you lose is actually both fat and muscle. 
But if you do it strategically, by optimizing muscle, the majority of the weight can just be fat. 
And no, eating meat does not cause cancer. It's not bad for the kidneys. 
Or maybe you're still under the belief that eating fat makes you fat. You need to avoid fatty cuts of meat because of the cholesterol. No. 
That's called conventional stupidity and those claims have now been massively disproven.
Not eating red meat is one of the worst dietary advice out there. Especially if you watch biased documentaries like 'What The Health' and 'Game Changers'. It's irresponsible and dangerous. 
Any "study" that claims that eating red meat is bad is based on epidemiological studies which can only establish correlation, not causation. It's not real science.
And again, it's usually from an anti-animal narrative. It's very emotional for these people.
But at what cost? Vegans, time and time again, have been shown to have the least amount of muscle mass and bone density. Oftentimes, you hear them having gut issues and their hair and teeth are falling out. That doesn't sound like a very healthy diet.
Did you know that beef from regenerative and sustainable sources have been shown to be carbon negative? 
Also, the more muscle you have, the more metabolic flexibility and carb flexibility you'll have. 
This is when you earn your carbs. Carbs aren't necessarily bad as long as it doesn't disrupt homeostasis. The general rule is to keep it under 40 grams per meal to keep insulin moderated. 
It's also better to have them after your workout because you're more insulin sensitive. Your muscle "suitcase" is open to take in those carbs which gets stored as glycogen.
This is why muscle is your metabolic currency. It's the largest site for glucose disposal. When you think about your basal metabolic rate, which is the calories you burn at rest, it's the amount of muscle you have. 
Mark Sisson, one of my favourite authors, is my favourite example of what's possible with having a lot of lean muscle mass as you age. He's 67 years old and he looks like that. Talk about aging gracefully. Heck, he looks better than most people half his age.
When it comes to fat, I want you to treat it as a lever. Because you can either get your fat from the foods you eat, OR you can get it from your butt, thighs, and belly. 
If you have excess body fat that you want to lose, which one would you rather use?
How much protein do you need a day? (Meal frequency)
How many meals should you eat?
Ideally, two in a 6-8 hour eating window. You can do three. But again, every meal needs to have at least 30-50 grams of protein to initiate muscle protein synthesis. 
It also helps greatly with satiety which is the final piece of the puzzle. You're not hungry again after two hours. 
And that immediately takes care of the over eating or emotional eating that's a big problem for a lot of people. 
This is why you're always hungry on a low protein diet. Your body is gonna signal you to keep eating until it gets the protein that it needs to activate your satiety hormones.
Remember, weight loss in its very essence is not about counting calories, it's about controlling hunger. 
If you can control hunger by eating enough protein, weight loss becomes inevitable.
Plain and simple, getting enough high quality protein to maintain and build muscle should be your number one priority when it comes to your diet. Now you know exactly what those numbers are.
As always, if this was helpful, share it with a friend who could benefit from it as well!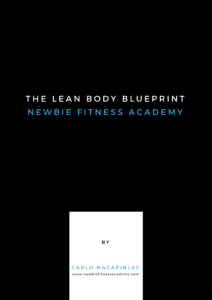 Need More Help?
Use this simple 4-step process to melt ALL the fat around your stomach and look good shirtless WITHOUT going on a crazy diet or wasting hours at the gym. Get the Lean Body Blueprint here for free!
PS. Have you nabbed your copy of The "No Diet" Diet yet? It's awesome, I promise. 
Click HERE
 to get a copy today!