How much cardio to get abs?
I get a lot of people asking me how much cardio they should do to get abs, lose weight, or, both. I'm gonna answer all of that, and then some, in this post. You'll never look at cardio the same way ever again.
Here's What You'll Learn:
hide
How Much Cardio To Get Abs?
I'm going to level with you on this.
The fact that you're wondering how much cardio you should be doing to get abs means that you're already ahead of the crowd. That means you see the value in exercise and you wanna do it. You're willing to do it. Or, maybe you're already doing it. 
That's awesome. I always like to say that there are levels. The higher you get, the better.
So if you're looking for this type of information, give yourself a high five and pat yourself on the back. You're on the right path. You might just have to tweak your exercise routine a little bit so you can get the best ROI when it comes to your time and effort.
The problem with mainstream fitness
Because I'm a gym rat so I see a lot of the same people on the elliptical, the stair master, they're on the treadmill sweating their hearts out every day. 
And I'm always amazed by the creativeness of some people on the treadmill. I see some people walking sideways. I even see some people walking backwards. And it always makes me wonder. That looks interesting. Should I be doing that? What am I missing here? But again, it's better than nothing. 
It's the same thing when people sit through traffic, think about this, trying to get to the gym to sit on a stationary bike. Or walk stationary, like the treadmill. Can you not see the irony in that?
Quick tip: If you're able to do your cardio workouts outdoors, it's infinitely better for you because you also get access to fresh air. 
There are also tons of benefits when it comes to being close to nature. So if you can go for a run or a bike ride on a trail or close to a body of water, that's awesome. You'll also get some much needed sun which your body synthesizes with cholesterol on your skin and create vitamin D. 
So two myths debunked right there. Cholesterol isn't bad for you. Your body makes its own cholesterol. It's essential to every cellular function in your body. You would die without it. So don't be scared of it. 
And getting some sun on your skin isn't bad for you. We evolved with the sun. We are sun beings. Our circadian rhythm is built around the sun. I mean obviously don't bathe in the sun all day or you'll turn into a lobster. But if you get 20 minutes of sun exposure? Unbelievably beneficial for you. Because most North Americans are vitamin D deficient. Any study that you would see against sun exposure is most likely severely outdated or it's just based on bro science.
But I also understand that if it's cold where you live, or the weather in general prevents you from going outside, or if you live in a sketchy area. Then by all means, do your cardio workout indoors. I'm just saying if it's an option, you should do it outside.
And if you love running, cycling, rowing, or whatever type or cardio you love doing. Keep doing that. And we're gonna talk about optimal frequency in a second here.
The UGLY truth about cardio
But I'm gonna give you the cold hard truth about cardio. There are many benefits of doing cardio. It strengthens your heart for example and it can pump more blood throughout your body. That's a good thing. You want to have a strong and healthy heart. 
It also improves your endurance so you can run longer and faster. It strengthens your joints and bones and other awesome benefits. But getting abs, let alone weight loss, isn't one of them. Or, it's an unbelievably inefficient way of doing it. 
If you want to talk about majoring in the minor when it comes to getting abs and losing weight, I can't think of a better example. Because 80% of your body composition, translation, how your body looks, is determined by your diet. 80%. 
The remaining 20% is comprised of supportive lifestyle choices like getting adequate sleep, managing your stress, getting regular movement, genetics, and exercise. And cardio, is just one of the many different modalities of exercise. So out of that remaining 20%, cardio plays "this big" of a role when it comes to getting abs.
This is why you see a lot of well meaning people at the gym. You see them in the cardio machine area. They're there every day sweating their hearts out but they look the same. They're not losing weight.
Here's the thing. Traditional cardio in itself isn't necessary to lose weight. You don't need to do it to get abs. In fact, if you do it too much, it can start to become detrimental to your health. And I'm gonna explain why in a second here. But if that's breaking news to you, well now you know better. 
If you have an Apple watch, a fitbit, or one of those fancy heart rate monitors strapped around your chest. And you do a CrossFit workout or any type of high intensity interval resistance training type of workout. You'll know that it can jack up your heart rate pretty high.
Lifting weights, if you do it fast enough, again at a high intensity (with good mechanics obviously), trains your cardiovascular system. So you get access to all the benefits of cardio without having to do it the traditional way. Like running for hours at a time, or sweating your heart out on your favourite cardio machine. 
I personally hate doing cardio. I don't enjoy it at all. It doesn't help that I have a really bad attitude when I do it. But I'm a really competitive guy. I was even thinking about signing up for a half marathon to conquer my dislike for it. 
It would've been the worst mistake of my life because I lasted a grand total of one day of marathon training when I realized that it was the most boring thing on the planet.
And I'm all about bio hacking and human optimization these. I love learning about health and fitness and how the body works and the science behind it. Super nerdy, I know. But that's how I'm able to make new content for you guys,.
And when I learned more about exercise physiology and found out that doing traditional cardio wasn't necessary for weight loss and health, I felt like my prayers were finally answered. And it completely changed the way I look at exercise and what it does to my overall health and fitness.
How much cardio to get abs – You're probably doing it WRONG
That's why I'm so passionate when it comes to educating people about this stuff. Because when people do traditional cardio, this is a prime example of right intention but wrong execution. 
And usually, people do cardio because they're counting calories. This is the classic eat less and move more weight loss model. Or it's more commonly known as calories in vs calories out. 
So we're focusing on the calories out part of the equation here. We're trying to move more and burn more calories by doing cardio. It's a pretty straight forward concept. And it's supposed to work. The math is simple. And this is what we've tried to do for decades now. The problem is, it hasn't really worked. 
And if cardio has been your choice for exercise and you're not losing weight. In fact, you're starting to see some weight gain around your belly. There's an explanation for that.
Because it has now been scientifically proven that the calories burned during your hour long cardio session does not translate to fat burned in your body. 
Remember, 80% of your body composition is determined by your diet. This is a very minor thing you're focusing on. The problem is, a lot of people think that diet and exercise are equal parts when it comes to weight loss. Nothing could be further from the truth.
This gets magnified even more especially if cardio is all you do for exercise. And that's when it starts to become detrimental because you get into chronic cardio patterns.
Chronic cardio is where you do cardio workouts that are a little bit too hard, a little bit too frequently, with insufficient rest. 
Because it leads to two things. 1) People develop something called active couch potato syndrome where they do their cardio workout but then they're completely sedentary for the rest of the day. A lot of people who exercise in general are guilty of this. And it's not good because that means you're still living a sedentary lifestyle for most of the time that they're awake.
2) Chronic cardio leads to the over compensation effect. So if we go back to the calories in vs calories out model, a lot of bro experts just make the erroneous assumption that the 'calories in' part of the equation stays stable. No, it doesn't. That statement alone should debunk this weight loss model. 
Why counting calories burned from cardio doesn't work
But let's keep dissecting it. Here's how it actually works. If you increase the 'calories out' part of the equation, it also causes a subsequent increase on the 'calories in'.
Meaning as you burn more calories, you also eat more calories. Notice how you're always just massively ravenous after a long cardio session? The other thing with chronic cardio is that it triggers massive sugar cravings. And again, this is where it becomes a problem for a lot of people. Because it's pretty easy to erase all the benefits of your cardio workout with a massive carb overload. 
And people justify it because they just burned X amount of calories during their workout. The problem with that thinking is that, how your body actually metabolizes food, and exercise physiology, are two completely different pathways. 
Again, I will keep saying this until the cows come home. It's not just calories in vs calories out. That's such an over simplistic way of looking at this. You have to factor in hormones like insulin, cortisol, leptin, and other key satiety hormones. Calories matter but hormones are more important.
The other point that I want to make about doing too much cardio for the sake of counting calories burned is it's way too stressful to the human body. We evolved to move as human beings. Keyword there is move. We did not evolve to run or sit on a stationary bike every day. There is a world of difference between general movement and running. 
You gotta remember that exercise is a type of stress. And your body responds to all types of stress the same way. It activates cortisol which is your fight or flight response hormone. And one of its main jobs is to flood your body with glucose so you have usable energy right away to fight or flight. When you run every day, your body thinks that you're being chased or you're about to fight a bear every day. 
And one of the protective mechanisms that gets triggered when you do chronic cardio is your body stores all that unused extra glucose floating around your system around your belly. To protect your precious organs from this imaginary bear you're trying to fight or run away from every day.  
And if you're an avid runner or you've almost worn out the handles on your favourite elliptical machine at the gym and you're not losing weight. In fact, you are seeing that all too familiar weight gain around your belly. This is why.
Again, I'm not saying you should never do traditional cardio. It's a great thing to throw in every once in a while to change things up. Once or twice a week? Do it if you love it. But as far as getting abs, let alone weight loss, it's completely unnecessary. 
How much cardio to get abs – The proper strategy
Here's what I recommend that you do. And if you look at the comments of my videos about this topic, you know it works pretty well. I want you to slow it down. Pump the brakes on running and go for a walk instead.
Now your first thought might be, Carlo, walking doesn't burn as much calories. I don't care. I literally just spent the last few minutes explaining why that's almost irrelevant. Because again you usually end up eating more in the process. 
But the quick science behind walking is it almost guarantees to keep you below your maximum aerobic heart rate. I'm talking about maximum aerobic heart rate here. Not maximum heart rate. There's a big difference. 
Your maximum aerobic heart rate is where you're burning mostly fatty acids for energy. Meaning you're in the fat burning zone. And if you're trying to lose weight, that's exactly what you want.
How do you determine your maximum aerobic heart rate? I'm glad you asked. So just take 180 minus your age. And that's your number in beats per minute. Credit to Dr. Phil Mafetone for this. So for me? I'm 33 so if we take 180 minus 33, that gets me 147 beats per minute. That's my maximum aerobic heart rate. My job is to stay below that when I do cardio. 
And I don't even want to come close to that because it's very easy to go above it. And when you do, that's when you start burning a mix of glucose and fatty acids. That's when the sugar cravings and cortisol response starts. Again, that's no good for weight loss, let alone getting abs.
The best cardio to get abs
Walking on the other hand again almost guarantees to keep you below your maximum aerobic heart rate. So if you don't have a fitbit or apple watch to track your heart rate, that's fine. Just walk. And it's also free. 
Walking is also an unbelievably effective way to lower your stress levels. And if you want to know more about the science behind this then you should check out this video.
And every time you go for a walk, you almost always come back feeling super refreshed. Whenever I'm stressed, or I feel flustered, or if I have to make a big decision, guess what I do? I go for a walk. 
And your goal is to get 10,000 steps spread out, so it forces you to move your body throughout the day. Again, we want to avoid prolonged periods where you're completely sedentary. 
So if you've been hating your life and you've just been doing cardio for the last few months but you're not seeing results, I highly recommend taking out a few of those cardio sessions, pick up some weights and do resistance training instead so you can build some muscle. 
If you don't have access to weights, that's fine. You can just use your own bodyweight as your form of resistance. And if you want a proven plan on how to do resistance training using just your bodyweight, then I'm gonna link…
This is one of my all time favourite things to say. If the benefits of exercise could be put in a pill, it would be the greatest blockbuster medication of all time. And you get all those benefits through resistance training. 
And you don't need to spend hours at the gym doing resistance training. Think less, but better. By better, I mean high intensity. If you do 10-30 minutes of high intensity resistance training two to three times a week combined with getting 10,000 steps every day, you're set. 
At the end of the day, if you wanna keep doing cardio because you love it, that's fine.
Again, I'm not saying you should never do it. Keep doing it. It's a great thing to throw in every once in a while to change things up. Once or twice a week? Do it. 
But your goal is to try as many different modalities of exercise as possible. But as far as getting abs, let alone weight loss, if you wanna know how much cardio you need to do to make that happen? Zero. It's completely unnecessary. It's super cliche but abs, are definitely made in the kitchen.
As always, if this was helpful, share it with a friend who could benefit from it as well!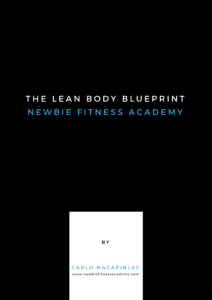 Need More Help?
Use this simple 4-step process to melt ALL the fat around your stomach and look good shirtless WITHOUT going on a crazy diet or wasting hours at the gym. Get the Lean Body Blueprint here for free!
PS. Have you nabbed your copy of The "No Diet" Diet yet? It's awesome, I promise. 
Click HERE
 to get a copy today!