Is it possible to get rid of belly fat without counting calories?
Yes, but there are levels to this.
In this video, I'm going to show 10 tried and tested ways on how to finally get rid of belly fat that's been living rent free in your body all this time.
Here's What You'll Learn:
hide
10 Ways To Get Rid Of Belly Fat Without Counting Calories – Explained
If you really want to get rid of belly fat and keep it off, you need to stop focusing so much on counting calories.
Because:
A) Your body doesn't really count calories.
You have no calorie counter in your stomach. Your body is more than just a mathematical equation.
We're the only species on the planet that counts calories. We're also the fattest. It just doesn't add up.
B) It doesn't work.
Did you know that calorie counting has been shown to have a 99% failure rate? Simply put, eat less and move more doesn't work.
It might work at the beginning. But eventually, you'll put all the weight back on, and then some.
Because one of the biggest side effects of a calorie restriction diet is that it slows down your metabolism. That is something that you never want to happen.
Nothing illustrates this more than the reality show, the Biggest Loser. If you've never seen it, they take these overweight and obese contestants and they get put in extreme diets.
They're in massive calorie deficits and they exercise excessively. And they lose weight initially. So far so good, right?
But if you've ever seen the show, you'll see that they're miserable, they're barely eating anything, they do hours of cardio and they do lose weight.
The question is, did they keep it off?
Here's the kicker. There has never been a reunion show.
Why? Because almost all of the contestants regain all the weight they initially lost. And according to one study, some of them now weigh even more than before they joined the show.
Again, it's because one of the biggest drawbacks of a calorie restriction diet is that it slows down your metabolism.
This should explain why some people who are eating 1,000 calories, they're barely eating anything, and they're not losing weight. Sound familiar?
Clearly, calorie counting is not a viable long term option.
So, how do you actually get rid of belly fat without counting calories?
What you really want to focus on is up regulating your fat burning metabolism.
Yup, you have it in you. Even if you've been struggling to lose weight for as long as your can remember. You trigger your fat burning metabolism through hormone optimization.
And you want to focus on moderating two key hormones. The first one is insulin. Some people call insulin the master hormone. Because it's what controls your body weight. Not calories.
If your insulin levels are high, you cannot access your body fat and burn it for energy. You just can't. So high insulin blocks fat burning.
All foods, assuming you're eating a blend of carbs, fat, and protein, stimulate the hormone insulin. Some foods though are more insulinogenic than others.
The second hormone that you want to focus on moderating is cortisol. Cortisol is your stress hormone. It's the hormone that's most specifically tied to the weight gain around your belly.
Short term stress isn't necessarily a bad thing. It's when we get into chronic stress patterns where it really starts to get problematic.
Now with those two hormones in mind, let's jump into 10 ways that you can up regulate your fat burning metabolism and finally get rid of belly fat without counting calories.
1. Don't have grain based/processed traditional breakfast food
I'm talking about oatmeal, breakfast cereal, toast, pancakes, waffles, and the likes. This also includes any type of fruit juice.
The problem with all the foods I just mentioned is that they're highly processed and they're extremely high in starchy carbs and sugar.
Now, out of all three macronutrients, carbs, especially refined carbs and sugar spike the hormone insulin the most. And again, high insulin blocks fat burning.
Eating a proper breakfast can really set the tone for the rest of your day whether you're moving towards weight loss or weight gain.
You want to do your best to avoid starchy and sugary foods first thing in the morning to avoid that high blood sugar spike with a corresponding high insulin response. Which is then followed by a blood sugar crash.
The crazy thing is that your body treats this as if you're about to go into a state of hypoglycaemia.
So it sends a signal through the hormone Ghrelin, which is your hunger hormone, that you need to eat something. Notice how you're always hungry mid morning after a starchy breakfast?
What should you eat instead? Try to stick to single ingredient foods like eggs, bacon, and avocado. The aforementioned foods are high in fat and protein which triggers your satiety hormones. It helps keep you full longer until your next proper meal.
2. Cut out processed snacks
This directly relates to the first point in that once you hit that mid morning feeling of hunger. Again, caused by eating a highly processed sugary and starchy breakfast. What do we normally reach for? Sugary snacks.
It's a vicious cycle. We reach for similar foods.
We reach for highly processed, starchy, and sugary snacks like granola bars, protein bars, chips, pretzels, crackers, or maybe even a meal replacement shake.
Which again will trigger a huge spike in your insulin levels blocking you from burning fat for energy because you just flooded your system with more sugar. So your body goes into fat storage mode.
That's why it's paramount that you eat a proper breakfast so you can eliminate the need to eat a mid morning or mid afternoon snack.
3. Cut out energy drinks
Let's look at the most popular energy drink on the planet. Red Bull. One little can contains 26 grams of sugar. It's basically the same as drinking a can of Coke. Except Red Bull is advertised as an "energy" drink.
Sugar is the most simple form of carbs and it's also the most insulinogenic.
So drinking one can of Red Bull mid morning or mid afternoon is going to cause a huge spike in your blood sugar levels. With a corresponding spike in insulin levels to store all the glucose which again blocks you from fat burning.
4. Cut out diet soda
Diet soda is the greatest thing if you're a calorie counter.
Because here you are, presented with something that tastes like the real deal, but it has zero calories.
It's the best thing ever! Diet sodas are typically sweetened with Sucralose or aspartame. The problem is, artificial sweeteners has been found to induce weight gain than weight loss. Some studies even link it directly to obesity because it destroys your gut microbiome.
Why? Because artificial sweeteners still triggers the cephalic phase insulin  response in your body.
It's when your body thinks and expects that there's food coming in. So it sends signals to the pancreas to start releasing insulin. Again, insulin is a storing hormone, to store all the calories that's about to come in.
You're literally tricking your body to start storing fat when you drink this stuff. It doesn't matter that it's "zero" calories. Your body still has a physiological response to these zero calorie sodas.
Have I told you that calorie counting doesn't work?
5. Cut out designer coffees
I'm talking about your choco-mocha lattes, crappy frappy's, or your skinny vanilla lattes with 3 pumps of sugar free vanilla.
There's really just one main ingredient in these designer coffee. Sugar.
This falls in the same category as energy drinks in that designer coffees are extremely insulinogenic.
A grande caramel Frappuccino for example has 64 grams of sugar. That's almost the equivalent of eating 3 snickers bars.
Now, I mentioned skinny vanilla lattes with 3 pumps of sugar free vanilla for a reason. Again, it's no better because you're still triggering an insulin response from the artificial sweeteners.
BONUS Tip: Want to finally get rid of belly fat without counting calories? Never eat low fat dairy of any kind.
Because A) It's highly processed. B) Fat isn't bad for you. Fat doesn't make you fat.
There are multiple studies that now show the more fat you eat, assuming that it's coming from good sources, the more protected you are against cardiovascular disease.
Going back to crappy frappy's. I know they're delicious but none of these designer coffees offer any nutritional value. You can get your caffeine fix from better sources like green tea or black coffee.
Now, I totally understand that some people can't drink their coffee black. You can add a little bit of heavy whipping cream and it's not going to bed the end of the world.
Because pure fat has little to no effects on your insulin levels. And again, fat isn't bad for you.
6. Don't run. Go for a walk instead
I'm about to blow your mind.
What I'm about to share also applies to endurance athletes. A lot of people fall into the endless cardio trap because of the whole eat less and move more concept.
So everyone's wearing a fitness tracker and they're counting how many calories they've burned. One of the most popular ways of counting calories during your workout is doing cardio.
The most popular way of doing cardio is running. Here's the truth bomb. Going for your daily 30 minute, 5k, or 10k run every day is one of the biggest reasons why you're not losing weight.
Why? Because exercise is a type of stress. Short term stress isn't a bad thing. The problem starts when it becomes chronic.
So if you run every day, 7 days a week, the stress from exercise becomes chronic.
Chronic stress levels then leads to chronically high cortisol levels. Chronically high cortisol levels leads to chronically high insulin levels.
You get a double whammy effect. And remember, cortisol has a really big effect on weight gain. Specifically around your belly.
If you're a runner and you're not losing weight. Or worse, you find that you're starting to look like a pear. You're starting to gain weight specifically around your belly. This is why.
You're doing workouts that are a little bit too hard and too frequently.
Walking on the other hand keeps your heart rate below your maximum aerobic heart rate. If you stay below that number, you're in the fat burning zone. You're using fatty acids for energy. If you're trying to lose fat, that's exactly what you want.
If you want to know exactly where that threshold is, you can use Dr Phil Maffetone's formula of 180 minus your age. You want to stay below that number when you go for a walk.
So instead of measuring your calories burned on your fitness tracker, measure your heart rate instead.
I'm not saying you should never run.
Once or twice a week? Totally fine.
You have to remember that this is how we evolved as human beings. Our ancestors regularly walked 5 miles every day.
They would occasionally sprint when they're hunting and they were all naturally lean and strong. They did not do 5k or 10k runs every day.
7. Eat 3 meals instead of 5, 6, or 7 meals
I mentioned earlier that every time you eat, your insulin goes up.
This is especially true if you're eating a lot of the highly processed starchy foods and sugary drinks I've mentioned so far because they're extremely insulinogenic.
When you cut out those in between snacks and just eat 3 meals, it gives your body a break and it allows your insulin levels to dip back down.
And that is the only time where your body can access your fat stores for energy. That is a very important concept that you need to understand so read it twice if you have to.
This is why eating 6 small meals a day is one of the worst ways to lose weight because you are spiking your insulin levels 6 different times throughout the day.
You're basically in fat storage mode all day.
8. Don't eat when you wake up
There is no scientific data that eating first thing in the morning is somehow beneficial for weight loss.
And this is all based on the myth that breakfast is the most important meal of the day which is based on nothing but bro science.
Breakfast cereal companies obviously want you to believe that. But we are the only species on the planet that feels the need to shove cornflakes down our throats first thing in the morning.
Back in the day, I remember force feeding myself even though I wasn't hungry. If your breakfast consists of all the processed, starchy and sugary carbs I mentioned earlier, you're way better off skipping breakfast.
Again, your body only gets access to fat stores and burn them off for energy when your insulin levels return to baseline.
That only happens when you don't eat. When you take a break from eating. This is also called fasting.
Because your body can only either be in the fed state or the fasted state. That's actually where the term breakfast came from. It literally means 'break fast'.
So when you sleep, your insulin levels return to baseline. If you skip breakfast or eat a late breakfast, you're giving your body more time to burn your fat stores for energy.
That's what body fat is there for. It's not just there for looks.
9. Start incorporating intermittent fasting
Since I opened up pandora's box to fasting, let's talk about it.
In my opinion, intermittent fasting is the best method of weight loss, bar none. It's efficacy when it comes to specifically targeting body fat and burning it for energy is unparalleled.
One of the biggest benefits of IF is improved insulin sensitivity. All that means is that you have the ability to tap into your fat stores and burn it for energy.
This is my all time favourite question to ask. What do you think will happen if you stopped eating? You're going to lose weight. A lot of weight.
It's not about eating less, but less frequently.
If you eat the same amount of calories. But instead, you eat it in an 8 hour window instead of eating all day, that's going to have a positive physiological effect in your body.
Because you're allowing your insulin to go down to baseline which puts you in fat burning mode.
But it's extremely important that you do intermittent the right way. You want to make sure you're fat adapted and you're metabolically flexible in order to get it's full benefits.
If you want a proven plan on how to put this all together, check this out.
10. No screen time 60 minutes before bed
This is definitely a first world problem, but it's still a problem.
Exposure from the blue light that comes from most screens like your TV, laptop, iPhone or iPad emits blue light which actually inhibits melatonin production. Melatonin is your sleep hormone.
And when you have that low quality sleep because of the low melatonin, it messes up important fat loss hormones the next day like ghrelin which again is your hunger hormone. leptin which is the hormone that sends a signal to your brain that you're full, and cortisol which again is your stress hormone.
Notice how you're always hungry and you're craving the worst food after a late night out?
And we want to stabilize cortisol levels specifically to our natural circadian rhythm.
Think about it this way. If you blast your eyes with blue light right before bed, it messes up with your circadian rhythm.
You're literally telling your brain, "Hey, look, there's light! That means that the sun is about to come up!"
So by shutting off screen time 60 minutes before bed, it can allow your natural melatonin to go up and improve your sleep quality. Therefore, help keep your cortisol levels and hunger hormones normal for the next day.
There are many of studies about sleep and they all show the same thing. They less you sleep, the more you weigh.
I've never literally never met a person who complained about getting a good night's sleep.
There's a reason why we evolved to sleep for a third of our lives. That's where all the rest and repair happens in your body.
At the end of the day, if you want to get rid belly fat without counting calories, it's all about building your diet and making supportive lifestyle choices that moderate your insulin and cortisol levels.
And if you follow all the tips I mentioned in this video, it's not going to be a matter of it you're going to get rid of belly fat, it's only a matter of when.
As always, if this was helpful, share it with a friend who could benefit from it as well!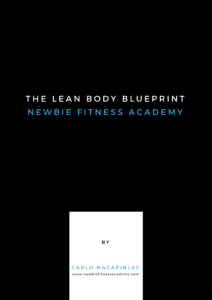 Need More Help?
Use this simple 4-step process to melt ALL the fat around your stomach and look good shirtless WITHOUT going on a crazy diet or wasting hours at the gym. Get the Lean Body Blueprint here for free!
PS. Have you nabbed your copy of The "No Diet" Diet yet? It's awesome, I promise. 
Click HERE
 to get a copy today!