Bro-science at its finest.
This is a pretty common concern that gets tossed around a lot in the fitness industry. That your muscles will somehow start withering away if you start fasting, without any real evidence to back it up.
Does intermittent fasting cause muscle loss?
The short answer is, no. That doesn't even make any sense. I explain this in further detail in this video.
Let's look at some real research to prove this point. 
I want you to pay attention to this graph from the book "Comparative Physiology of Fasting, Starvation, and Food Limitation". Awful title, I know. The graph shows what happens to your protein oxidation rate while fasting.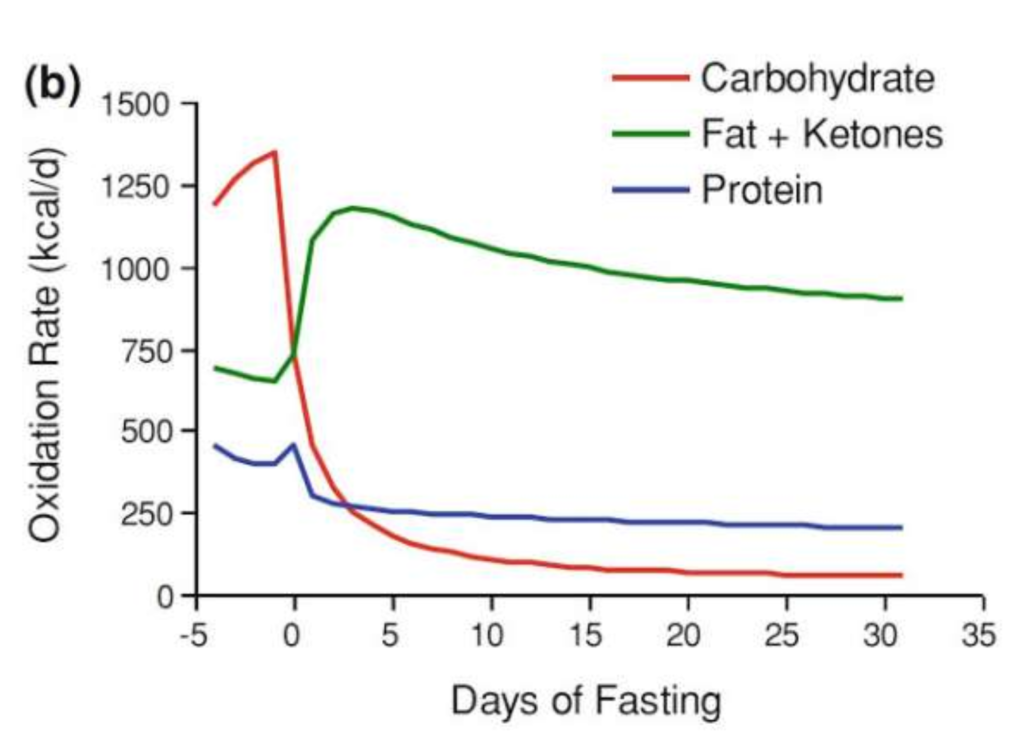 Basically, the graph shows where the energy to fuel our body comes from.
How your body uses energy when fasting
First, when we're just eating regularly, and then when we start fasting, all the way to 30 days with no food. And a 30 day fast is pretty extreme for a lot of people, right? But we're just talking about fasting intermittently here. Short term fasting. I'm talking 16, 20, 24, 36, etc.
At the start, our fuel comes from a mix of carbs, fat, and protein. And that's predictable.  Most people eat a diet with a blend of all three macronutrients. After that, carbs are burned pretty fast. Your stored glycogen gets used up until the body switches to using body fat for energy. This is also known as the state of nutritional ketosis. See that little surge in the graph? Your body literally becomes a fat burning machine.
And what happens to protein? Well, the amount of protein consumed goes down when we start fasting. Contrary to what some "experts" want us to believe, we don't start ramping up protein consumption when we fast. In short, we don't start burning muscle. We start conserving it. Body fat becomes our number one source of energy when you fast. Not muscle.
Does intermittent fasting cause muscle loss? Absolutely not.
And it makes you wonder how many other beliefs we accept as pure fact in the fitness industry, without ever really questioning it. That's how inaccurate claims like fasting causes muscle loss are born. So food companies can sell your their products instead.
The problem with fasting
And that's the problem with fasting. It's not a very marketable topic. There's nothing sexy about it. You can't make money from it. That's why it gets demonized by the food industry. I mean, the entire protein powder and protein bar industry is built around the idea that you need to be consuming excessive amounts of protein after your workout. Otherwise you'll lose muscle. Right? Leave a comment below if you're still under that impression.
So that statement gets stretched out and all of a sudden, next thing you know, fasting makes you lose muscle. So we buy and consume protein like it's going out of style. By the way, the post workout anabolic window doesn't exist. No, your body won't start eating your muscles if you don't drink your protein shake after your workout. The only people that want you to believe that myth are supplement companies.
Intermittent fasting does NOT cause muscle loss
Okay, back to fasting. Here's more proof that fasting doesn't cause muscle loss. In 2010, research was done on a group who underwent 70 days of alternate day fasting. They ate normal one day, and then fasted the next. The results? Their fat free mass which consists of your bones, organs, connective tissues, and muscles started off at 52.0 kg and ended at? 51.9 kg. There was, however, a significant amount of fat lost. Again, you don't burn muscle when you fast, you burn fat instead. 
Think about it from a practical standpoint. And you don't need to be a rocket scientist to understand this. You just need to have common sense. Why on earth would your body store excess energy as fat, but not use it and burn muscle instead when there's no food available??
Your muscles have so many functions in your body and using it for energy is probably at the bottom of that list. Meanwhile, you have about 40,000 calories worth of energy in the form of body fat waiting to be used. That's what it's there for. It's not just there for looks. Think about it.
We would not have survived as a species during the Paleolithic times if our hunter ancestors lost muscle when they were forced to fast in the winter because they couldn't catch any animals. It makes absolutely no sense. They used body fat instead for energy.
Fasting is muscle sparing
Here's more proof. Researchers from McMaster University published a study showing that caloric restriction combined with exercise did not deplete muscle, and those who consumed enough protein, not excessive amounts, actually built more muscle. The researchers emphasized how exercise, particularly lifting weights, provides a signal for muscle to be retained even when you're in a big calorie deficit. Again, this is a survival mechanism by our bodies. In other words, as long as you're working out and you consume enough protein when you eat, you're not gonna lose muscle when you do intermittent fasting.
Fast forward to today's elite athletes and MMA fighters like Georges St Pierre, routinely trains in the fasted state. He's credited that when it comes to improving his performance. Last time I checked he's one of the greatest of all time. His muscles also look okay to me. Actors like Hugh Jackman and Terry Crews are also big proponents of intermittent fasting. I don't know about you but their muscles look okay to me as well.
Does intermittent fasting affect athletic performance?
And for those of you concerned about whether your actual workout performance will suffer as a result of fasting, don't worry. In one study, a three and a half day fast did not affect any measurements of athletic performance. I experienced this first hand when I did a 3 day water fast and I worked out in all three days and felt great the entire time. Just to prove this point.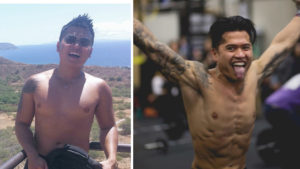 Based on my personal experience with intermittent fasting long term, I've been doing it since 2012, training in the fasted state transformed me from an overweight desk jockey to a National Level weightlifter.
So, no, I didn't lose any muscle. I lost a lot of fat instead. My private coaching clients also seem to thrive in this way of eating.
So, does intermittent fasting cause muscle loss? I'm gonna say no.
As always, if this was helpful, share it with a friend who could benefit from it as well!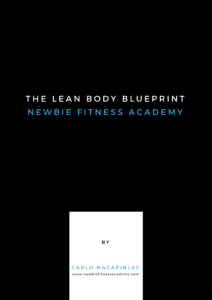 Need More Help?
Use this simple 4-step process to melt ALL the fat around your stomach and look good shirtless WITHOUT going on a crazy diet or wasting hours at the gym. Get the Lean Body Blueprint here for free!