The best way to lose weight WITHOUT exercise?
It's simple.
You need to make dietary changes. 
80% of your body composition is determined by how you eat. It's true. Abs are made in the kitchen. In this video, I'm gonna show you the best way to lose weight without exercise.
The Best Way To Lose Weight Without Exercise
Let's get one big thing out of the way.
The outdated information to eat a mostly grain based diet, we're talking about the standard high carb/low fat diet here, has contributed directly to the obesity epidemic in the western world.
Some experts even consider the advent of human agriculture as one of the biggest mistakes in human history.
If that's news to you, well now you know.
It's not unusual for the average American and for people in other countries following a western diet to consume a mind boggling 500 or 600 grams of insulin promoting and fat promoting carbs daily.
The problem with eating processed carbs
The problem is, a large portion of those carbs are either in the shade of white, brown, or yellow. Which means that they've been processed in some way, shape, or form. Which then increases the severity of the glucose and insulin response in your body. The more processing your foods go through, the worse it is for you.
These days, everything in the centre isle of grocery stores is made out of a combination of highly processed white flour, vegetable oil, and high fructose corn syrup. Which is extremely detrimental to your health when consumed regularly. They promote inflammation and oxidative damage when consumed regularly which is the main culprit of every disease out there. The problem is, they're also very addicting.
According to research, of the 600,000 food items they sell in the US, 80% are laced with added sugar. And usually, the biggest offenders of foods with hidden sugars are low fat and low calorie foods. Because if you take out the fat to make the food low calorie, you have to replace it with something else and that something else is usually sugar. And a majority or people are still under the belief that a grain based low fat diet is considered healthy. People still can't seem to shake off the fat phobia in their diets.
So that's conventional diet wisdom for you.
Data says that over 70% of Americans are either overweight or obese even though there are more gyms in the US than anywhere else on the planet. There's obviously a disconnect here between what we're told we need to do to lose weight versus what we're actually supposed to do.
The good thing is if you're reading this right now, you can do something about it.
The best way to lose weight without exercise? Cut carbs
Again, 80% of your body composition is determined by how you eat. If you have excess body fat that you wanna lose, the most direct path to get rid of it is, are you ready for this? By drastically reducing the amount of carbs in your diet. Especially processed carbs and sugar. And yes, even your "healthy" whole grains is suspect. It's making you fat and sick.
And the simple explanation on this is out of all three macronutrients, carbs, especially refined carbs spike the hormone insulin the most. And if you've been watching my videos, you'll know that insulin is a very important hormone in your body. It's the hormone that controls your body weight.
All you need to know is that if your insulin levels are high, you can't access your body fat for energy. You just can't. High insulin blocks fat burning and persistently high levels of insulin from eating too much processed carbs results in something called insulin resistance and opens up pandora's box to all sorts of disease including obesity, diabetes, and cardiovascular disease.
Your job if you wanna lose weight without exercise is to minimize the wildly excessive insulin response by your body caused by the standard American diet. And this all started back in 1980 when the US released the first Dietary Guideline. They told Americans and the rest of the Western hemisphere to avoid saturated fat and cholesterol in favour of bread, pasta, and "healthy" whole grains and I'm putting air quotes on the word healthy here and it led to massive unintended consequences resulting in a full blown obesity epidemic.
So what are you supposed to eat instead?
Well, it's actually pretty simple.
Reducing the amount of carbs in your diet in favour of more healthy fats will allow you to lose unwanted fat, and maintain an ideal body composition for the rest of your life. It really is that simple. And no, fat doesn't make you fat. In fact, if you're not eating enough fat, you're probably fat. I have a separate video debunking the fat phobia if you wanna know more about it.
Listen, I'm not trying to reinvent the wheel of nutrition here.
Remember, our paleolithic ancestors didn't have pop tarts, pizza, bagels, breakfast cereal, or french fries 2.5 million years ago. Their diet consisted of mostly plants, animals, nuts, seeds, and seasonal fruit whenever they found them and they didn't suffer from heart disease, or cancer. Two of the leading causes of death in the US. They also didn't suffer from obesity. None of those diseases existed back in the paleolithic times. Our ancestors were naturally lean and strong. I mention our paleolithic ancestors because we're still genetically identical. We haven't magically evolved. So it's really all about trying to model what we eat as close to the original human diet as possible.
The original human diet – The Paleo Diet
This is more commonly referred to as the Paleo Diet.
When you switch to a more Paleo style of eating, the protein and fat you'll be eating from plants and animals are way more nutrient dense and will provide longer satisfaction levels compared to a diet high in carbs. Like what do you think is more filling? Toast with some jam and a glass of orange juice? Or bacon and eggs with some avocado? The former is a sugar bomb while the latter is a nice blend of healthy fats and protein. I'm gonna go with the latter there.
And the reason for this is fats and animal protein activate the satiety hormones, Peptide YY and Cholecystokinin. And carbs doesn't do that. Finally, consuming less processed carbs results in less insulin production which results in your hunger and cravings to moderate.
Remember, the crash and burn effect that you probably experience on a daily basis, also known as getting hangry, is due to your body constantly cycling back and forth from consuming carbs. Then your body converts it to glucose, which then results in an insulin response to moderate blood glucose. Which then results in a subsequent insulin crash. Which then results in you feeling lethargic, hungry, and going for a quick sugar fix. And then the cycle starts again.
Notice how you're always hungry mid morning and mid afternoon after eating a high carb meal? You can stop that vicious energy crash and burn cycle by simply reducing your carb intake, especially simple carbs in favour or healthy fats and protein.
It's as simple as this
When you reduce your consumption of carbs, yes, even whole grains, sugars, and other simple carbs in favour of a high fat diet, you're gonna optimize your insulin production enabling you to utilize fatty acids from the foods that you eat and stored body fat as your preferred fuel source.
Because when you restrict carbs and give your body mainly fat to burn, it adapts to become very good at using fat for energy. You become a fat burner. Remember, you can either be a sugar burner, if you eat a lot of carbs, or you can be a fat burner. You can't do both. You can't burn a little bit of this, and a little bit of that.
It doesn't work that way.
Your body actually prefers fat as its main source of energy because it's a cleaner burning fuel. So we're talking about a high fat, very low carb, and moderate protein diet here. The complete opposite of conventional wisdom that is the standard American diet. Which has also led to an obesity epidemic so maybe it's time to try something different here. Just saying.
Multiple studies have now confirmed that low-carb diets are extremely effective for weight loss. How effective? Well, here's one of my private coaching clients.
She had some injuries that she was dealing with so she couldn't exercise when she started so we focused on her diet instead and she lost 25 lbs in 6 months. She went from a size 10 to a size 4. And if you're a girl who's watching this, you'll know how big of a difference that is. Here's another example, he lost 5 inches off his waist. He went from a size 33 to a size 28. Again, without exercise.
And I'm not saying that exercise isn't good for you. It is. It's like brushing your teeth. You should do it every day. It has tons of physiological benefits but weight loss isn't one of them. And most people have it backwards, right? They think they can outrun a bad diet. They'll say oh, I burned 300 calories during my workout, I can have this 300 calorie muffin. No, it doesn't work like that. By the way, if you wanna know more about my coaching program then click on the link at the top right hand corner here.
The case for the Ketogenic Diet
Hopefully by now you're at least open to reducing your carbs from your diet. But here's where it gets more interesting. One large review of 13 studies with follow-up lasting at least a year found that people who consumed 50 or fewer grams of carbs per day lost more weight than those following traditional weight loss diets (1). This diet by the way is more commonly known as the ketogenic diet or keto diet for short.
It's an unbelievably powerful eating strategy when it comes to weight loss. The keto diet reduces your appetite, it increases fat loss compared to a standard high carb/low fat diet, it lowers triglyceride levels, it increases levels of good HDL cholesterol, it reduces blood sugar and insulin levels, and is unbelievably effective when it comes to reversing metabolic syndrome. And I always say that weight loss might be the least impressive benefit when it comes to switching to a high fat, low carb diet when you see all the improvements in your bio markers.
Listen, I get it. Drastically changing your diet might seem unusual at first for those of you trying to do the right thing by following the conventional diet wisdom. After all, I'm telling you that healthy fats should be the focal point of your diet. While ditching supposedly healthy whole grains. But this isn't anything new. This is how we evolved to eat.
Unlike fat and protein, carb consumption is not required for human survival.
Big food companies don't want you to hear this but there are no essential carbs. None. I know they're delicious but for crying out loud, you can't be eating bread, cereal, pasta, pizza, chips, and cookies every day and expect to stay healthy. Listen, you cannot reduce body fat on a diet that stimulate chronically high insulin levels. Period.
If you want to lose weight without exercise, lowering your carb intake to 50-100 grams per day or less with the majority of those carbs coming from vegetables, so more of a Paleo diet style of eating will allow you to easily drop an average of 1-2 lbs of body fat per week and if you want to get into accelerated fat loss, you can lower it to 50 grams or less and trigger a metabolic shift and that's when you get into nutritional ketosis. Again, that's when you get into the ketogenic diet way of eating.
Even if you've struggled with your weight for most of your life, you can quickly and dramatically change course by following this dietary switch that I just laid out for you. It's not too late.
Listen, at the end of the day, health isn't about the weight you lose but about the life you gain. To use our subject again as an example, she hasn't been this lean since before she had kids. And she's about to turn 60! She's way more confident about herself and she's healthier than ever. It's like turning back time. Oh, and she also happens to be my Mom. So that's a nice little bonus.
As always, if this was helpful, share it with a friend who could benefit from it as well!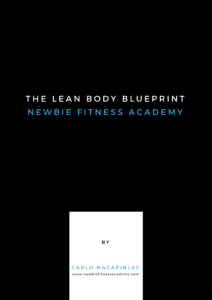 Need More Help?
Use this simple 4-step process to melt ALL the fat around your stomach and look good shirtless WITHOUT going on a crazy diet or wasting hours at the gym. Get the Lean Body Blueprint here for free!