The best way to lose belly fat?
It's simple. Turn on your built in fat burning mechanism. In this video, I'm going to show you HOW.
Here's What You'll Learn:
hide
Best Way To Lose Belly Fat – Explained
Did you know that fat, not glucose from carbs, is the preferred fuel of the human metabolism? And it's been that way for most of our evolution. 
For context, modern agriculture only started 10,000 years ago. But the human body, through 2.5 million years of evolution, evolved as an efficient fat burner.
Contrary to popular belief, we actually only require minimal amount of glucose. Most or all which can be supplied by the liver as needed on a daily basis through a process called gluconeogenesis. Your body runs a pretty tight shift.
Technically speaking, there are actually no essential carbs. Essential means our bodies can't make it or can't make enough of it for us to be healthy and happy human beings. We have to get it from our diet.
There are essential fats like omega-3 and omega-6. And there are also essential amino acids from protein like leucine, isoleucine, and valine. The best and most bio available sources of essential fats and protein are animal foods. 
That's why an animal based whole foods diet, also called the carnivore diet, has been gaining more popularity lately. And you won't find a short list of people reversing diabetes and autoimmune disease because it's the ultimate elimination diet.
The problem with plant protein
Now, a lot of the woke vegan influencers say that you can get your protein from plants.
You know what? They're actually right. You can get your essential amino acids from plants. 
BUT, the amount of plants you need to eat in order to get enough protein to optimize body composition is metabolically devastating. And that often just gets swept under the fridge. Because not all protein is created equal.
You need to eat a whopping 6 cups of quinoa, which contains all 9 essential amino acids, to get the minimum of 30 grams of protein to trigger muscle protein synthesis. And that's just for one meal.
Or, you need to eat at least 8 slices of ezekiel bread to get those 30 grams. 
Which is just metabolically devastating. It's catastrophic to your insulin levels eating that much carbs. 
And I've talked about the importance of moderating insulin ad nauseam on my YouTube channel. You don't want to have a massive insulin response from your meals. 
Unfortunately, we've become a carb dependent society. Or as I like to call it, carb-ivores. Which is literally the definition of metabolic inflexibility. 
This carb dependency has driven us to experience a laundry list of metabolic problems. 
The excess glucose from carb intake, especially from processed grains and sugar, has been the main driver of obesity and in many disease processes like diabetes and stroke. 
Some experts even now use the name diabesity. But the catch all term is metabolic syndrome. 
The problem with eating carbs
Because out of all three macronutrients, carbs, especially refined carbs and sugar is the most insulinogenic. Insulinogenic means it's fattening. 
That's why insulin is widely regarded as the master hormone. Because it's the hormone that controls our bodyweight.
Here's the disconnect. In the U.S., 1 in 2 Americans has pre-diabetes or type 2 diabetes. 75% of adults are overweight or obese. Of those with prediabetes, more than 84% don't know they have it. Childhood obesity is also at an all time high. 
According to this study, 88% of American adults are metabolically unhealthy. That's almost 9 out of every 10.
So it follows logically that if you can limit your carb intake to 150 grams a day, and ideally under 100 from whole foods like nuts, vegetables, and some seasonal fruit. 
And make up the difference with delicious fats and protein like cheese and meat. You can literally reprogram your genes back to the evolutionary factory setting that you had at birth. And you can do this in as little as 21 days. 
You just have to send the right signal to your genes to become metabolically flexible again. The human body is really smart. It knows what to do. 
You actually need to eat some fat to kick start this process. It takes fat to burn fat. Who knew?
How to become metabolically flexible (again)
You wanna start this process by using the concept of addition by subtraction. Because what you stop eating has far more impact to your health than what you start eating.
First, you wanna eliminate grains, sugars, industrial seed oils, and any attachment you might have with those foods. 
Industrial seed oils might be the most insidious one because at least with carbs, your body can burn it off. Industrial seed oils does nothing but harm to your body. And I'm gonna explain why in a second here.
But if you can get rid of those big three and naturally limit your carb intake to vegetables, root tubers, and a few seasonal fruits. You almost inevitably land under 150 grams of carbs a day, or even less.
For context, the average North American consumes a mind bending 500-600 grams of highly processed, insulinogenic carbs every day. With as much as 70% of their calories coming from the big three.
Again, insulinogenic means it's fattening. We eat way too much and way too often of the wrong kind of food.
The best way to lose belly fat? Eat THESE Foods
You'll want to fill your plate up with colourful vegetables because they're naturally low in carbs and high in antioxidants. 
Things like broccoli, brussel sprouts, cauliflower, mushrooms, and sweet potatoes. Get creative. It should fill up the bulk of you plate. Green leafy vegetables are basically free calories.
If you don't enjoy vegetables, I'd argue that you just don't know how to prepare them properly. The secret I'd say is adding butter. I've also never met anyone who didn't like homemade sweet potato chips. 
Next, eat at least a palm size serving of animal protein for every meal. That should cover the minimum of 30 grams to trigger muscle protein synthesis. 
You can eat fish, chicken, beef, lamb, pork, or any of your favourite meats.
High quality salmon, if you can get access to it, is one of your best choices because it contains anti-inflammatory omega 3 fatty acids. 
You can also go for grass fed and grass finished meat or other cold water and oily fish like sardine, anchovies, and mackerel.
Eggs from happy nesting pastured chicken also fit the bill. Eggs specifically contain hard to find nutrients like luetein and cholein which are vitamins for your eyes and brain. It's basically nature's version of a multivitamin. 
And for crying out loud, eat the yolk. That's actually where all the nutrients are. And no, cholesterol isn't bad for you. Your body makes its own cholesterol for crying out loud. You would die without it.
For context, Dr. Shawn Baker, one of the big names in the Carnivore Diet space routinely crushes a dozen eggs and 10 slices of bacon with some goat cheese in one sitting. 
He's 54 years old and he looks like that. He also regularly posts his biomarkers and they're all good.
Dr Paul Saladino, another big name in the carnivore diet space, recently posted a picture of his arteries. 
You know, the arteries that are supposed to be full of plaque after years of eating tons of meat and saturated fat?
He's 44 years old and he looks like that. He also advocates for a more nose-to-tail approach when consuming animals. Which means also eating organ meat. 
Speaking of organs, did you know that grass fed beef liver is the most nutrient dense food on the planet? The only thing that could rival it is salmon roe. Just look at these numbers. 
The inuits in Canada and a lot of tribes around the world who still live a hunter gatherer lifestyle know this. But let's use the Inuits because I'm from Canada. 
They mostly hunt arctic char, seal, polar bear, and caribou. After a successful hunt, they actually prefer to eat the fatty cuts of meat as well as the organs because it's nutrient and calorically dense. And they would give the lean cuts of meat to their dogs. 
Kind of a graphic example and I'm not gonna show you a video but when predators like foxes invade a chicken coup, they also always go for the organs. 
And because they're not popular especially in North America, they're dirt cheap at grocery stores.
My point is don't believe some woke instagram influencer trying to convince you to go plant based. Optimal health is impossible without animal foods. Cool? 
As always, there are levels. If you can't afford grass fed and grass finished beef and pastured eggs, not a big deal. 
Buy the highest quality meat you can afford. It'll still put you in a completely different level when it comes to your health. 
The most underrated dietary switch you can make
Then you wanna replace the cheap unhealthy cooking oil you've most likely been using with healthy fats like coconut oil, avocado oil, extra virgin olive oil, butter, or ghee. 
Making this switch might be the one of the most important dietary changes you can make. 
Because industrial seed oils like canola, corn, safflower, safflower, and rapeseed oil are very high in polyunsaturated fatty acids, which promote inflammation and the accumulation of toxins in body fat. 
Contrary to what we've been told, industrial seed oils are not "heart healthy" or otherwise beneficial for our bodies and brains. 
In fact, plenty of research show that these oils are making us sick. I can't remember the expert who said it but consuming them is basically like eating radiation. 
Unfortunately, a majority of highly processed foods contain these toxic industrial seed oils. You can bet that almost all fast-food joints use them. That's why it's so cheap.
Most restaurants also use this nasty stuff. A simple switch you can do is to ask the chef to cook your food in butter. 
This is also why it's so important to read the label of any food you're about to consume. Trust me. Industrial seed oils are everywhere.
Also, the fact that it contains a nutritional label sticker should automatically raise some red flags. Because it means that it's been processed in some way, shape, or form. 
You can bet that you'll find seed oils in most processed food like cereal and granola bars. 
It breaks my heart showing you this example because who doesn't like chicken nuggets but those are the ingredients. Compare that to eating a roasted chicken thigh.
Now, let's look at plant based meat substitutes. Yup, we're back here. Beyond meat has 18 ingredients. Surprise, surprise, two of the ingredients are expeller pressed canola oil and sunflower oil. 
A normal burger patty only has one ingredient. Beef. 
And I get it. It's very emotional for some people to eat animals. And I take this stuff very serious. I know it seems like I'm always picking on vegans. 
But if you actually look at real science, there are no randomized controlled clinical trials that shows that a plant based diet is better for health. 
It's not better for the environment. None of those are true. Mono crop agriculture kills thousands of small animals. It's still death on a plate when you eat an avocado. You just don't see the blood.
Also, did you know that regenerative beef agriculture is actually carbon negative? Because cow poop rehabilitates the top soil. Don't base your facts from Netflix documentaries.
The golden rule really is you want to stick to single ingredient, mostly unprocessed, nutrient dense foods. Real food. Try to consume all your meals in a 6-8 hour window.
And if you combine this dietary switch with a couple of strength training sessions a week, increased general every day movement, and adequate sleep, you're naturally gonna regulate your appetite hormones, and you won't feel hungry in between meals. It's a beautiful thing.
As always, if this was helpful, share it with a friend who could benefit from it as well!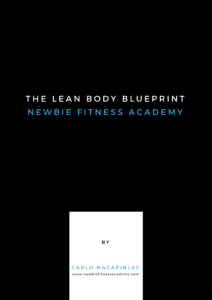 Need More Help?
Use this simple 4-step process to melt ALL the fat around your stomach and look good shirtless WITHOUT going on a crazy diet or wasting hours at the gym. Get the Lean Body Blueprint here for free!
PS. Have you nabbed your copy of The "No Diet" Diet yet? It's awesome, I promise. 
Click HERE
 to get a copy today!