The best exercise routine?
It's multifaceted.
In this video, I'm gonna show you the best exercise routine for weight loss.
Here's What You'll Learn:
hide
The Best Exercise Routine For Weight Loss
My exercise and fitness routine has evolved a lot since I don't compete anymore as a weightlifter. And since I'm also trying to grow other aspects of my life like trying to grow a business.
These days, my number one goal for my best exercise routine is to have fun. I only do things that I love (I feel like that should be a general rule for life). I do things that I don't see as being exercise, but more along the lines of fun and play.
I've mentioned in my previous videos that one of the things we've kinda forgotten as adults is, playing.
My form of "play" these days is doing Muay Thai. My gym is also right on the beach so I go for a swim once a week. I also go for a short bike ride a couple of times a week.
And then, I walk a lot. I've made a point of getting at least 10,000 steps every day since I discovered the benefits of it. 
That's probably one of the biggest changes I've made in my lifestyle since I sold my car. I used to drive everywhere. 
I was literally the poster child for the active couch potato syndrome. Oftentimes, I would drive to the coffee shop that was two blocks away from my house because I was just so tired and lazy from training every day.
Nowadays, I just walk everywhere. I also walk barefoot on the sand a lot. There's mounting research that walking barefoot in nature, aka "earthing", benefited skin conductivity, moderated heart rate variability, improved glucose regulation, reduced stress and supported immune function.
It makes sense from an evolutionary standpoint. Our Paleolithic ancestors didn't wear shoes for centuries.
This is why I always say that walking should be right near the top of the list for a lot of people when it comes to exercise. Especially as you get older. That's how you defy aging by maintaining mobility, balance, and movement. 
But between Muay Thai, swimming, walking, biking, oh and I started doing BJJ as well. It's often referred to as human chess. 
So it's not just fun, it 100% engages my brain as well.
But I do a combination of all those things as my form of play and social time.
Best Exercise Routine – Lifting Weights
I also lift for a different purpose now. My approach is now going for the minimum effective dose of work. I do the least amount of work I can do at the gym to maintain strength.
At the same time, it's geared towards me not getting injured when I'm playing. Don't get me wrong, lifting weights is fun as well. But I also know that my competitions PR days are behind me.
For specific exercises, I do a combination of weightlifting, I mean that's my background, and powerlifting. 
It's a lot of push, pull, and compound movements in general. I also try to incorporate dumbbell work to fix any imbalances I might have.
But everything I do at the gym is geared towards engaging as much muscle as possible. Again, I basically look for the least amount of work I can do so I can have more time playing. 
That's is quite the far cry from what I used to do as a competitive athlete when I used to lift 6 days a week and my body felt broken the entire time.
The Problem With Mainstream Fitness
That's why I'm allergic to the word overtraining these days. Which unfortunately is what's often preached in mainstream fitness today. Especially group fitness classes. I used to coach CrossFit and that was the product.
Or sometimes people just don't know any better and they go for a run or they're on their favourite cardio machine sweating their hearts out. 
I see the same people running every day when I'm walking. More likely than not, they're counting the calories they burned from their workout. 
A lot people unfortunately are still fixated on this over simplistic calorie counting concept. You should check out this video if you want to know more about it.
For example, I was doing a consultation the other day and she mentioned that she does hot yoga and it burns something like 800 calories. 
And I was just confused that she was counting those calories. That doesn't matter. That's not a "workout".
But again, I have zero intention of even bordering on overtraining these days. 
To me, an hour long strength session is too much. My strength workouts these days last 10-30 minutes. I spend the rest of the time socializing, foam rolling, and doing mobility work.
Even doing Muay Thai for more than 3 days every week, that's borderline over training for me. I definitely can't string several of those days together. 
Again, my approach now is how can I be strong, lean, fit, functional, happy, healthy, and can kick some serious butt with the least amount of work?
On the days where I push it hard, you can bet that I'm taking the next day off or just go really easy. There was a time where I used to feel guilty about taking a day off. Not anymore.
The Importance Of Rest And Recovery
Nowadays, rest has kinda become an obsession for me. Sleep is non negotiable. I love Mindy Kaling's quote about this topic. There is no sunrise so beautiful that it's worth waking me up to see it. 
I can't remember the expert who said this but human beings need at least 7 and as much as 9.5 hours of sleep every night. 
Especially if you live far from the equator and you have changes to the lengths of your days as the season changes.
There's a running joke with me and my brother when we brag about how much sleep we got. Not how little sleep we got. 
The amount of times I've cancelled on people trying to make plans that extend way past my bedtime is almost comical. 
The more I learn about sleep and how important it is to maintaining optimal health, the more I realize that it should be the number one priority for everyone.
I think it was Shawn Stevenson, who's gone as far as saying that sleep is more important than diet. 
And, he's right. You'll die of sleep deprivation first. Because you die of starvation.
And I get it, we all have different things to deal with. Everyone's different. Just do your best with your situation. And if you get a bad night's sleep, don't sweat it. 
I also have a better intuitive sense of when it's time to go hard again, and when to pull back.
Perfect example is when I do hard training days in Muay Thai. I have to take the next day off. I could train the next day. But I'm smart enough to realize that I can't recover fast enough to go hard again the next day.
If you don't listen to your body, that's when injuries happen. And I've had to learn this the hard way. I vividly remember specifically how I felt on the days when I've injured myself. 
My body just didn't feel right. I was tired but I didn't want to miss a training day. So I ignored those warning signs. 
And then your body kinda just gives out on you doing the simplest drill. Then you're out for however long it takes for that injury to heal.
Looking back, you probably should've just listened to your body and take the day off instead. But hey, hindsight is always 20/20.
Best Exercise Routine – The Golden Rule
Just remember this one simple rule with exercise. Only take what your body gives you every day. Nothing more and nothing less.
I kinda mentioned this earlier but one thing that I've definitely put a lot more emphasis on is doing mobility work and maintaining my range of motion. 
If we're talking big picture here, mobility meaning the ability to move freely, is one of the key metrics of having high quality of life. 
Especially as you get older. You wanna be able to go to places and do whatever you want physically without any restrictions.
Coming from a guy who's broken his back twice, or ask anyone who's had a back injury, they'll tell you how much of a privilege it is to move with no pain.
So mobility is definitely something that I've put a lot more emphasis on. 
I come from a sport of weightlifting where my body just moved vertically. Up and down. 
When I started doing Muay Thai, all of a sudden my body is moving in all sorts of direction. And I definitely dealt with some hip and foot issues as my body was adjusting to this new way of movement. 
I realized how weak some of my muscles have gotten. It's that concept of use it or lose it. The importance of regularly doing mobility work will only go up as you get older.
I can't remember the actual stat, but it's an alarming one, like somewhere in the neighbourhood of around 70-80% of adults can't hold a bottom squat position. 
They look like a cheap lawn chair because they just fold in half. Or, they have to go on their toes the lower they go on their squat. 
Try it right now. Drop into a bottom squat position and see how you do. And see how long you can hold it. 
This is just one of the many reasons why sitting for prolonged periods of time is so bad for you.
Your body will literally adapt to this seated position and your cells will literally become sticky. 
Do this over time and your hips become tighter and tighter until you barely have any range of motion. Next thing you know, you can't even pick anything up from the ground. I'm just saying. 
The Importance Of Maintenance Work
I also put more attention to doing maintenance work. I try to get body work done as much as I can. If getting a massage is in the cards for you, that's great. If not, that's okay. 
An unbelievably powerful resource you is a book called becoming a Supple Leopard by Kelly Starrett. I can't tell you the amount of times I self treated little nicks just using that book. 
I also recently bought a massage gun and it's been a game changer. Fair warning, you instantly become one of the most popular people at the gym if you own a massage gun.
Now, I don't want you to get the impression that this is somehow elitist. I understand that everyone's situation is different.
One of the main takeaways in this video is find more opportunities to walk. It's free. Find ways to move throughout the day.
You don't need to always go to the gym. When you do go to the gym, focus on compound movements. Or, you can even just do bodyweight movements at home. 
More importantly, find ways to play and just have fun. The best exercise routine is the one you enjoy doing while taking ample recovery time. 
As always, if this was helpful, share it with a friend who could benefit from it as well!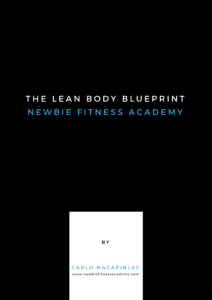 Need More Help?
Use this simple 4-step process to melt ALL the fat around your stomach and look good shirtless WITHOUT going on a crazy diet or wasting hours at the gym. Get the Lean Body Blueprint here for free!
PS. Have you nabbed your copy of The "No Diet" Diet yet? It's awesome, I promise. 
Click HERE
 to get a copy today!