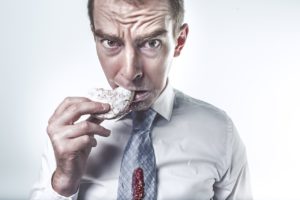 Tis' the season!
The food temptations of the holiday season are inevitable— it usually starts with the Halloween candy rush (did you tell your kids you ate their Halloween candy?) all the way through popping champagne bottles on New Year's Eve.
We have multiple Christmas parties, family dinners, gift shopping at the mall, office gatherings, your dog's birthday, etc…
There's simply no escaping it.
They say that we gain at least a pound over the holiday season and that might be on the conservative side of things.
But don't fret!
Through years of trial and error, I've compiled easy to follow strategies and diet hacks to make sure your waistline doesn't get out of hand during this festive season.
Why? Because giving up great food isn't an option. Nobody likes the guy who alienates himself from the crowd by eating his greens salad with no dressing.
You're not a rabbit.
There is however a way to eat without sabotaging your diet and throwing away all your hard work.
Learn how to eat during the holiday season and still have fun by following these simple diet hacks:
1. Get some sleep
This is where it all starts.
Set yourself up for success by getting a good night's rest the night before a Christmas party. Ideally, you want to get at least 7 to 8 hours of quality sleep in a pitch black room.
Recent studies show that lack of sleep is directly correlated with having a lack of willpower. We immediately resort to the "see-food" diet.
We see food, we eat it.
We tend to grab bigger portions, higher fat and higher calorie food when we're sleep deprived. Some studies show that we eat as much as 300 extra calories the next day when we don't get enough sleep.
Do yourself a favour and skip that extra episode on Netflix and hit the sack early, starting tonight.
2. Be Picky
You'll often find yourself at a potluck or a buffet table during the holidays.
This is where mindful eating comes in. The holiday season isn't a green light to just let yourself go.
Pick wisely when it's your turn at the buffet table. Grab the "good-for-you" food first. For example, go for the broth-based soup instead of the cream-based alternative. When snacking on vegetables, skip the creamy ranch dip and go for hummus instead.
Want to go the extra mile? Bring your own healthy dish.
You can't always control what gets brought to a pot luck party. The solution?
Bring your favourite healthy dish to make sure that there's something you can enjoy guilt free.
3. Follow the 50/25/25 rule
Using this rule prevents you from overeating.
Half your plate should be filled with vegetables while the other half should be an even split of protein and carbs. That way, you still get to pick the food that you want while keeping the calories under control.
Want to go the extra mile? Use smaller plates and utensils.
Serve yourself with a table spoon or even a teaspoon instead of your normal sized serving utensil.
Why? Because the average number of calories eaten at a holiday dinner is a mind blowing 3,000, and that doesn't count your pre-dinner snacks.
You can even take it a step further and cut your calories by as much as 40% by using a dessert plate when grabbing food from the buffet table.
Perspective is everything when it comes to food. The more room you have on your plate, the more likely you are to fill it.
When eating dessert, use a smaller scoop if its available. We eat almost twice as much ice cream when we use a three-ounce scoop versus its smaller counterpart.
4. Don't Hover
If it's within an arms reach, you're probably gonna reach for it.
After you fill up your plate at a potluck party, do yourself a favour and walk away from the table so you're not tempted to go for seconds and even thirds.
If you're on the other side of the room, away from all the food, you're less likely to mindlessly snack directly from the table.
Because we all know that one person who sets up shop near the buffet table and just goes to town.
Don't be that guy.
5. Account for things
We all want it.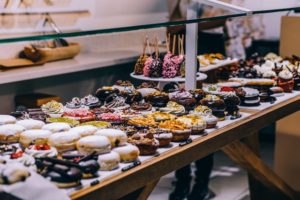 The next person that tells me that they don't like dessert would be the first.
Plan to leave room for your favourite treat instead of always saying, "There's always room for dessert!" after you've already stuffed yourself with turkey stuffing 🙂
I love dessert just as much as the next guy and I hate to miss out on the opportunity to enjoy cheesecake, cookies, or ice-cream at a party, so I actually make a point to leave some calorie wiggle room for it.
I like the 20% rule when it comes to this.
Serve yourself 20% less than you normally would during the main course. You'll barely notice it. When it comes to vegetables, think 20% more.
Skip that extra beer or the spiced rum and eggnog.
That way, you can account and still enjoy your favourite treats without letting your calorie count skyrocket.
6. Water is your best friend
Buying groceries when you're hungry is a bad idea because you end up buying anything and everything in sight.
Going to a dinner party while you're starving is much the same because your eyes are usually bigger than your appetite.
Making sure you're properly hydrated is the first step to prevent yourself from overeating.
Before you participate in the food festivities, try to drink a glass of water or two. You can even drink tea or coffee.
Your mind sometimes can't tell the difference whether you're actually hungry or just thirsty. Staying properly hydrated takes care of this problem.
7. Take some for the road
If your dinner plate looks like it could feed a small village, it might not be a good idea to finish it.
The first few bites of any food are usually the best. After that, our taste buds don't register the same flavours so we just resort to what we're always conditioned to do – we mindlessly finish the food in front of us no matter how big the portion is.
The thing is, you don't always have to. It's not worth the extra calories.
Do yourself a favour and take the leftovers home so you have lunch the next day.
8. Liquid calories count BIG time
Holiday season also means eggnog season.
I mean, who doesn't love it? It's like Christmas in a glass!
However, if you pay attention to its nutritional facts, it has a mind blowing 343 calories and 21 grams of sugar per cup.
Yikes.
The problem is nobody just drinks one cup of this stuff (don't lie).
Going back to hack #5, just make sure you plan ahead and account for this flavour of the season.
Go the extra mile: Pour that eggnog (or any drink) into a tall, skinny glass, not the short, wide opening kind. Studies have shown that you're more likely to pour as much as 30% more when using the latter.
Also, an easy way to keep track of your liquid calories is to keep visual evidence of what you've consumed. Leave your emply glasses or empty bottle of wine or beer in sight and you'll be less tempted to drink more.
9. Keep up with your workouts
I get it.
You have all your Christmas shopping, office parties, family dinners, etc. that you need to take care of. Having said that, you still need to make sure that we take the time to take care of yourself.
After all, you still need to give your body a reason to burn off those holiday treats.
Short on time? Try out this bodyweight workout. You can do this anywhere and anytime!
All you need is a small space, a little motivation, and 8 minutes of your time. Prepare to get sweaty!
Beginner Bodyweight Workout
Tabata Style: 20 seconds on/10 seconds off
4 Rounds of:
Situps
Pushups
Burpees
Squats
10. Make a list
When you go to the mall, write down the stores you need to go to and stick to them. If you start wandering aimlessly, that's when temptations start to kick in.
Plan your shopping route so you don't pass that ever-so-tempting cookie stand multiple times.
How many times have you caught yourself walking around the mall and the smell of fresh baked cookies all of a sudden just punches you in the face?
That's how they lure you. It also doesn't help when they give away free samples.
Let's be honest, we're all guilty of it.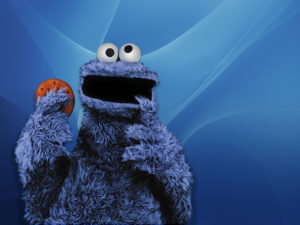 Whatever you do, don't go to the mall on an empty stomach. It just makes it harder to say no to these temptations.
Next thing you know, you turn in to cookie monster and you're inside the store buying a dozen cookies that your body doesn't need.
11. Keep your numbers in check
Every fitness "expert" or guru out there will tell you not to weigh yourself and to not let the number on the scale dictate how you feel.
The problem with that is how the hell are you gonna keep track of your weight???
You can't control what you can't measure.
The numbers on the scale don't lie. Weigh yourself daily and keep that number in mind when you're faced with tough decisions.
Maybe you go for the glass of red wine (a 5oz glass has approximately 100 calories) instead of the rum and eggnog (1 cup has 343 calories) that's being passed around. Maybe you don't go for seconds at the buffet table.
Choose your indulgences wisely during this festive season.
I'm not saying not to enjoy yourself. Life happens. I get it.
You should be able to go to a party and enjoy what you eat. Just make sure you plan accordingly because if you fail to plan, you plan to fail.
Listen, everybody loves to act like Santa Claus when it comes to giving presents this holiday season.
But it doesn't mean that you have to look like him in the process.
As always, if this was helpful, share it with a friend who could benefit from it as well!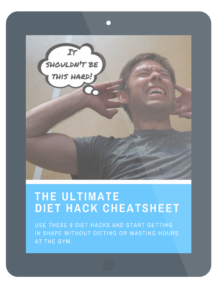 Need More Help?
Use these 9 hacks and start getting in shape without dieting or wasting hours at the gym. Get the Ultimate Diet Hack Cheatsheet here for free!