You've probably done it.
You've gone for a run thinking that it's a good way to get leaner and lose weight.
But this quick video from Tonic will tell you otherwise:

According to the video, running is a very inefficient way to burn fat and build muscle and yet it's the most popular exercise on earth after walking.
That's not good news because up to 79% of runners get injured at least once a year. It's just not a very efficient way to build strength and muscle.
Yet a good chunk of our population are still under the impression that running and doing cardio will somehow get them the beach body that they've always wanted.
When it comes to improving your overall health and fitness, there is literally nothing better that you can do than being as physically strong as possible.
Compound movements like pull-ups, push ups, squats, and deadlifts are night and day better when it comes to building strength and muscle than running.
(Want simple bodyweight movements? Check out our Ultimate Bodyweight Movement Cheatsheet. CLICK HERE to download it for free!)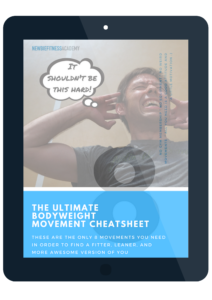 But hey, if you're really in to running, just do it faster and try doing interval sprints instead. They're just as effective as your typical long and drawn out run.
At the end of the day, as long as you're putting in an effort to get fit, you're still lapping (literally) all the couch potatoes sitting at home right now.
As always, if this was helpful, share it with a friend who could benefit from it as well!
Need More Help?
Use these 9 hacks and start getting in shape without dieting or wasting hours at the gym. Get the Ultimate Diet Hack Cheatsheet here for free!